Credit: Mike Yarish/FOX ©2011 Fox Broadcasting Co.
Quinn Gives Her Crown to Rachel! Top 5 OMG Moments from Glee Season 3, Episode 19: "Prom-asaurus"
This week's Glee did not disappoint, as it was packed with crazy twists and jaw-dropping moments — especially with Puck (Mark Salling) showing us all what he's workin' with! Here are our picks for the top five OMG moments from Season 3, Episode 19: "Prom-asaurus."
5. Klaine survives Blaine's hairdo (or rather, hair don't).
The subplot with the hair-gel ban was a little silly, but maybe we're just saying that because we want Blaine's (Darren Criss) hair to be permanently slicked-back, as if he's a Baldwin brother from the mid-'90s. However, Kurt (Chris Colfer) proved he's a bigger person than we are (what else is new?) as he tells Blaine that he loves him no matter what, Borat-esque hair and all. Still, we'd be surprised if Kurt's next Christmas present to Blaine isn't a lifetime supply of Paul Mitchell products.
4. More Faberry awesomeness!
Credit: Dianna Agron on Twitter
There were plenty of cute moments involving Rachel (Lea Michele), like Finn (Cory Monteith) popping into the sadness factory known as the anti-prom and declaring his love for her. (By the way, with Finn calling out Quinn (Dianna Agron) for still using the wheelchair, how is it that Finn was somehow the voice of reason this week? First time for everything!)

But nothing was quite as adorable as Rachel telling Quinn that she voted for her, and that she doesn't know what she means to her. In other words, if Quinn and Rachel don't stay besties for life, then we're going to go on a serious crying binge and our eyes are gonna need all that Visine that Sue poured into the punch.
3. Becky gets Puck naked. (Translation: Becky is our hero.)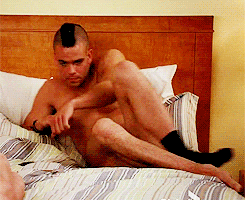 The hotel scene with Puck and Becky (Lauren Potter) taught us two things: 1.) Puck is extremely bad at playing cards, which is a surprise; 2.) Puck has an amazing body, which is not a surprise at all. It's hard to know where Puck will end up at the end of Season 3, since he seems to be more depressed than ever, but it was nice to see him help Becky enjoy her night. And who wouldn't enjoy a night spent staring at those pecs?
2. A prom miracle, indeed: Quinn can walk.
Credit: Mike Yarish/FOX ©2011 Fox Broadcasting Co.
Prom was full of surprising moments, like Samcedes cutting a rug and — shocker alert! — even Sue (Jane Lynch) shaking her groove thang. But the biggest jaw-dropper was when Quinn — thanks to Joe's (Samuel Larsen) earlier help — gets up to stretch her legs while belting "Take My Breath Away," from the Top Gun soundtrack. Quinn's like, "I feel the need — the need for standing!"
1. Rachel wins! Kinda!
A pity win is still a win, right? In an upset of Ron Paul proportions, Rachel stunned the school by being crowned prom queen, alongside King Finn. But it was all thanks to Quinn and Santana (Naya Rivera), who prove they're actually capable of doing the right thing on occasion. Rachel's life might kinda-sorta be in shambles, but at least she got to steal the spotlight at prom — and she even stayed pig blood-free.
GIF source: PuckermanFabray on Tumblr
Can't get enough Gleetastic goodness? Like us on Facebook or follow us on Twitter!