Credit: Vivian Zink/Bravo © NBC Universal, Inc.
Heather Dubrow or Sarah Winchester: Whose Side Are You on in the Real Housewives' Cake War?
On Real Housewives of Orange County Season 7, Episode 19, Heather Dubrow got upset when she saw that Sarah Winchester — who was a guest of Alexis Bellino — had taken a bite of her big, lavish ceremonial cake ahead of schedule. Heather was even angrier when Sarah claimed to have a sugar deficiency as an explanation for her rude act.

Ever since the episode aired, the two have been bickering via Twitter; both sure that they are right and the other is wrong. Co-stars Vicki Gunvalson and Tamra Barney have taken sides with Heather on the issue, with Tamra saying Sarah was "classless and disgusting" and Vicki saying Sarah doesn't have a sugar problem but rather "an alcohol problem." Alexis, meanwhile, was far, far less offended by what happened.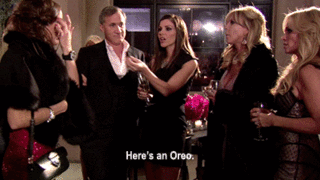 Who do you side with in the cake war? Was Heather the victim, or did Sarah's mistake get blown out of proportion?

GIF Source: Tumblr
Can't get enough RHoBH and RHoOC? Like us on our Facebook page, or follow us on Twitter!