Credit: ABC/DONNA SVENNEVIK
Bachelorette Speculation: Why Emily Maynard Picks Jef Holm (Maybe)
It's early days on The Bachelorette Season 8, but we're looking for a love story and a true love story should probably start pretty soon when there are only two months of dating time. So we have our eyes on some guys Emily Maynard may claim as her prize. We've already shared a few reasons why Em may end up picking (and be currently engaged to) Arie Luyendyk, Jr. Here are some reasons we think Emily and Jef Holm may make #TeamJem very happy.
Credit: ABC
1. She Thinks He's Super Cool
If you watch Emily as Jef Holm walks up to her for the first time, before flinging his skateboard to the side, she beams and giggles and does a little coquettish twist of her shoulders — like she already has a crush. (She said he smelled good too.) She seemed very impressed with him right away on the premiere and when they eventually sat down for a chat, she told him she had been looking for him all night. Em eventually told the cameras Jef made a great first impression — and he made her feel like a "nerd." "He is super cool and I hope that he thinks I'm cool too."
2. The Skateboard Moment
It's not exactly a Team Cupcake story, but not only did Jef ride in on a skateboard and get Emily to joke about wanting to ride it later, they really *did* ride it later. He gave her a mini lesson, which ABC offered up in an adorable deleted scene. "Just you and me and a skateboard," he said. It's sweet and it's something they can go back to. GIF compliments of The Bachelorette GIFs Tumblr.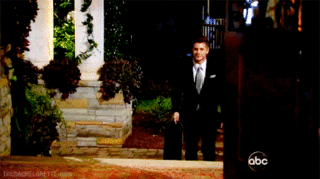 3. She's Chasing Him
Another theme Team Jem can return to is the idea that he keeps needing to be told to show his feelings. He's reserved, the way Emily was reserved on The Bachelor Season 15. By Episode 2 of this season, Emily was already seeing a lot of herself in the soft-spoken hipster guy. She actually tracked him down and gave him a speech/talking-to, saying she kept trying to make eye contact with him but every time she looked at him, he seemed to look away. "When I came in here tonight I said 'Where the hell is Jef? Like where has he been all day? Why hasn't he come talk to me?' ... Either Jef's playing hard to get or he's just not into me. ... Does Jef speak English?" She probably didn't bother making that speech for any other guy. He got the group date rose afterward and that's a pretty big deal. This week, on Episode 3, Emily's friends suggested Jef tell Emily how he feels. He revealed he has a major crush on her and she gave him that cute little giggle-grin again. There's something special about the way that she looks at him and wants him to look at her.
Credit: Instagram
4. They Have Compatible Lives
Maybe it's just a feeling, but Jef seems like he would fit right in with Em and Ricki and maybe they would like to move to Utah to be with him as he tries to help save the world through People Water. In the initial press release announcing her as the Bachelorette, Emily said she was planning a mission trip to Africa. People Water gives a portion of proceeds to a charity that builds wells around the world for people who need clean drinking water. Check Jef out in Nicaragua. Emily would probably be impressed and inspired by what he does — who wouldn't? Also, Jef told Emily's friends that he dated a girl with kids and he seemed to get along with the kids at the playground. He has a soft-spoken way about him and Emily said he makes her feel calm. Jef's parents are Mormon and it's possible he is too — and even though Emily does not seem to be part of the LDS Church, a focus on faith and family is probably something they share.
Credit: ABC/DONNA SVENNEVIK
5. People Who Know Emily Think Jef Is a Good Match for Her
Michelle Money, the other single mom from The Bachelor 15, is friends with Em and knows and likes Jef. Michelle tried to warn Ashley Hebert away from fellow Utah resident Bentley Williams, so it's not like she just likes anyone from her state. Since Jef lives in the Salt Lake City area, if Emily and Ricki move there, Em could be close to Michelle and her daughter, Brielle, who is around Ricki's age. Jef has also received an early endorsement from Season 7 Bachelorette Ashley, who compared Jef to her own beloved JP Rosenbaum and said she's "team 'Jemily' all the way." (But for the record, it's Team Jem.) Season 6's Ali Fedotowsky also said Emily could end up with Jef since he's "a little funky" and "a little different" and she likes that. True Ali recently defected to Team Arie, but only because of the recent tradition of Chosen Ones getting their first dates on Episode 3. Ben Flajnik already broke that trend, so maybe Emily won't follow it either.
6. Jef Already Has Practice Proposing
We've already seen Jef get down on one knee to propose to a hot blonde. Yeah, it was Miss Piggy, but Emily seemed to like watching Jef say his vows on the Episode 2 Muppets group date. He did get that date's rose, after all. Maybe she even requested that he be the one to make that move. As Ashley Hebert blogged about that moment, "I seriously got goose bumps. There was something so honest about that proposal. Did you hear the music in the background, too? Show is over. Seriously." Seriously! Just check out the GIF of Jef looking to Emily for approval before proposing to Miss Piggy (compliments of The Bachelorette GIFs Tumblr)