Credit: Adam Taylor/ABC
Dancing With the Stars 2013 Live Recap: Week 2 Results Show — Dorothy Hamill Exits
Who will go home during tonight's Dancing With the Stars 2013 Results Show? Only time will tell until the first eliminated contestant of Season 16 is revealed, but if we have to place our bets, we're going with one of these three stars: D.L. Hughley, Dorothy Hamill, or Victor Ortiz.

But before we say goodbye to one celeb, the Results Show will also feature a few spectacular performances! The Season 16 pros and troupe dancers will open the night with a stellar routine. We have some new troupe members this year — including SYTYCD alum Witney Carson — so this will be their first chance to shine.

The show will feature a musical performance by Josh Groban, who is set to perform his current single, "Brave," with an 18-piece band accompanied by former DWTS pros Chelsie Hightower and Dmitry Chaplin. Aw! We missed those two!

Swedish duo Icona Pop will also perform their hit single, "I Love It." Needless to say, we're psyched for tonight's show.

Now that you know what to expect, join in on the fun below as Wetpaint Entertainment gets ready to live recap the Results Show. And since we know you have a lot of feelings (we do too!), tell us what you think of the episode in the comments.

We'll try our best to answer all of your questions, comments and concerns. Keep refreshing for more, and until the episode starts, have a GIF dance party with us!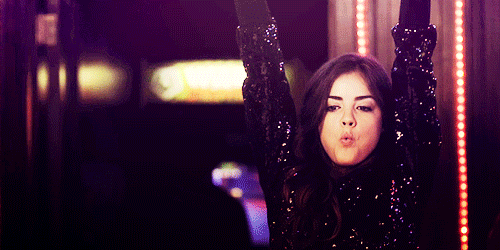 9:00 — Now the real dancing begins. Obviously, Val is the ladies man.

9:01 — Did you spot SYTYCD alum Witney Carson? She joined the Dancing With the Stars 2013 troupe this year!

9:04 — "Did you just hit your head on the desk?" We seriously think Carrie Ann had a few drinks last night.

9:06 — And the first couple saved is... INGO AND KYM! (If only they could have heard the good news the first time around.)

9:06 — Sean and Peta are also safe! ... And so are WYNONNA and Tony! Never doubt the country music fans, y'all!

9:07 — Unfortunately, Victor and Lindsay aren't so lucky. They're in jeopardy of going home.

9:09 — It looks like Zendaya and Val get to jive another night — they won the encore challenge! We have to admit: we were rooting for Jacoby and Karina's jazz routine, but Zendaya and Val's dance definitely made our Top 3 performances of the night. It's still every bit as fabulous as it was last night.

9:14 — Wow, Tom. You're really hitting the hard questions.

9:15 — "I don't know where Mark is." Aly, you are adorable. Oh, and ALY AND MARK are safe! Obviously.

9:16 — "Cheryl and I went from Bobby and Whitney to that couple from Silver Linings." D.L. Hughley, you are winning me back.

9:16 — D.L. and Cheryl are... SAFE. WHAAAAAT.

9:18 — Giggy wasn't on last night. Obviously, Lisa and Gleb are in danger of going home.

9:23 — Yes, it's true: We love Andy Dick.

9:24 — "I was letting an English dude and an Italian dude basically barrate me." -- D.L. Hughley's thoughts on Week 1.

9:27 — These dancers kind of look like they're going to club Karma... I DON'T CARE. I LOVE IT.

9:28 — Is anyone thinking about that scene from Girls right now? Just us? Oh, okay...

9:35 — Whoa. Hello Julian... how you doin'? (Hey, if Tristan goes home first, it looks like there's a new Brit on the Pro Troupe who can distract us!)

9:36 — Fun fact: Lindsay and Witney are BFFs!

9:37 — "No allergies to spray tanning, right?" NEVER CHANGE, TOM!

9:39 — Why are you shirtless Derek Hough?

9:41 — All of this season's early favorites are safe — Zendaya, Jacoby Jones and Kellie Pickler! As if any one of those three would go home first!

9:48 — Dmitry and Chelsie return! We missed you two.

9:49 — We don't need to hear anything else about the Murgalo. We get it.

9:50 — We're so nervous for Tristan right now.

9:51 — "Baby, come on. We did it!" Oh Andy. We heart you so much. (File this under: things we never thought we'd say.)

9:52 — DOROTHY AND TRISTAN ARE SAFE?!? What the what?! Even they knew they shouldn't have been safe!

9:55 — It should be noted that all three stars in the bottom have been partnered with new pros this season!

9:58 — Uh-oh! Due to a spinal injury, Dorothy Hamill withdrew from the competition, giving Victor and Lisa another week in the DWTS ballroom. We're going to miss you, Tristan!

Are you shocked by Dorothy and Tristan's exit? Sound off in the comments!