Credit: Adam Taylor/ ABC
Dancing With the Stars 2013 Live Recap: Week 3 Results Show — Who Was Eliminated?
Which Dancing With the Stars 2013 contestant is getting dumped after Prom Night? Only time will tell until the first official eliminated star of Season 16 is announced, but we'd be concerned if we were in Wynonna Judd, Lisa Vanderpump, and D.L. Hughley's shoes. After all, they are at the bottom of the Leaderboard after their unfortunate Week 3 performances.

But before we say goodbye to one celeb, the Results Show will also feature a few spectacular performances! Superstar — and X-Factor judge — Demi Lovato will perform her hit new single, "Heart Attack," which is sure to be accompanied by some stellar dancing from the Dance Pros. Meanwhile, '80s band Huey Lewis & the News will perform one of their many hits, "The Heart of Rock & Roll," accompanied by the DWTS troupe.

Tonight's Results Show also marks the first Macy's dance of the season! The dazzling routine, choreographed by Nick Florez and RJ Durell, will feature mind-blowing stunts and eight of the hottest dancers working in the industry. Not to mention the sexy male pros and troupe dancers will also perform a special routine. We're definitely looking forward to that one! Hopefully we'll get a glimpse of Tristan MacManus, since we're already in withdrawal.

Now that you know what to expect, join in on the fun below as Wetpaint Entertainment gets ready to live recap the Results Show. And since we know you have a lot of feelings (we do too!), tell us what you think of the episode in the comments.

We'll try our best to answer all of your questions, comments and concerns. Keep refreshing for more, and until the episode starts, have a Derek Hough GIF dance party with us!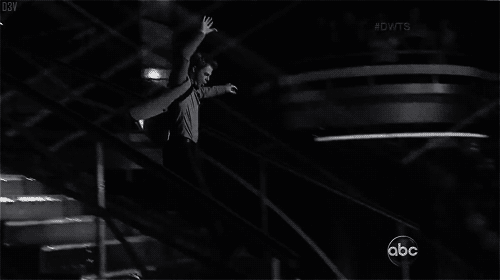 9:00 — We just really want to see Demi Lovato.

9:01 — "I don't drink anymore, but I always carry around a six pack." It never gets old, Andy Dick.

9:03 — The DWTS Prom King and Queen are... Zendaya and Jacoby! Good job, America!

9:04 — "Welcome to Game of Thrones, the ballroom edition." Love you and your humor, Tom.

9:12 — Andy Dick is definitely the Class Clown... except when he cries.

9:13 — "Who's the black guy on the show who has no rhythm?"

9:13 — Jacoby is the best farter. Well, we're sooooo happy we know that bit of info, Karina.

9:14 — Bruno is doing the YMCA for Peta and Sean's encore dance. We were wrong last night. THIS is a new low.

9:15 — Not any better the second time around.

9:17 — We always knew Len talked to himself.

9:18 — Kellie and Derek can't do math. This is oddly charming. But at least they're safe!

9:19 — "I can't get over how kind I've been this season." This is a real thing Len just said.

9:20 — We're pretty sure D.L. wants to punch Len in the face.

9:21 — How is D.L. safe again?!

9:24 — TRISTAN IS BACK, Y'ALL! This male pro dance is awesome.

9:26 — Can someone just punch Derek in the face?

9:28 — "I guarantee you're going to be Prom Queen." I just love Peta so much.

9:29 — Sean and Peta are safe!

9:29 — Lisa and Gleb are in the bottom three again. Giggy does not approve.

9:30 — Victor and Lindsay are safe!

9:30 — Andy and Sharna are in jeopardy. Seriously?! What is wrong with the world?

9:37 — Men vs. Women. Who has it easier on Dancing With the Stars?

9:38 — "I'm going to blame it on Gleb. He's not cute enough." You mean, he's not famous enough.

9:39 — This entire dance is backwards. Trippy.

9:47 — This is the second time Demi has performed "Heart Attack" live, so we're going to cut her a break. It would help if the cameras stopped moving.

9:50 — It looks like during last night's performance, Ingo couldn't get Kym's skirt off. He thinks it cost them a point, "at least." We disagree. We think he needs to work on his stiffness.

9:51 — Aly and Mark are safe!

9:52 — Ingo and Kym are also safe! You can breathe a sigh of relief, Ingo.

9:53 — In the least surprising news ever, Wynonna and Tony are up for elimination.

9:57 — Lisa and Gleb are safe!

9:58 — Please let Andy be safe... please let Andy be safe... please let Andy be safe.

9:59 — And it looks like Wynonna Judd is the first official eliminated contestant of Season 16.

Are you upset by tonight's elimination? Sound off in the comments?