Credit: Adam Taylor/ ABC
Dancing With the Stars Live Recap: Week 4 Performances — Bring on the Tears
Do you have your tissues ready? Because you're going to need them during tonight's Dancing With the Stars. It's time for the 10 remaining Season 16 contestants to reflect on the best years of their lives, which means three things: tears, an Andy Dick meltdown, and more tears.

Of course, with emotions running high, there's always a chance D.L. Hughley might finally snap and let judge Len Goodman have it. (We can only hope, right?) But before the drama starts, here's a preview of what to expect during the Week 4 performances.

Aly Raisman and Mark Ballas will tackle an emotional Contemporary dance dedicated to 2012 — the year Aly took home Olympic gold. Naturally, we're hoping the two will dance to Phillip Phillips's home because that would just be perfect. Also in performances sure to make us cry, Andy Dick and Sharna Burgess will dedicate their dance to Andy's teenage daughter.

"Next week, I'm very excited — I'm doing a dance for my daughter, who's 15," And ytold Access Hollywood. "I feel like this is the last year of her being a child. I've seen my other kids go from 15 to 16, 17, 18 — there's a big shift. My two sons are older. This last year I want to hang onto, so I'm dancing for her."

Get the details on everyone else's "Best Year Ever" performances here.

Well, now that you know what to expect, join in on the fun below as Wetpaint Entertainment gets ready to live recap the Week 4 Performance Show. And since we know you have a lot of feelings (we do too!), tell us what you think of the episode in the comments.

We'll try our best to answer all of your questions, comments and concerns. Keep refreshing for more, and until the episode starts, here's Aly Raisman demonstrating how we typically feel on Mondays.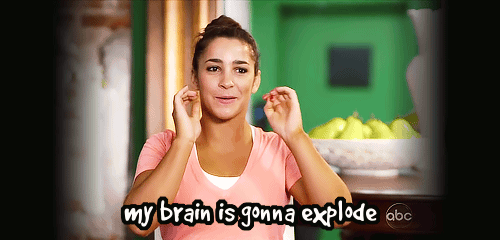 6:45 — It's not even showtime, and we're already emotional because Andy Dick posted this adorable photo of him and his daughter Meg on Facebook. Don't forget to read the caption! (Warning: Get some tissues ready for tonight.)
Credit: Facebook
8:04 — Looks like Gleb Savchenko is going solo this week. She's "resting" but will she dance?

8:04 — For his best year ever, Sean picked 2012 — the year he met Catherine. Kind of want to vomit if we have to relive The Bachelor all over again.

8:05 — Give your heart, Catherine. GIVE YOUR HEART TO CATHERINE.

8:06 — Is it just us or does Sean never know what to do with his arms?

8:07 — Sean's solo is probably one of the most awkward things ever, but you know what? YOLO, Sean. Keep dancing on your own.

8:07 — "He was steaming, and I'm beaming," says Len. Looks like he was a fan.

8:09 — The lift police is back... says Carrie Ann.

8:10 — 6-7-7 from the judges. Looks like those two lifts killed Sean and Peta's scores. Hell hath no fury like Carrie Ann when she sees a lift.

8:16 — Victor is dancing to the song, "We Will Rock You" by Queen. We're not ready to hear the DWTS destroy this one...

8:17 — "2011 was a very emotional year for me." (It was the year Victor one a boxing World Championship, FYI.)

8:18 — It's going to be hard to beat Jacoby's Paso Doble...

8:19 — Paso is all about strong movements, so if you're not 100 percent sure what you're doing next, it's not going to be good.

8:21 — We agree with Bruno: Victor was a little too vicious on the dance floor.

8:22 — And it's a 6-6-6 from the judges.

8:27 — 2012 was the best year of Jacoby's life — but not just because of his Superbowl win. It was also the year his son was born. Aww! Junior is such a cutie.

8:28 — "Jacoby is not a fan of the foxtrot." Is anyone ever a fan of the foxtrot?

8:30 — The fact that Jacoby wants to sing this song to his song might be the cutest thing ever. Also, Jacoby's solo was amazing.

8:31 — So many emotions. The baby is wearing a little suit... and his mom is crying. WHERE ARE THE TISSUES?

8:32 — Carrie Ann's advice for Jacoby: "Get the booty in!"

8:33 — The judges loved Jacoby's unique foxtrot.

8:33 — "I know your son probably won't remember that dance..." Thanks for that, Brooke.

8:34 — 8-8-8 for Jacoby and Karina!

8:39 — We still think Aly and Mark should have danced to Phillip Phillips' "Home." (But "Titanium" is cool too.)

8:41 — Contemporary was made for Aly Raisman.

8:43 — I mean, you can't compete with a floor routine like that.

8:43 — SPOTTED: GABBY DOUGLAS!

8:45 — That was Aly's best dance by far. And the scores prove it! 9-9-9! The highest score of the competition so far. We think Aly definitely deserves it.

8:50 — "I'm going to dance my way out of the bottom two." I love you, Andy.

8:51 — "My kids have had it hard because I'm their father." Stop it. The tears have started.

8:52 — OMG. HE'S DANCING TO LEONARD COHEN'S "HALLELUJAH."

8:53 — Peta and Jacoby were both crying. We're crying. Everyone is crying.

8:55 — Carrie Ann is openly sobbing. "It was like a simple poem."

8:56 — "You came into this competition a man, and whatever happens, you'll come out of this a hero." -- Len

8:57 — We need a commerical to emotionally recover.

9:00 — And it's 7-7-7 for Andy and Sharna! We thought Carrie Ann would have thrown in an 8, but a 7 will do. We just love Andy and his positive attitude. If it's going to be your last dance, you might as well make it special.

9:02 — Zendaya chose 2009 as her Best Year because it was the year she was discovered and filmed her Disney pilot!

9:03 — Zendaya is dancing to "Love on Top" by Beyonce. (Cover your ears, DWTS fans!)

9:05 — These two are adorable.

9:05 — "You are baby Beyonce!" Well, we wouldn't go that far, but okay...

9:06 — Len would have preferred more Samba in Zendaya's solo, but having said that, the dance was "fantastic."

9:08 — And it's 9-8-9 for Zendaya and Val!

9:20 — We're not a fan of Ingo and Kym's song choice, but at least his kids are adorable.

9:21 — And it's a 8-7-8 for Ingo. That's one of his best scores yet! But does anyone else think Ingo's performances have been a tad too boring?

9:26 — "Because nothing says Compton like the foxtrot."

9:27 — "With this dance, I want to show the world that I can be a stuffy old English person too." We're going to assume that one was for Len.

9:29 — "Okay. It's time for your favorite part of the show!" We just love Tom Bergeron so much.

9:30 — We have to admit: D.L.'s Foxtrot was not that bad. It honestly could have been worse.

9:30 — "In the best year of my life, Len wasn't there." Nice dig, D.L.

9:31 — D.L., how was the best year of your life in 9th grade?

9:32 — D.L. and Cheryl just scored a 7-7-7, which is the same score as Andy and Sharna's Viennese Waltz. WHY? In what universe is that fair?!

9:41 — Kellie is dancing to the song her husband wrote for their wedding. We will be downloading this song, ASAP.

9:42 — How does Kellie point her toes like that?!

9:42 — "You make the most beautiful pictures with your body." We agree, Carrie Ann.

9:43 — We agree with the judges: there wasn't a lot of fluidity in this Rumba.

9:44 — It's a 9-8-9 from the judges, tying Zendaya and Val. It looks like Aly and Mark are topping the Leaderboard this week!

9:50 — It looks like Lisa is dancing her Cha-Cha-Cha afterall!

9:51 — Get the scoop on why Lisa fainted here.

9:52 — "Hey, you okay?" Oh, Gleb. Sweet, innocent Gleb.

9:54 — We love seeing Lisa back in her signature pink. She looks fab.

9:54 — For more votes, Lisa instructed Gleb to take off his shirt. We're not complaining.

9:55 — Lisa is sort of like every mom at their son/daughter's wedding.

9:56 — For not having any time to practice, it wasn't that bad. At least Lisa looked great, right? Let's not forget Giggy! He looked good too.

9:57 — Carrie Ann, we think lifts are the least of Gleb's worries.

9:58 — And it's a 6-6-6 for Lisa and Gleb.

What did you think of tonight's performances? Who do you think should stay, and who should go? Sound off in the comments below!