Credit: Adam Taylor/ ABC
Dancing With the Stars 2013 Live Recap: Week 4 Results Show — Who Was Eliminated?
Which Dancing With the Stars 2013 contestant saved the best dance for last? Only time will tell until the next eliminated star of Season 16 is announced, but we'd be concerned if we were in Lisa Vanderpump, Victor Ortiz and Sean Lowe's dancing shoes. After all, they are at the bottom of the Leaderboard after their less-than-stellar Week 4 performances.

But before we say goodbye to yet another celeb, the Results Show will also feature a few spectacular musical performances! Country superstar Brad Paisley will perform his most recent No. 1 hit, "Southern Comfort Zone," while international superstars Andrea Bocelli and Jennifer Lopez will perform a new rendition of the classic Latin song, "Quizas, Quizas, Quizas." Something tells up pro troupe member Witney Carson is going to look stunning during this performance!

Tonight's Results Show also marks a special dance for pro Derek Hough, who will dance with Brilynn Rakes, a San Diego teen who was born with nystagmus and cone dystrophy and is legally blind. However, her hardships haven't stopped her from accomplishing her dreams; she is an accomplished dancer who was recently honored with a full scholarship to Julliard's summer workshop. Derek and Brilynn will dance a beautiful routine to "Stars" by Grace Potter and the Nocturnals.

Now that you know what to expect, join in on the fun below as Wetpaint Entertainment gets ready to live recap the Results Show. And since we know you have a lot of feelings (we do too!), tell us what you think of the episode in the comments.

We'll try our best to answer all of your questions, comments and concerns. Keep refreshing for more, and until the episode starts, admire this sassy GIF of Zendaya and Val!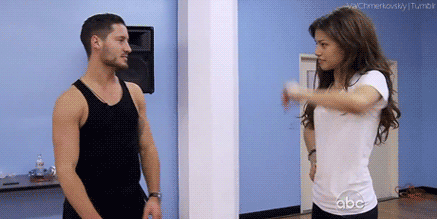 9:00 — These intros are always so dramatic.

9:01 — The female pros really are the best, especially Sharna. She's serving Beyonce fierceness right now.

9:02 — Oh, and she choreographed that routine too. Girl crush alert!

9:04 — Too soon, ABC. We can't relive Andy's emotional tribute to his daughter — we've barely recovered from the first performance!

9:05 — Who is the first couple safe from elimination? ALY AND MARK! As if there was ever any doubt.

9:06 — Zendaya and Val are also safe! Again, was there ever any doubt?

9:06 — What do you know? Kellie and Derek are also safe. We're so shocked...

9:07 — Ingo and Kym are also safe. We really hope Ingo picks up momentum soon. He's been stuck in the middle since Week 1.

9:10 — We're starting to worry for Andy Dick. The poor guy doesn't deserve to be in the bottom this week.

9:12 — Keep Calm and Watch Aly Raisman Do Backflips.

9:14 — "He pigeon-toed Len, so he can't point them." We just love Jacoby.

9:15 — And it looks like America does too because Jacoby and Karina are safe!

9:16 — Sean and Peta were not happy with their performance. We weren't either, Sean.

9:17 — But it's okay because Sean and Peta are safe. WHY AMERICA, WHY?

9:21 — Oh, DWTS. As if we'd believe Bruno had a writer. He's just a naturally gifted — yet slightly erotic — poet.

9:23 — "He does have voices in his head, but they're his own." Keep going, Tom. We need more zingers tonight.

9:25 — Can we take a moment to talk about Peta's hair? We're not a fan of those extensions. We liked her better as a brunette.

9:26 — Tony looks fab, though.

9:27 — We could watch Val and Karina dance all night. Seriously, why aren't those two partnered more often?!

9:36 — We're not emotionally prepared for this dance, Derek.

9:37 — P.S. This song is called "Stars" by Grace Potter and the Nocturnals.

9:44 — Who knew Jennifer Lopez and Andrea Bocelli would sound THIS GOOD together?

9:47 — "I got a 7 out of Len, which is actually a sign of the Apocalypse." D.L. is so on point tonight, as per usual.

9:51 — We love hearing how much the stars and pros yell at eachother on the dance floor. "VICTOR, TAKE YOUR GLOVES OFF!"

9:52 — D.L. and Cheryl are safe... yet again!

9:54 — Let's seriously talk about who is voting for D.L. It must be Cheryl's fans, right? Or is D.L. getting the pity vote because the judges are so hard on him?

9:55 — We're thinking Victor might be the one to go this week.

9:56 — ANDY AND SHARNA are safe! Thank goodness.

9:59 — It looks like Lisa Vanderpump is hanging up her dancing shoes. We have to admit, we're sad to see her go. She was hilarious! (Not to mention, Gleb was nice to look at.) Bye-bye Giggy. See you on Bravo!

10:00 — We're kind of shocked Victor didn't go home, but at least this means we get one more week of Lindsay. She's steadily becoming the new Julianne Hough — a bubbly blonde with a charismatic personality. Do you agree?

Do you think the right person went home tonight? Sound off in the comments below!