Credit: Katherine Bomboy-Thornton / ABC
Nashville's Jay Hernandez: 5 Things to Know
In an ensemble cast with as much talent as Nashville boasts, it's sometimes hard to remember the guest stars. But not Jay Hernandez. The actor who plays sober counselor Dante has long been a permanent fixture in our minds. Which is weird, we s'pose, since he hasn't done a lot that you've heard of. But seeing as he's like knee-deep in Barnes women, we thought we'd give you a little quickie course on all of his goodness. Here are five things to know about the man who might do more harm than good for both Juliette and Jolene:

1. He was in Crazy/Beautiful with Kirsten Dunst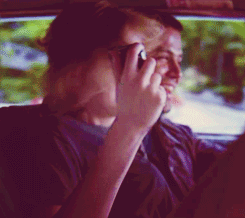 We don't know if you saw this movie, but we are going to assume you did, because when it came out in 2001, we weren't yet annoyed by everything she did and so we were first in line to buy tickets. Naturally, the movie was awful amazing. But Jay Hernandez looks like this in it and they're really cute together. So...

2. He was discovered in an elevator
This, like, never happens except in movies, or in the lives of really, extremely beautiful men. Jay was just innocently riding in an elevator (something Rayna and Deacon know nothing about) in his LA highrise when an agent approached him about, you know, being famous. So, thank you elevator guardian angel.
Credit: Linda Spillers/Getty Images
3. He's married
It's true. And yes, we're as pained as you are. But, well, okay. He and Daniella Deutscher, who starred with Jay on the award-winning (not really) show Hang Time, got hitched in 2006. Guess that means we're going to start investing a lot more in projecting ourselves into Juliette's cowboy boots. And basketball lessons (is that a thing?).
4. He shared screen time with Connie Britton in Friday Night Lights
The movie, not the show. Before you go back to staring at Tim Riggins in hopes that the two will cross paths (not the worst idea you've had today), Jay played a football player in the film version of Friday Night Lights, which starred Connie as coach Billy Bob Thornton's wife.

5. He's really great at smiling