Credit: Instagram
Dancing With the Stars 2013 Live Recap: Season 16, Week 5 Performances — Return of the Maks
Are you ready for Len's Side-By-Side challenge, Dancing With the Stars fans? Or are you more excited for former pro Maksim Chmerkovskiy's return to the DWTS ballroom?

We have to admit, we're pretty pumped for tonight's live show, especially thanks to the return of some of our favorite pros — from Maks to the fiery Anna Trebunskaya and the gone-too-soon Tristan MacManus. We're excited to see our favorite pros dancing side-by-side with the Season 16 contestants. Not to mention we really can't wait to see how Aly Raisman and her pro partner Mark Ballas top themselves after last week's stellar Contemporary performance.

Here's the list of what each Dancing With the Stars 2013 pair — and their pro counterparts — will be dancing:

Aly & Mark with Witney & Tony — Samba

Andy & Sharna with Sasha & Emma — Paso Doble

D.L. & Cheryl with Sasha & Chelsie — Tango

Ingo & Kym with Tony & Emma — Cha-cha-cha

Jacoby & Karina with Maks & Anna — Jive

Kellie & Derek with Anna & Henry — Foxtrot

Sean & Peta with Tristan & Chelsie — Quickstep

Victor & Lindsay with Tristan & Emma — Viennese Waltz

Zendaya & Val with Maks & Anna — Argentine Tango

Get the details on everyone's Side-By-Side performances here.

Well, now that you know what to expect, join in on the fun below as Wetpaint Entertainment gets ready to live recap the Week 5 Performance Show. And since we know you have a lot of feelings (we do too!), tell us what you think of the episode in the comments.

We'll try our best to answer all of your questions, comments and concerns. Keep refreshing for more, and until the performances start, here's a sexy GIF of Maks to tide you over.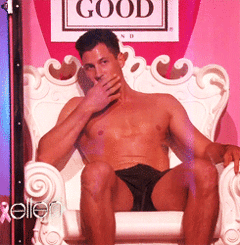 8:00 — A lot of heavy hearts in the ballroom tonight. Hard to concentrate on dancing when there's so many people suffering in Boston. But, alas, the show must go on. #PrayForBoston

8:01 — "Our thoughts are with everyone in Boston tonight." — Tom Bergeron

8:02 — What is on Peta's head?! Oh, hey, Maks! I can't deal with Sharna's abs.

8:03 — Here's a sight we never thought we'd see in the ballroom again: Maks and Karina! Could these two be any hotter?

8:04 — This opening number might be the best group number of the season. (And it's not just because Maks is back!)

8:05 — Poor Gleb.

8:06 — Everyone move you make, every step you take, Len will be watching you.

8:11 — Ingo and the Cha-Cha-Cha just don't mix. He's already cracking under the pressure!

8:12 — Ingo and Kym vs. Tony and Emma.

8:14 — We missed you, Tony. Thanks for not adding unecessary facial hair.

8:15 — Ingo still needs to loosen up.

8:15 — Anyone else finding it harder to focus on just Ingo?

8:16 — "As much as it's about the dancing, it's also about the stanima." So says Len.

8:17 — Bruno says Ingo is hiding a lot of technical problems with his flare... which is kind of like a back-handed compliment.

8:19 — 7-7-7 for Ingo and Kym. We agree with that score. It looks like Ingo got his wish — he's smack in the middle of the Leaderboard (yet again).

8:24 — Jacoby and Maks?! This must be our lucky night. And they're both sweaty too.

8:25 — Apparently, the Jive is just like the Skip.

8:25 — "I can't move my sh-- like that. I am a man."

8:26 — We love how Jacoby is just going to strip on a weekly basis. We're ok with this.

8:27 — Also, this Jive is incredible. Maks, who? (Just kidding...) Also, Anna is adorable, as per usual.

8:28 — This definitely deserves the first 10 of Season 16. A 10 from Len, perhaps? We won't hold our breath.

8:29 — "I love you back, girl!" Jacoby is just the best.

8:30 — It might be too early for 10s, but Jacoby definitely deserved one.

8:31 — 9-8-9 for Jacoby and Karina.

8:32 — Jacoby is the new Donald Driver. He's going to strive for a 10 from Len all season, and he'll finally get one in the finals.

8:37 — Victor seems to do better with the slower routines, so maybe he'll surprise us with this one?

8:38 — FYI, guys: Victor is going through a bad breakup.

8:39 — TRISTAN! Please come back to Dancing With the Stars, thanks.

8:40 — Having two couples on screen at once is way too distracting.

8:41 — Lindsay makes Victor look good. Sorry, not sorry.

8:42 — Carrie Ann calls Victor's Viennese Waltz a "victory."

8:42 — We agree with Bruno. This time, Victor "rolled with it."

8:43 — 7-7-7 for Victor and Lindsay! We definitely enjoyed that more than Ingo and Kym's Cha-Cha-Cha, so that's saying something.

8:48 — "So I'm the girl you can't have? Hm, interesting." Go on, Aly. Get cuter. We dare you.

8:50 — We love that Aly and Witney are DWTS BFFs.

8:51 — "Mark's a good girl too. He's good at being sassy." WE NEED A GIF OF THAT MARK AND TONY MOMENT NOW.

8:52 — We're going to predict what Bruno is going to say: "Aly, you little minx!"

8:53 — Loving this Samba. Mark's choreography is so on point this season.

8:53 — "Your bottom is the top," says Len. Oy.

8:54 — "Sassy and saucy," says Bruno.

8:54 — "Sex kitten," says Carrie Ann.

9:00 — 8-8-9 for Aly and Mark! Aly dedicated her Samba to everyone in Boston.

9:01 — Tristan is just perfect. End of story.

9:02 — Sean and Tristan are totally bros.

9:03 — Correction: Tristan in a hot pink shirt is perfect.

9:04 — We can't take Peta's 'fro seriously.

9:04 — This Quickstep is a lot better than last week's ballroom tragedy.

9:06 — The judges liked it. Well, Len called him a "pigeon," which we guess is a compliment. Also, that awkward moment when Bruno couldn't stop laughing.

9:07 — Sean Lowe: The biggest Tristan MacManus fangirl.

9:08 — 8-8-8 for Sean and Peta!

9:09 — Derek is not impressed, Kellie. And it's scary. Where's the wasp face? That was more fun.

9:10 — It's Henry and Anna vs. Kellie and Derek. We love seeing Anna mentor Kellie in rehearsals. She definitely needs it after Derek's dose of tough love.

9:15 — Kellie looks amazing. She looks like a Great Gatsby Barbie doll.

9:17 — It's so hard not to like Derek's choreography. This Foxtrot is so glam.

9:18 — BREAKING: Carrie Ann loved the Side-By-Side Challenge.

9:19 — "You put the 'oooo' in smooth." Oh, Len. Never change.

9:19 — Bruno and I apparently have the same brain. Should I be happy about this?

9:20 — "I'm just glad my wig didn't fly off!" Kellie is so articulate.

9:21 — "I don't hate you, but I hate your ways right now." We'd probably slap him, Kellie.

9:21 — 9-9-9 for Kellie and Derek!

9:27 — Is D.L. wearing make-up? Is that why he looks a little scary all the time?

9:27 — "You're like a dirty old man right now. Stop!" Surprisingly, this was not about Bruno.

9:29 — D.L. definitely wins the Most Improved Dancer Award. We never thought he would make it to Week 5! And this Tango really isn't that bad compared to Wynonna's sad, sad stripper pole Tango.

9:31 — This is as caffeinated as D.L. gets, Len.

9:32 — "Side-by-side you could tell we looked different. Was it the hair that gave it away?" At least D.L. still has his humor!

9:33 — "If me and Len are getting along better, the rest of the world could too."

9:33 — 6-6-6 for D.L. and Cheryl. He's "still in the game," America!

9:38 — Maks vs. Val. It's on! (Wait, Val has never done the Argentine Tango before?!)

9:39 — "I gotta teach a girl how to be a woman. It's not easy." We miss Anna.

9:40 — Can we watch Val and Maks do the Argentine Tango?

9:41 — This. Is. Amazing. Loving the intensity. This is definitely our favorite Val and Zendaya dance.

9:43 — "The ultimate femme fatale," says Bruno. We agree. She ditched the Disney for the night.

9:44 — Len compares it to a lemon tart. Could this be the first 10 of the season?!

9:45 — 10-9-10 for Zendaya and Val! That was amazing!

9:46 — Val dedicated the 10s to everybody in Boston. What a class act. These two are incredible.

9:52 — We're a little afraid for Andy and Sharna's Paso Doble, but we know Andy is going to ham it up with this Zorro routine.

9:53 — "When you think Paso Doble, you don't think of Andy Dick, but you will after this dance."

9:54 — Love Andy's entrance! Only a Dick could fly from the ceiling like that.

9:55 — We can't take this facial hair seriously.

9:56 — The entrance was simply unforgettable.

9:57 — The cape was distracting, but it was still fun! It's 6-6-6 for Andy and Sharna.

9:58 — It's clear Andy is the favorite among the Season 16 cast. They LOVE him — especially Jacoby.

9:59 — "I feel so strong — like Zorro!" We love you, Andy. Never change.

What did you think of tonight's show? What was your favorite dance? Sound off in the comments!