Credit: Adam Taylor/ ABC
Dancing With the Stars 2013: Watch All the Week 5 Performances (VIDEOS)
It's that time again, Dancing With the Stars fans, and tonight is going to be one for the record books. We love every week of the hit dance competition show, but Season 16: Week 5 performances features something brand new: pros paired together dancing with the stars!

Tonight, former pros and troupe members will unite for "Len's side-by-side challenge," in which fan favorites like Maksim Chmerkovskiy and Tristan MacManus team up with lovely ladies like Anna Trebunskaya and Chelsie Hightower to dance alongside a Season 16 pair, mirroring their routine for part of it, and dancing on their own for the rest.

Considering that Maks is mentoring his brother, Val, and his teen sensation partner, Zendaya, we bet things are going to be especially exciting. (Bonus points if Maks takes off his shirt!)

Some of the other Mirror Ball hopefuls dished their side-by-side plans, but we still can't imagine what this will look like in the ballroom! Alas, we just have to wait and see.

As always, we'll be updating this post with all of the dances throughout the night, so keep refreshing this page to see the good, the bad, and the ugly. But to occupy you until then, here's a GIF of Maks thrusting, as he does.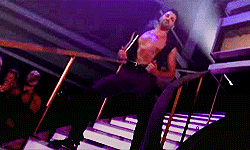 Alyse Whitney is an editor at Wetpaint Entertainment. Follow her on Twitter @AlyseWhitney.