Credit: Adam Taylor/ ABC
Dancing With the Stars 2013 Live Recap: Week 5 Results Show — Who Was Eliminated?
Which Dancing With the Stars 2013 contestant is hanging up their dancing shoes after Week 5 of the competition? Only time will tell until the next eliminated star of Season 16 is announced, but we'd be concerned if we were Victor Ortiz, Andy Dick, or Ingo Rademacher (because at this point, we know D.L. Hughley is never going home). However, these three DWTS hopefuls all had less-than-stellar Week 5 performances.

But before we say goodbye to yet another celeb, the Results Show will also feature a few spectacular musical performances! Former Disney starlet Selena Gomez is performing her hit new single "Come and Get It" on the DWTS stage. We can only imagine what kind of Bollywood-inspired performance the pros will put together for this one. Country stars The Band Perry — aka siblings Kimberly, Reid and Neil Perry — will also perform their hit song, "Better Dig Two."

Tonight's Results Show will also feature a spectacular opening number choreographed by BFF pros Mark Ballas and Derek Hough. With these two at the helm, we know we're in store for something mind-blowing. Oh, and did we mention fan fave pro Maksim Chmerkovskiy is back for yet another dance?!

Now that you know what to expect, join in on the fun below as Wetpaint Entertainment gets ready to live recap the Results Show. And since we know you have a lot of feelings (we do too!), tell us what you think of the episode in the comments.

We'll try our best to answer all of your questions, comments and concerns. Keep refreshing for more, and until the episode starts, admire this GIF of Val and Zendaya being adorable.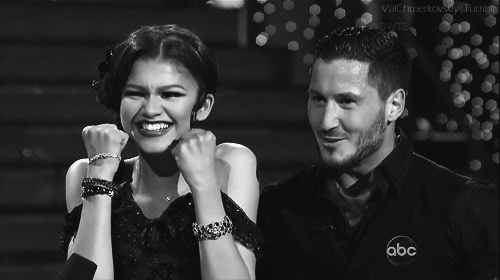 9:00 — This routine is insane. Peta looks like an alien, but I'm guessing that's the point.

9:02 — That song was called "Spectrum" by Zedd feat. Matthew Koma. The routine was choreographed by our face DWTS BFFs Mark and Derek!

9:05 — Val and Zendaya are just perfect. We all agree on that, right?

9:06 — The first couple who is safe is... Kellie and Derek! We are so shocked.

9:06 — The first couple in jeopardy is... Ingo and Kym. Sad to say, but we saw that coming.

9:11 — We're loving this Real World-style confessionals, DWTS producers!

9:13 — "Would you accept this Dancing rose?" Sean asks Tristan. I just can't.

9:14 — As much as we loved Zendaya and Val's Argentine Tango — and we really loved it! — we're glad Len chose Jacoby and Karina's Jive for tonight's encore. It's just so fun!

9:15 — Looks like Jacoby hit Karina in the head when he went to jump over her, but she took it like a pro.

9:17 — Bruno and Carrie Ann are having too much fun at Len's expense, and we love it.

9:18 — "When something's wrong with him, I get bitched at." Mama Chmerkovskiy is our hero.

9:18 — "You look like a gondola rider." Buuuuuurn.

9:19 — Val and Zendaya are safe!

9:20 — Victor and Lindsay are in jeopardy. Not a total surprise after last night's performance.

9:25 — I want to be Witney Carson right now. Witney and Tristan are kind of amazing together, no?

9:27 — Carrie Ann was totally rocking out. Get it, girl.

9:28 — LEN IS KID PRESIDENT! I HAVE SO MANY EMOTIONS. "Careful doesn't get you a standing ovation. Careful doesn't win a Mirror Ball."

9:29 — Which pep talk do you prefer? Kid President's pep talk or Len's?

9:30 — Jacoby and Karina are safe! Joining them are Aly and Mark. DUH.

9:36 — Looks like it's Team Derek vs. Team Val for the Team Challenge next week! It's kind of the the Jets vs. Sharks in the modern age. (Also, song choices: "Higher Ground" vs. "Superstitious")

9:37 — We're rooting for Team PicklerDick. Love you, Andy. Please don't change. Even Tom is speechless!

9:45 — Poor Selena Gomez. The sound in this ballroom is awful. Smile through it, Selena. At least your dress is pretty.

9:48 — This bromance between Tristan and Sean is just too much.

9:49 — "Everyone loves Andy," says Aly. "Except the judges," says Andy. Truth.

9:50 — Sean and Peta are safe! Tristan can breath a sigh of relief.

9:51 — Andy and Sharna are also safe! PRAISE.

9:52 — Sorry D.L., but you should go home. But we think Victor and Lindsay are going to get eliminated.

10:00 — Cue the dramatic music! We stand corrected. It looks like after five weeks of awkward ballroom performances, D.L. Hughley was eliminated from the competition. Sorry, Boogie Fantastic, but it was time to go.

Do you agree with America's vote? Sound off in the comments!