Credit: Instagram
5 Things Kate Walsh Is Obsessed With — According to Her Tumblr
We're still in disbelief that Kate Walsh isn't returning to Grey's Anatomy, but just like her character, Addison Montgomery, she knows how to distract us.

Our favorite redhead branched out with her social media outlets and joined Tumblr, starting off like her Twitter page with an Instagram pic and some behind-the-scenes looks at her interviews, but then things got weird.

In addition to her amazing verification post — which started off as, "That's right bitches, it's really me." — she refers to her fans as "kittenchops" and has already posted so many amazing things.

Here are five of Kate's obsessions, according to her Tumblr — and yes, GIFs are involved.

5. She's obsessed with cats

We already knew that Kate loves her cats, Billy and Pablo, but we didn't know that she was so obsessed! Case in point: check out this crazy GIF she reblogged of a multi-patterned one!

3. She's obsessed with GIFs... of herself!

To date, she's shared the following GIFs. Note that at least one of them was reblogged with one word: "Holler."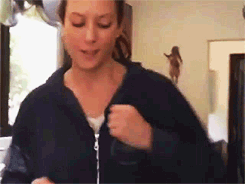 2. She's obsessed with Tumblr (and followers her own tag)

To shoot down rumors of her wearing high heels in the sand, she reblogged this GIF montage of her interview with Chelsea Handler and wrote, "No way this is true peeps. No way!" Kate is a classy bitch.
Credit: Kate Walsh's Tumblr
1. She's just as obsessed with her show(s) as we are

Amongst the cat pictures, Instagram shots from her vacation, and GIFs, she reblogged an adorable Private Practice collage, writing, "Awww. Miss these gals." We'll be waiting anxiously for a Grey's Anatomy one. Any day now, Kate...
Credit: Kate Walsh's Tumblr
Alyse Whitney is an editor at Wetpaint Entertainment. Follow her on Twitter @AlyseWhitney.