Credit: Adam Taylor/ ABC
Dancing With the Stars 2013 Live Recap: Week 6 Results Show — Who Was Eliminated?
Which Dancing With the Stars 2013 contestant saved the best (or worst) dance for last? Only time will tell until the next eliminated star of Season 16 is announced, but we'd be concerned if we were Andy Dick, Victor Ortiz, or Sean Lowe. After all, these three DWTS hopefuls all had less-than-stellar Week 6 performances. (Was Victor even dancing at all?)

But before we say goodbye to yet another celeb, the Results Show will also feature a few spectacular musical performances! Former Black Eyed Peas hitmaker will.i.am will perform his current single, "#thatpower" (sans Justin Bieber), and British singer Olly Murs will perform his current hit, "Troublemaker."

Tonight's Results Show marks the third installment of "Macy's Stars of Dance" of the season, choreographed by AJ Jones. It's going to be hard to top Derek Hough and Mark Ballas' (Team Marek!) futuristic routine from last week, but we're always ready for more performances.

Now that you know what to expect, join in on the fun below as Wetpaint Entertainment gets ready to live recap the Results Show. And since we know you have a lot of feelings (we do too!), tell us what you think of the episode in the comments.

We'll try our best to answer all of your questions, comments and concerns. Keep refreshing for more, and until the episode starts, admire this GIF of Val and Zendaya on the dance floor.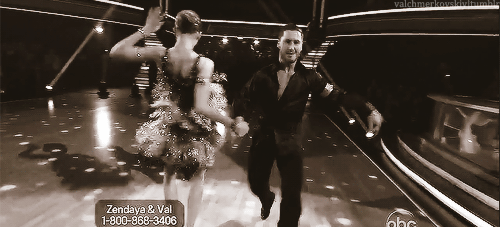 9:00 — For everyone over the age of 16, this is British singer Olly Murs.

9:03 — Lindsay is adorable. If she and Victor go home tonight, she should definitely join the Pro Troupe.

9:04 — Do we really have to relive Sean Lowe's dance? It was painful enough the first time around.

9:05 — Jacoby's mom is really our favorite part of Season 16. "Don't be a hater!"

9:06 — No surprise here, but Kellie and Derek are safe!

9:06 — Aly and Mark are also safe! Team Marek FTW!

9:11 — Stevie Wonder should just win the Mirror Ball, amirite?

9:12 — Wait, is DWTS karaoke a thing? Because we'd totally sign up for that.

9:13 — Isn't Zendaya a singer?

9:13 — "We butchered this song." Yep. Pretty much, Kellie Pickler.

9:14 — Why are we reliving this Paso Doble?! Oh, wait, it's because Zendaya has over 2 million Twitter followers.

9:16 — "I was feeling it, yo." Zendaya is definitely taking after Val.

9:17 — This is the third time we've seen Sean's awkward shimmying. I can't handle a fourth.

9:24 — Tom Bergeron just announced DWTS will be a part of Adrianne Haslet's, the dancer who tragically lost her foot in the Boston Bombings, road to recovery. Does this mean she'll make an appearance on next week's show?

9:26 — Fun fact: the celeb aquarium is "really, really tiny." Thanks for that Kellie!

9:27 — Also, the celebs want you to know that it's really stressful backstage.

9:28 — Why will.i.am, why?! Where's Justin Bieber?

9:29 — Can we all take a moment to appreciate will.i.am's pants?

9:33 — OK, back to the competition. Victor and Lindsay are in jeopardy. (As if that was a surprise.)

9:37 — "I'll see you at the after party," says Peanut. Ingo's son is too adorable for words. He's also way cooler than us.

9:37 — Ingo and Kym are safe!

9:38 — "Why is this so awkward." Sharna is asking the question we're all thinking right now.

9:39 — Jacoby can never go home. That is all.

9:41 — Are they re-creating that Microsoft commercial or something?

9:48 — Sharna's body isn't even real.

9:50 — "Come on Andy! Come on my ol' lover!" — Len Goodman, everybody.

9:51 — Jacoby and Karina are safe!

9:51 — Unfortunately, Andy and Sharna are in jeopardy.

9:56 — Andy are Sharna are SAFE! Cue the most adorable DWTS love fest ever! (New pilot idea: "Everybody Loves Andy")

9:58 — Sadly, it looks like Victor couldn't knock out Sean from the competition. Victor is sent home, and Sean will live to dance another day.

Do you think Victor should have gone home? Were you as excited as we were to see Andy Dick stay in the competition? Sound off in the comments below!