Credit: Adam Taylor/ ABC
Dancing With the Stars 2013 Live Recap: Week 8 Performances — Who Got a Perfect Score?
It's that time of the season again, Dancing With the Stars fans. The remaining six Season 16 couples will be dancing not one, but two (!) full performances tonight. And one of those performances is the anticipated Trio dance in which each couple will be joined by an eliminated DWTS pro or Pro Troupe member. We. Are. So. Excited.

Get the details on everyone's Trio performances here. (We're thinking Zendaya is a lucky lady tonight, as she'll be dancing with both her partner Val Chmerkovskiy and new pro Gleb Savchenko.)

Well, now that you know what to expect, join in on the fun below as Wetpaint Entertainment gets ready to live recap the Week 8 Performance Show. And since we know you have a lot of feelings (we do too!), tell us what you think of the episode in the comments.

We'll try our best to answer all of your questions, comments and concerns. Keep refreshing for more, and until the performances start, here's a funny GIF of Val and Zendaya to tide you over.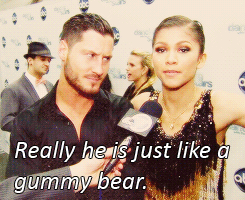 8:00 — OMG. Derek and Tristan are dacing together in the Trio challenge?! CANNOT WAIT.

8:01 — Val can wink at me like that anytime.

8:03 — "It's so relaxing and calm, and sometimes Val needs that." Zendaya and Val are adorable. She's the Ying to his Yang.

8:04 — Val and Zendaya are dancing the Foxtrot to "Don't Worry, Be Happy." Could this be any more perfect?

8:06 — "When you got into hold, you took my breath away," says Carrie Ann. (Is it just us, or is Carrie Ann a little harsh this season?"

8:08 — Val says Zendaya brings out the best in him. Swoon.

8:08 — 9-10-9 for Val and Zendaya. It's a 10 from Len!

8:14 — Sean says he loves dancing. If only dancing loved him.

8:15 — Peta scares me.

8:16 — This actually isn't that bad. We wonder if Peta really said something to "piss him off" before they went on stage.

8:17 — They danced the Tango to Katy Perry's "Hot and Cold." Could there be a more hilarious song choice for Sean? He's consistently hot and cold.

8:18 — Len just called their Tango "ugly." Peta is not happy.

8:23 — And it's a 7-7-7 for Sean and Peta. (Must Sean bring Catherine up every week?)

8:25 — Jacoby's mom is so fierce. She's the best part of Season 16.

8:26 — Jacoby and Karina's Viennese Waltz is seriously sexy.

8:27 — Damn. Somebody better be getting some 10s after that dance.

8:28 — When Jacoby's mama is happy, everyone is happy. We think he's getting a 10 from Len...

8:34 — Nevermind. It's 9-9-9 for Jacoby and Karina. We think he was overscored on that one.

8:35 — Not even a dramatic edit will make me care about Ingo, which is sad because I love Kym.

8:36 — It's like an Australian soap opera right now.

8:37 — If only we liked the Foxtrot more... bring on the faster dances!

8:38 — We weren't impressed with Ingo's Foxtrot — but the judges enjoyed it. Are they trying to save Ingo from a mental breakdown?

8:39 — "You reminded me of Gene Kelly." Really, Carrie Ann?

8:44 — It's 8-8-8 for Ingo and Kym.

8:45 — Carrie Ann wants more emotion from Kellie, and we agree. She's a technical dancer, but she doesn't connect to the music.

8:48 — Pretty Viennese Waltz from Kellie and Derek. This could be the first perfect dance of the season (although, we really hope not because that dance wasn't that good).

9:54 — 9-9-10 for Kellie and Derek! Same score as Zendaya and Val. What a coincidence!

8:56 — It's hard to imagine Aly as a harlot, but OK...

8:57 — Sorry, but Zendaya and Val's Argentine Tango was better.

9:00 — Aly is just always having "so much fun!"

9:00 — 9-10-10 for Mark and Aly! It looks like we have a new Leaderboard topper!

9:01 — Zendaya and Val chose Gleb Savchenko because he's in Val's Russian brotherhood.

9:02 — We love that Zendaya makes fun of Val's height.

9:04 — That. Was. AMAZING. You guys, Zendaya was moving so fast, I couldn't even type.

9:05 — That Salsa was seriously great. "You didn't need the underwear models!" says Bruno.

9:08 — I can't even deal with Tristan's accent right now.

9:11 — Guys, Val knows he's short, It's OK.

9:11 — 10-10-10 for Zendaya, Val, and Gleb! THE FIRST PERFECT SCORE OF THE SEASON.

9:13 — I love Sharna, but I hate that she's dancing with Sean. SIGH.

9:13 — No, Sean Lowe. NO! Don't rub your hands there.

9:14 — "Plenty of magic with a little bit of tragic," says Bruno. We agree. This Jazz trio was a mess.

9:19 — We love when Brooke says things like, "Let's just keep it real."

9:20 — It's 7-7-7 for Sean, Peta and Sharna's Jazz Trio, meaning Sean's total for the night is 42.

9:21 — Jacoby, Karina, and Cheryl are a DREAM TEAM.

9:23 — This Paso Doble is intense.

9:24 — Carrie Ann says Jacoby kind of flung Cheryl around too much, but according to Jacoby, they told him to be rough!

9:25 — "You went from pretender to contender," says Len.

9:26 — 8-9-8 for Jacoby, Karina, and Cheryl's Trio. We think he was underscored again.

9:30 — Hey! Here's an idea: let's take the most boring contestant (Ingo) and give him the most boring pro for his Trio (Lindsay).

9:31 — Lindsay is sort of like a baby Kym, though.

9:36 — 8-8-8 for Ingo, Kym, and Lindsay's Trio!

9:41 — We love that Tristan is playing the bad boy in this Paso Doble (with guy-liner!).

9:42 — "Wlecome into me world." SWOON, TRISTAN.

9:42 — The lightning in this routine is kind of amazing. This might be one of the best dances of the season. It looks like Tristan was Kellie and Derek's good luck charm after all!

9:44 — One word: WOW.

9:45 — Um, apprently Len is on crack. He didn't care for the lightning and spectacle.

9:46 — Is anyone else seriously amused by this fight? Bruno just told Len to take the "stick out of his ass." Whoa. Talk about intensity in the ballroom.

9:52 — 10-7-10 for Kellie, Derek and Tristan's Trio. Wow. Len really wanted to prove a point, didn't he? That was rough. We like how Kellie laughed it off!

9:53 — "Can you count to eight? 'No, but I went to the Olympics.'" We love how Mark picks on Aly like she was his little sister.

9:54 — Mark, Aly, and Henry's Trio is so fun! But we kind of feel like the guys outshined her.

9:58 — It's a 9-9-9 for Aly, Mark, and Henry's Trio.

What did you think of the performances tonight? Do you think Len's critique of Kellie's Paso Doble was justified? Sound off in the comments!