Credit: Adam Taylor/ ABC
Dancing With the Stars Results Recap: Who Got Voted Off in Week 8?
The competition on Dancing With the Stars 2013 is heating up, but sadly, all good things must come to an end, and as we get closer to the Season 16 finals, we have to say goodbye to yet another contestant. Only time will tell until the next eliminated star is announced, but we'd be concerned if we were Ingo Rademacher or Sean Lowe. After their Week 8 performances, we pretty convinced either Ingo or Sean is going home, but we wouldn't be opposed to a surprise elimination.

But before we say goodbye to yet another celeb, the Results Show will also feature a few spectacular performances! Jason Derulo will perform his current single, "The Other Side," and Scottish songstress Emeli Sandé will perform her hit, "Next to Me" and her new single, "Heaven." The DWTS pros and troupe members will also celebrate the show's 300th episode with a jaw-dropping opening performance choreographed by Jason Gilkison.

Now that you know what to expect, join in on the fun below as Wetpaint Entertainment gets ready to live recap the Results Show. And since we know you have a lot of feelings (we do too!), tell us what you think of the episode in the comments.

We'll try our best to answer all of your questions, comments and concerns. Keep refreshing for more, and until the episode starts, admire this GIF Sean, Zendaya, Val doing... well, we're not quite sure what is happening in this GIF.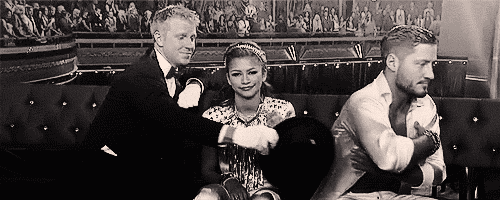 9:00 -- So it's pretty obvious Sean Lowe is going home tonight, right?

9:03 -- We're finally warming up to Gleb. It only took us eight weeks.

9:04 -- We still can't stop thinking about Zendaya, Val, and Gleb's trio. How does she move her feet so fast?!

9:05 -- Love that we're re-living this Len/Bruno fight.

9:06 -- "I don't even know who you are anymore." Tom stands by his comment.

9:07 -- WOW. Ingo and Kym are the first couple safe!

9:07 -- SHOCK. Kellie and Derek are in jeopardy! What the what?!

9:14 -- Yep. Zendaya is still flawless.

9:15 -- "She messed up, like, three times during that routine," says Val. "Yeah, but you never would have known that," argues Zendaya. It looks like Zendaya's perfect Salsa wasn't so perfect after all.

9:17 -- Zendaya and Val are safe!

9:18 -- Jacoby and Karina are sadly in jeopardy. We don't like where this is headed.

9:20 -- So are we actually worried for Kellie and Derek, or do we think the DWTS producers are using them for some much needed drama?

9:24 -- How did Kellie and Derek feel during Len and Bruno's fight? "It was like our parents were fighting. We felt like the kids," says Derek.

9:24 -- Kellie is always looking on the bright side: "Everybody likes their coffee different."

9:26 -- We think Jason Derulo might be lip-synching. He's not really moving his lips... but at least he's dancing?

9:28 -- Obviously, Zendaya wants Hip-hop. Poor Val.

9:29 -- You guys, Peta can spell! We're so proud.

9:30 -- Kellie and Derek will be dancing Flamenco next week! (If they make it to next week.)

9:30 -- Ingo and Kym get the Charleston.

9:30 -- No surprise here, but Valdaya gets Hip-hop.

9:31 -- Sean and Peta get Disco. Ugh. The worst for the worst.

9:31 -- And Aly and mark get Afro-Jazz!

9:32 -- We are SO EXCITED to see Jacoby and Karina take on the Lindy Hop next week (if they make it to the Semi-finals).

9:37 -- OMG. Peanut is SO CUTE. He should just replace Len at the judges table.

9:39 -- Peanut Rademacher is the true star of Dancing With the Stars.

9:40 -- We don't know what Derek is doing right now, but it's awesome. As much as we pick on him, Derek truly is a fantastic choreographer.

9:46 -- Emile Sande is pure perfection.

9:47 -- Cheryl and her bangs are back for this performance. Hallelujah!

9:49 -- "You got to sort yourself out!" Bruno tells Sean. We love these behind-the-scenes clips. We almost wished they aired this version of the live show.

9:51 -- Aly and Mark are safe and headed to the semi-finals!

9:52 -- Obviously, Sean and Peta are in jeopardy.

9:55 -- We think Sean and Peta are going home tonight. Although, we would have LOVED to see him in a Disco routine.

9:56 -- Kellie and Derek are safe!

10:00 -- Sean "I'm Just a Simple Guy From Dallas" Lowe gets eliminated. Can't say we're surprised, DWTS fans.

Do you think the right person went home tonight? Sound off in the comments!