Credit: Adam Taylor / ABC
5 Dancing With the Stars Pros Who Deserve Stronger Partners
Most devoted Dancing With the Stars fans have noticed that there often patterns to the way pros are paired with stars — and it means some fan-fave pros are often given stars who clearly don't have what it takes to make it to the top. When that happens once or twice, fine. Not every star can be a finalist, and the journey matters, too. But certain pros rarely get a chance to try their hands at shaping a real contender into a champ.

Season 16 Week 5 reminded us exactly how talented all the pros really are. So, with that in mind, here are five pros we want to see paired with a strong star, and soon.

Tristan MacManus

Tristan has been on the show four times. Three of his stars were older women who physically weren't up to the highest level of the dancing; the fourth was Pam Anderson, and we all know how that went. We don't get it. Tristan's sweet. He's hot. Fans love him and want to see him stick around. When's he going to get a real contender?

Tony Dovolani

Can we talk about how ridiculous it is that it took until All Stars for Tony to actually get a Mirror Ball? Watching him dance with Melissa Rycroft was a revelation, because we'd gotten so used to seeing him hold back with contestants who just. Can't. Move. And let's not even think about the Kate Gosselin situation. We realize Tony has the patience to deal with less talented dancers, but that doesn't mean he shouldn't have a real shot more often.

Step one: Put Anna back on (we miss her this year!). Step two: Give her someone great. Watching her dance on Season 16, Week 5 was a reminder that she's downright spectacular. We should never have had a chance to forget that.

Louis van Amstel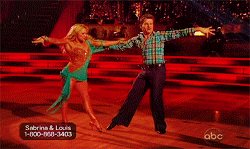 Another pro who needs to come back soon. Louis has a talent for tapping into unforeseen wells of confidence in his stars, which means he often gets paired with people who need a lot of work. We'd love to see him paired with another Kelly Osbourne type, though — a star that might need the confidence boost, but has the potential to be spectacular once she gets it.

Sharna Burgess

Sharna isn't like the rest of the pros on this list. She's only been on one season, so it's very possible the DWTS Powers That Be are already planning big things for her. But we want to register our desire to see her with a contender right here, right now. Her choreography for Andy Dick is consistently excellent this year. Imagine what she could do with an athlete or a younger actor with innate talent.

Catch the next episode of Dancing With the Stars on Monday, April 22, 2013 at 8 p.m. ET/PT on ABC.


GIF Sources: tristanology, dwtsgifs, hornished, dwtsgifs, dwtsatitsfinest

Rebecca Martin is an editor at Wetpaint Entertainment. Follow her on Twitter @BeccaDMartin.