Credit: ABC
Once Upon a Time: 7 Reasons Why Aurora and Mulan Are in Love — in GIFs!
On Once Upon a Time Season 3, Episode 3: "Quite a Common Fairy," the show seemed to confirm that Mulan has feelings for Aurora that extend beyond just being good friends. This entire season Mulan has been pensive about confessing her love to someone, and while many thought it was Prince Phillip she had feelings for, this episode implied differently. While she didn't actually say the words "I love you" to Aurora, she went to her old friend reading to have an important conversation with her, not Phillip. She looked on the verge of confessing something, until the news that Aurora is pregnant sent her running, tearful, to join Robin Hood's merry men.
We can't say we're surprised the show went in this direction. In fact, we're thrilled! Prince Phillip is great and all but let's be real: these girls' chemistry is undeniable, and we've rounded up seven reasons why their love comes through loud and clear. Don't believe us? Check out the GIFs below. As a bonus, Mulan's portrayer, Jamie Chung, told us, "it's a special kind of love" and she's not denying their lesbian love...

Mulan will do anything to save Aurora

And she'll never leave her side


They exchange longing looks like this


A sweet lingering touch (a love pat, if you will) is the norm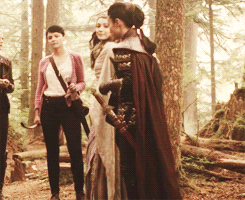 Sexy cliche movie moments aren't meant for gal pals!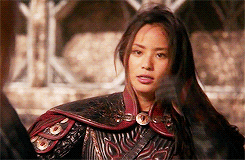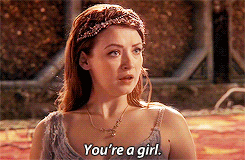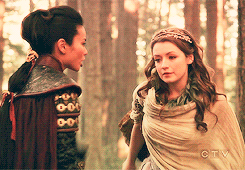 Moments like this really say it all

Alyse Whitney is an editor at Wetpaint Entertainment. Follow her on Twitter @AlyseWhitney.