Credit: Adam Rose/FOX ©2011 Fox Broadcasting Co.
Blaine and Kurt Dance on Glee: Wetpaint Entertainment's Top 3 GIFs of the Week, 2/18
Relish those delicious TV moments over and over and over again with us! Wetpaint Entertainment's GIFs of the week will send you into a trance — in a good way.
3. Flashback: Chuck and Blair get steamy on Gossip Girl!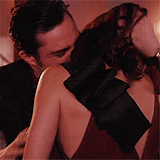 2. Blaine and Kurt rock out to ''Love Shack'' on Glee
1. Brittany and Santana make out on Glee — at last!