Credit: Eric McCandless/ ABC Family
Pretty Little Liars Burning Question: Does Wren Know Spencer's Secret?
His Red Coat drawing
Remember back in Season 4, Episode 10 ("The Mirror Has Three Faces") when we witnessed Wren coloring in the red coat of a brunette in his "feelings" cartoon? At the time, we suspected that the brunette in the pic might be Spencer, but this had more to do with the character's long, dark locks than anything else. Now that we know Spencer has a deep, dark secret, we're even more suspicious that the girl in the pic was Spence and that Wren was casually admitting his knowledge of Spence's secret via crayon. Especially give the inclusion of a barn in the pic — the Liars were having a sleepover in Spencer's barn the night Ali faked her death. We now know that Alison is Red Coat, but that doesn't mean she is the only one. After all, CeCe was also donning a red coat in the summer finale. Has Spencer been in on Ali's fake death from the beginning? And did Wren know about her collusion?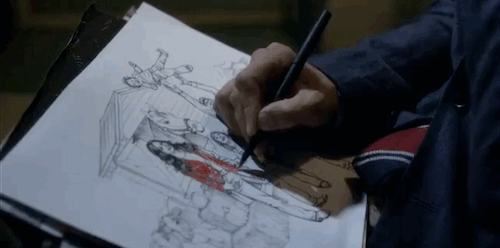 He follows the Liars
In the same episode as Wren's coloring, we also saw the shady doctor following Hanna around Rosewood. Is this the sort of thing he does often? It certainly seems likely, given that he "runs into" the Liars about town on a somewhat frequent basis. If Spencer didn't tell Wren her secret herself, that doesn't mean Wren didn't figure it out by spying on the clever Liar. He also had access to Spencer's house when he was living in the garage, and Spencer's sister, Melissa. Basically, Wren has had an all-access pass to Spencer's life. And a heart-to-heart isn't the only way secrets are shared — especially in Rosewood.

He was with Spencer at her low
Wren was seemingly there for Spencer when she was at her absolute lowest, i.e. when she was spiraling into depression following Toby's betrAyal and apparent death. Did Spence let slip her secret when she was hanging with Wren prior to her admittance to Radley? Or, even during her time there? She felt so alone at that point, and seemed unwilling or unable to confide in the Liars. Did the secret she had been keeping finally become too much? Did she tell Wren? One of our theories is that Spencer's secret is a past drug problem, specifically around the time of Ali's disappearance. This could have contributed to her guilt surrounding her friend's "death," as well as explained her disappearance from the sleepover the night of the disappearance. Even if Spencer didn't tell Wren about her secret history with drugs, she could have let it out in group therapy, records of which the good doctor presumably has access to...

Do you think Wren knows Spencer's secret? Why or why not? Sound off in the comments below!

Catch the Pretty Little Liars Season 4 winter premiere on Tuesday, January 7, 2014 at 8 p.m. ET on ABC Family.