Credit: ABC Family
Pretty Little Liars Burning Question: Are Wren and Melissa Together?
Pretty Little Liars' Melissa Hastings (Torrey DeVitto) doesn't seem like the easiest person to be in a relationship with — she's demanding, selfish, and pretty moody — but she seems to have no trouble attracting fiances. Or re-attracting them, for that matter. In the Season 4 summer finale, the Liars found a package for Wren (Julian Morris) addressed for Melissa's flat in London. Are Wren and Melissa back together?!
Wren must have other friends/family in England
As you may have deduced from the charming British accent, Wren hails from the U.K. — aka, unless he's a friendless orphan, he probably has plenty of people to stay with when he goes to visit the homeland (and, let's be honest: with a face like that, he has lots of friends). Instead, he decides to shack up with his ex-fiance? That doesn't make a wick of sense… unless they're back together (romantically and/or schemily).

The phone call in Season 4, Episode 10: "The Mirror Has Three Faces"
In Episode 10, Wren revealed a super shady side when he manipulated Veronica Hastings into recusing herself as Ashley Marin's lawyer. In the process of his machinations, he made a phone call to someone to vaguely discuss the plan. He told the person on the other end of the line that he would take care of things on his end, if she did the same on hers. Could Wren have been talking to Melissa? We don't know the details of how Veronica came to the decision to recuse herself, but perhaps it was a result of Melissa's counsel.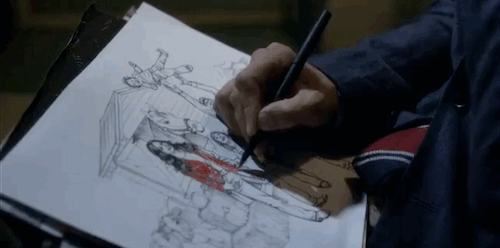 Mona questions Wren's loyalties
Also in Episode 10, Mona and Wren have a little heart-to-heart in Radley. Wren brings up the bond of trust the two used to share. Mona admits that she used to trust Wren before she knew where his loyalties lie. As Mona was affiliated with the "A" Team when this bond of trust was shared, it seems unlikely that she would be accusing Wren of being allied with the very people she herself was. So, who else then? Our money is on Melissa, who has always been a loose cannon in the "A" game. Plus, we can totally see Mona and Melissa being arch enemies.

They have always been partners
Here's a little theory we're working on: Melissa and Wren never stopped working together. Sure, we believe that they broke up romantically considering Melissa was engaged and pregnant with another man's child (she's ruthless, but not that ruthless). But that doesn't mean they stopped scheming together. In fact, we wonder if Melissa and Wren were ever really together romantically. Wren started flirting with Spencer as soon as he met her. Did Melissa bring him in as her fiance as a cover? Spencer had a history of going for Melissa's boyfriends, and — as Spencer's boyfriend — Wren would have been in the perfect position to feed information about the Liars back to Melissa. When Spencer is happily with Toby, Wren tries to become romantically involved with Hanna. It seems he wants to stay close to the Liars in whatever way he can. Which leads to the question: why? What could Wren and Melissa be up to?

Do you think Wren and Melissa are working together? Do you think they are romantically involved? Sound off in the comments below!

Catch the Pretty Little Liars Season 4 Halloween special on Tuesday, October 22, 2013 at 8 p.m. ET/PT on ABC Family.