Credit: NBC
5 Reasons Why Clair Huxtable Is the Mom Everyone Wanted
Bill Cosby's current reality is an ongoing scandal, but his on-screen life on The Cosby Show was the stuff of dreams, as was his loveable wife, Clair Huxtable, portrayed by the amazing Phylicia Rashad.
Clair was quite possibly one of the best moms on TV — she was smart, beautiful, a feminist, and a woman who was absolutely proud of who she was.
PHOTOS: 10 Best TV Moms on ABC Shows
With Mother's Day swiftly approaching, we've compiled the top 5 reasons why the Hillman grad was the mom everyone wanted:
1. She was a successful lawyer and a full-time mom to five kids.
Clair was a successful attorney at her firm and still had time to tend to her five children, Sondra, Denise, Theo, Vanessa, and Rudy.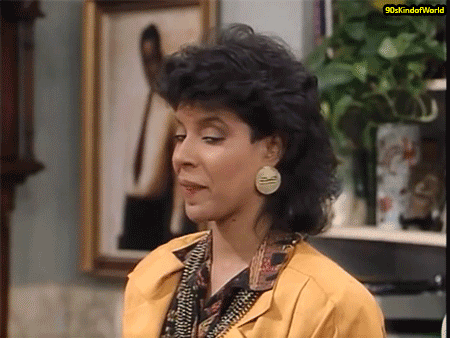 When her elder children went off to college, Clair was able to make time for Sondra's visits from Princeton, and make the occasional trip to Hillman College (on A Different World) to spend quality time with Denise.
And when all five of her kids were at home, she knew just how to end an argument without losing her mind.
2. She disciplined her kids without lifting a finger.
While many parents still debate whether or not spanking is an effective method of discipline, Clair was never in favor of it — and she didn't need to be. Remember that episode when Vanessa lied about going to see The Wretched?
Or the time Denise got an attitude over her parents not letting her buy a car?
Or that time Theo lied about why he was dismissed from the football team and Clair used her savvy attorney skills to get to the bottom of the truth? Sure, she could be scary, but it was definitely the kind of discipline all kids needed.
PHOTOS: 15 Greatest TV Shows of the '90s With People of Color
3. She was always fashionable — even with a broken toe.
Clair made her first TV appearance in the '80s, which accounts for her fashion sense of the time, but she always looked her best throughout the show.
Even when she broke her toe and had to wear a special shoe, she made sure to decorate it to go with her outfit.
5. She loved her family unconditionally.
Last but not least, Clair was a woman who had an amazing career, but not once put it above loving her husband and children unconditionally. Not for one moment did anyone think she would cheat on Cliff — or run out on her family. And for this, we absolutely loved her.