Credit: Adam Taylor/ ABC
Dancing With the Stars Results Recap: Who Got Voted Off in Week 7?
Which Dancing With the Stars 2013 contestant is hanging up his/her dancing shoes after Week 7? Only time will tell until the next eliminated star of Season 16 is announced, but we'd be concerned if we were Andy Dick, Ingo Rademacher, or Sean Lowe. After all, these three DWTS hopefuls all had less-than-stellar Week 7 performances. (Say it ain't so! We're really not ready to see Andy leave the competition.)

But before we say goodbye to yet another celeb, the Results Show will also feature a few spectacular performances! So You Think You Can Dance alumni Allison Holker and her fiance Stephen "tWitch" Boss choreographed their own routine to a musical accompaniment by violinist and youtube sensation Lindsey Stirling. Canadian crooner Michael Bublé will also perform his single "Come Dance With Me" during the Results hour.

Tonight's Results Show will also feature an emotional segment with Adrianne Haslet-Davis, a 32-year-old dance instructor who lost her left foot in the Boston Marathon bombings. DWTS host Tom Bergeron shared the news on Week 6, adding, "We were all very moved by her inspirational outlook. We'll tell you how we hope to be part of her recovery." Tom also announced that DWTS will be helping Adrianne during her long road to recovery.

Now that you know what to expect, join in on the fun below as Wetpaint Entertainment gets ready to live recap the Results Show. And since we know you have a lot of feelings (we do too!), tell us what you think of the episode in the comments.

We'll try our best to answer all of your questions, comments and concerns. Keep refreshing for more, and until the episode starts, admire this GIF of Kellie and Derek working it on the dance floor.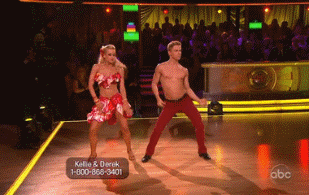 9:00 -- Judging from her amount of screen time this season, we wouldn't be surprised if pro troupe dancer Witney Carson becomes a pro for Season 17...

9:03 -- I love how DWTS recaps the performances as if we didn't already watch last night's episode.

9:04 -- Best part of performance night: "Let's pick on somebody our own size." Buuurrrn, Val!

9:05 -- Now when is Michael Bublé going to compete on Dancing With the Stars? We'd definitely watch that!

9:06 -- Or better yet, what if he joins the DWTS house band? Please Michael, we're begging you!

9:07 -- Tony AND Tristan? This performance is perfect.

9:12 -- The judges pick Aly and Mark's super fun Salsa for tonight's encore dance. No surprise here; It definitely was one of our favorites from Week 7. It's even better the second time!

9:14 -- "She is a beast, man!" says Jacoby while watching Zendaya dance.

9:15 -- We love when Jacoby's mom gets sassy with Len.

9:16 -- Zendaya and Val are safe from elimination. We're so shocked.

9:17 -- SHOCK! Jacoby and Karina are jeopardy! Wow. We didn't see that one coming.

9:23 -- "Carrie Ann and Bruno. They were a bit grumpy." Anyone else agree with Kym?

9:24 -- Aly and Mark are safe from elimination!

9:25 -- Unfortunately, Ingo and Kym are in jeopardy. As much as we like Ingo (and his adorable son Peanut!), he's easily forgettable in this competition.

9:27 -- These kids are adorable. ADORABLE.

9:28 -- This is an inspiring Disney movie in the making.

9:31 -- Tom Bergeron, stop being so amazing.

9:33 -- We're getting a little nervous foe Jacoby...

9:36 -- Good thing Jacoby isn't a Quarterback. Homeboy cannot throw a football. Poor Kym!

9:38 -- Adrianne Haslet is such an inspiration. Seriously, could this woman be any more brave?

9:39 -- Good thing we had tissues at the ready for this story. BAWLING.

9:40 -- She wants to dance on the show. I don't think I'm emotionally prepared for this right now.

9:41 -- DWTS will follow Adrianne's progress. Tom says she "will dance in our ballroom" when she's ready.

9:42 -- It's tWitch time, y'all! We're loving this dubstep/violin routine.

9:42 -- There are FIRE AND DRUMS.

9:43 -- Where can we find a man that can dance like that?

9:48 -- Every male pro is shirtless. All is right in the world again.

9:49 -- The pros really are the best part of DWTS.

9:50 -- You guys, what if Andy is safe?! Anything could happen this week...

9:51 -- Sean Lowe is such a BRO.

9:51 -- Ugh. Sean and Peta are safe.

9:52 -- Andy and Sharna are in jeopardy. SAD FACE.

9:56 -- So who's safe? Jacoby and Karina are saved by the viewers' votes!

9:58 -- Sadly, Andy Dick and Sharna were sent home. Hey, if it were up to us, he'd win the Mirror Ball.

10:00 -- Cue the group hug! SO MANY FEELINGS.

10:07 -- Seriously, though, Ingo needs to find a personality if he wants to stay another week.

What did you think of tonight's Results Show? Did Andy deserve to come home? Sound off in the comments!