Credit: Jack Rowand/ ABC, Larry Busacca/ Getty Images
Emmys 2013: Why Once Upon a Time's Robert Carlyle Deserved a Nomination
Once Upon a Time has two strikes against it when it comes to garnering Emmy attention: It's a network drama during a time when the Academy apparently thinks all dramas are on cable or Netflix, and it's a genre show, which have always had a hard time come awards season. If we're being honest, we'll admit we weren't surprised that Once Upon a Time's actors didn't have any luck when the 2013 Emmy nominations were announced, but that doesn't mean we can't scream futilely into the void that Robert Carlyle (Mr. Gold/Rumplestiltskin) should have been on the list.
Why? Here are just a handful of the many reasons. With GIFs to illustrate our points, because who doesn't love a good GIF?
One Part, Many Characters. As Robert himself described, he's really playing five different version of the same character over a vast period of time — pre-curse Rumplestiltskin, the bloodthirsty Dark One, Rumple who has lived with the curse long enough to become a world weary trickster, and, of course, Gold. Each iteration of the character is distinct — you can see the change in the different speech patterns, different ways of carrying himself, and different gestures Robert uses in each iteration. At the same time, there is a thread running through his entire performance: It's quite clearly the same character in vastly different stages of his life, which is a tough trick to pull off. Robert does it flawlessly.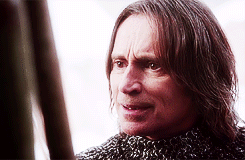 From Subtle to Delightfully Campy. Robert's performance also runs the gamut from grounded and nuanced to hilarious and campy. For example, in "Manhattan" he perfectly captured the pain, anguish, and desperate anger of a man who sacrificed everything for his son only to lose him, while in "The Evil Queen" he was the perfect comedic foil for Regina's angst, always ready with a quick barb and an irresistible giggle. He can switch between these modes seamlessly, and somehow it all seems perfectly in character.

And Oh, Those Big Emotional Moments. Sure, we love that Robert can pull at our heartstrings just by looking at Belle the right way, but come awards season, you need a Big Epic Moment or two to knock out of the park. And man, did Season 2 provide plenty for Robert to sink his teeth into. From his first confrontation with Neal to his goodbye phone call with Belle, Robert was responsible for many of the season's most affecting emotional moments.