Credit: Wetpaint/ABC Family
Pretty Little Liars GIF Recap: Season 4, Episode 3 — Mask Maker, Mask Maker, Make Me a Mask
Last week's episode of Pretty Little Liars (Season 4, Episode 2: "Turn of the Shoe") kept us wondering who exactly is responsible for Wilden's death… and what was up with that creepy parrot? Luckily, it's time to (hopefully) get some answers from our favorite Little Liars — A.K.A. the best hour of the week! Here's Wetpaint's account of what went down in Season 4, Episode 3: "Cat's Cradle" — in GIFs!
All our TV BFFs are gathered together, going through Ali's notebooks that Emily managed to sneak past Mrs. DiLaurentis. Spencer gets judgy-judgy about Aria seeing Jake, and Aria's all:
In with Ali's stuff, they find a super creepy mask just as Melissa walks in. She thinks she's being offered an internship far, far away from Rosewood, to which we say, "good riddance."
Melissa also acts like she has no idea what could possibly have happened to Wilden, and and kind of insinuates that Spencer should get the hell out of Rosewood (or else). Suspicious? Well, it's Melissa, so yeah.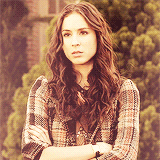 Spencer catches up with Toby, who's still obsessing over the doctor's notes about his mother the day she died. But Spencer's mainly worried about telling her friends about what Toby did to the lair... before they find out from "A." But Toby's not so sure. Either way, this can only lead to heartbreak and disaster.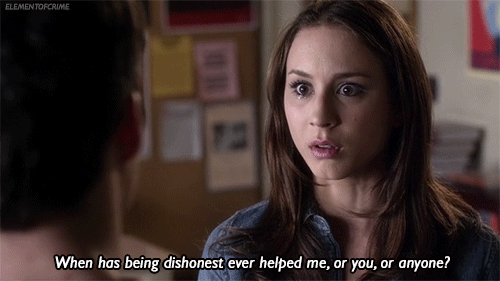 Hanna's trying to feel out her mom and asks a zillion questions about her trip to New York. Ashley's got an answer for everything, but Hanna's not buying it. She even snoops around her mom's office and finds out she actually didn't make it to the Broadway show she said she did. Something's definitely up.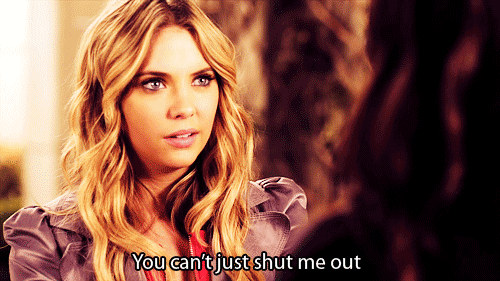 After school, Emily's mom shows up and is not messing around. She got a call from Em's doctor, who figured out she stole her medicine. She's not pleased, and they kinda make a scene in front of everyone at school. Aria and Spencer have no idea what's going on, so they're just like:
But then Aria gets a text from A, insinuating that the "mean mommies" of Rosewood are on the way out. Um, yikes?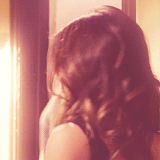 Hanna talks to Caleb, who says talking to an attorney about what's going on with her mom might be a good idea. Next we see her, she's at the Rosewood PD and spots a board pointing to every suspect or related person in Wilden's murder... and guess who's on it? Hanna, Melissa, Caleb, and pretty much every other PLL cast member.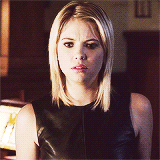 Caleb goes to see Hanna's dad and tells him about Wilden and asks for his help. Dad's a bit of a d-bag, but we are kind of in love with Caleb.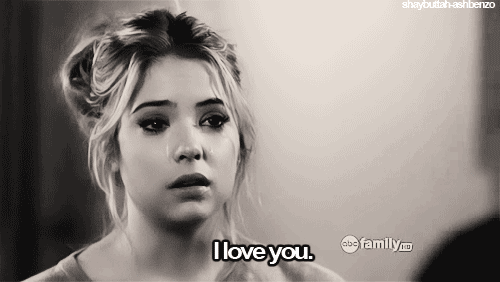 Aria and Emily are chatting about the various lies they've told lately when Aria peels back part of Ali's mask and realizes underneath all the decorations, the mask is of Ali's face. The same mask that Mona had on the train.

And to confirm Hanna's fears, her mom asks her to remember that as far as she's concerned, she WAS at that Broadway show. So when Aria and Emily show her the mask, she is like, let's get to the bottom of this NOW.
They go to see the guy who made the masks, who is SUPER creepy. He invites them in. Of course they go in, although just about every horror movie ever made would tell them not to.
Back at the creepy mask maker's shop, he fills them in on when he met Ali, who responded to an ad he placed online for a model. He offers to tell them anything they want if Emily will model her face for a mask. Umm...
Meanwhile, Spencer and Toby are investigating Radley to check the facts about his mom's suicide. Toby realizes his mom really did kill herself with no funny business involved, and that he gave the RV to A for nothing. But Spencer realized there's no way his mom could have jumped out of that window and straight to the ground.
Hanna's dad accosts Caleb in the street over the whole thing with Hanna's mom, and Caleb finds out that Ashley went to his house the night she was supposed to be in NYC asking for money — and supposedly, that's all he knows. Except for, you know, the fact that his gun is missing.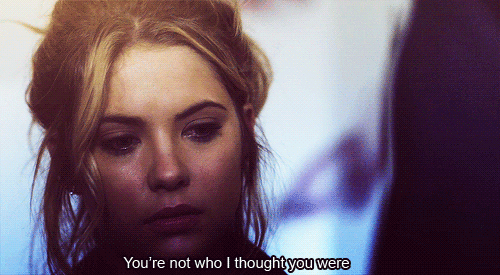 Social Services was called about Emily's mom's scene in the school parking lot — the anonymous caller was obviously "A."

And by the way, Hanna found a mask of Melissa's face in the mask shop. Welcome back to our "A" suspects list, Melissa!

If you still can't get enough Pretty Little Liars and want even more details on last night's episode, you can check out the full recap here.
What did you think about this week's installment, "Cat's Cradle"? We want to know! Share your thoughts with us in the comments!
Catch the next episode of Pretty Little Liars on Tuesday, July 2, 2013 at 8 p.m. ET/PT on ABC Family.