Credit: Wetpaint Entertainment/ ABC Family
Pretty Little Liars GIF Recap: Season 4, Episode 4 — Information Overload!
In last week's installment of Pretty Little Liars, Hanna and Caleb worked to figure out why Hanna's mom's being so weird, Spencer and Toby went rogue at Radley, and Emily modeled for a mask after the crew found out Alison had done the same.
So what are our girls up to in Season 4, Episode 4 ("Face Time")? Learning to avoid creepy mask makers, we hope. Here's what we think of last night's episode — in GIF form!
Emily's family drama is in full swing as her dad arrives home on leave as she leaves for school... where Caleb fills Hanna in on her dad's missing gun, and Hanna thinks Caleb's overstepping his boundaries. He's just trying to help, but Hanna's like:
While Aria, Emily, Hanna, and Spencer catch up about all things masks, two sketchy detective types keep an eye on them. But the girls totally don't notice.
Hanna and her mom are at the bank when Wilden's safety deposit box is opened up. Hey, a pile of cash... and a gun... identical to the one Hanna's dad is missing... in a box Hanna's mom had access to. And of course the people who open the box are the same ones who were spying on the Liars, and of course they look super suspicious of Hanna.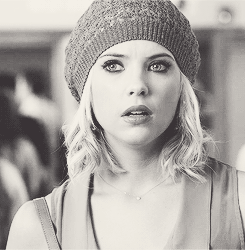 After Emily overhears her parents talking about how bummed they are social services are investigating them for no reason, she approaches her doctor and tells him he's crazy. He STILL doesn't believe her.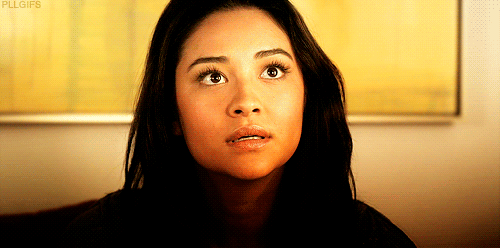 He also informs her she's gonna need surgery, which could result in some major life changes for Emily... like maybe never swimming again?

Meanwhile, Hanna talks to the detective to try to point her in Melissa's direction instead of her mom's in the way of Wilden's murder, but the detective turns it on Hanna. Caleb gets her out of there just in time, before the chat gets sticky, but Hanna, again, doesn't want his help. They're all:

Aria and Jake are out being cute when they run into Malcolm, who mentions Ezra and Jake doesn't buy that he's just one of Aria's teachers. Um, duh? So Aria tells him the whole story, and he takes it surprisingly well.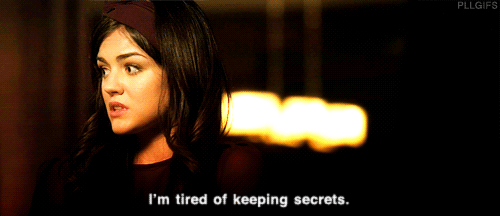 And Ashley's no longer allowed to enter the vault at work, which makes us think this is the end of the line for her.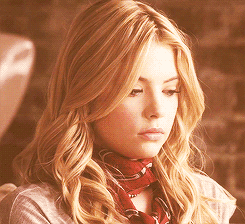 Toby goes to see his mother's doctor, who casually lets it slip that he saw a blonde girl with his mother. Um, what?!
Okay, so the doctor's lost his marbles, but we think he might be onto something. At the Hastings residence, Melissa is pouring herself a glass of wine when she finds her mask that the girls left for her. Spencer and Aria, hiding outside, get the whole thing on tape. The look on her face says it all.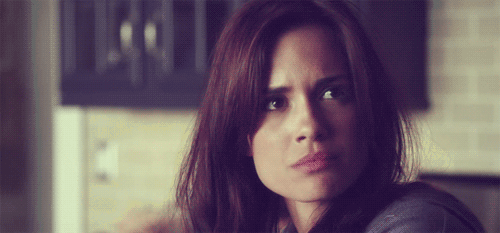 The detectives show up at Hanna's house and Hanna and Caleb cover for her. They better get this figured out — and soon.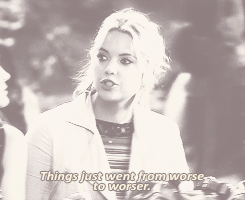 Spencer and Aria follow Melissa to Hector, the mask maker's, place and arrive just as Melissa walks outside dragging a heavy bag behind her. Please don't tell me Hector is in there!
Inside his shop, Aria discovers an entire row of Alison masks... the ones that Hector was supposed to destroy. Hector's reasoning? Ali's too beautiful to destroy. We're officially sketched out.

And since Hector's fine, the bag was actually full of masks, which Melissa's busy chucking into a lake. Spencer approaches her, and Melissa totally thinks Ali's alive and totally confesses to being on the Halloween train. AND that Wilden was the one who tried to kill Spencer.
AND mentions that she sent Jenna and Shana to the burning cabin, and alludes to being the one who killed Wilden. OMG! Information overload!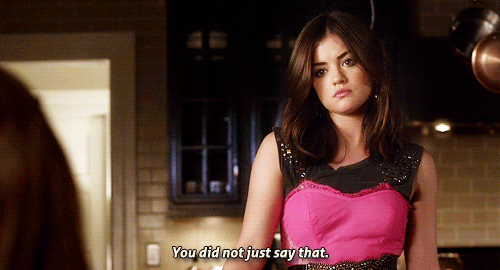 Emily comes home from her night out with Paige to find the police at her house. Someone called about a domestic disturbance. Poor Mr. and Mrs. Fields. :(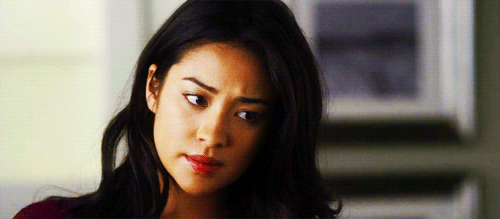 Melissa's definitely gone, and "A" has, you know, pulled the masks out of the lake and is repairing them. Wait, why do we watch this show so close to bedtime?
Wanna read more about last night's episode? Check out our full, more detailed recap!
And now that you're all caught up with PLL, we want to know what you think! Share your thoughts with us in the comments below.
Catch the episode on Tuesday, July 9, 2013 at 8 p.m. ET/PT on ABC Family.