Credit: Eric McCandless/ABC Family Channel © 2013 Disney ABC Television Group
Pretty Little Liars GIF Recap: Season 4, Episode 5 — Orange Is the New Black
The Pretty Little Liars crew is becoming beyond excellent at lying to the cops... especially Hanna. In last week's episode (Season 4, Episode 4: "Face Time"), Aria had a run-in with Malcolm, Spencer got more info out of Melissa than we ever imagined possible, Emily faced the idea of a life without swimming (and more investigation with her parents) and Hanna faced a little investigation herself, too. And we were left with WAY too many questions, like who killed Wilden — Hanna's mom... or Melissa?
We definitely need answers, but so did the most recent episode (Season 4, Episode 5: "Gamma Zeta Die") deliver?
The episode opens as Hanna has a pretty scary nightmare involving her mom suddenly in a prison jumpsuit with all her hair cut off. Yikes! Orange is so not Ashley Marin's color.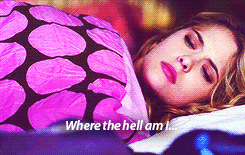 College is on everyone's minds, since everyone at Rosewood is spending the weekend going on college visits. Eek — we're having flashbacks to our own college visit days. How we remember it?

But what would a college visit be without hitting the dusty ol' A trail? One of the schools holding visits coincidentally has the same area code of the number the parrot spit out at us a few eps ago... And it's probs for the best to get down to the bottom of this phone number ASAP, especially since A planted bees in Ella's car. You know, coming out of every air vent. We cannot think of anything worse.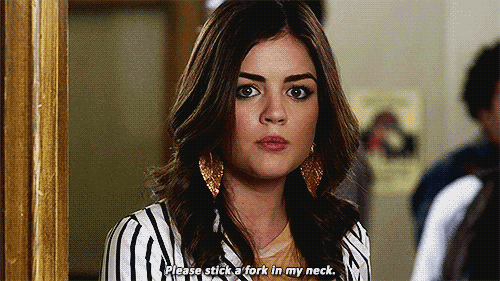 But don't worry. Ella's fine, which means it's totally fine for Aria to dub the incident "four wheel hive." Clever!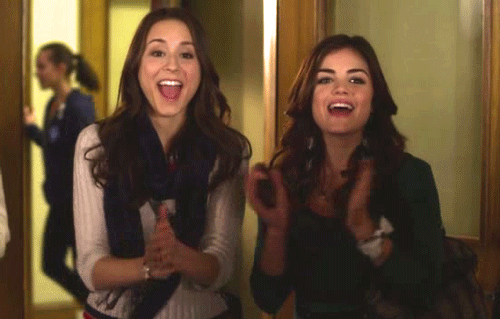 Meanwhile, Hanna's mom's meeting with her lawyer to talk Wilden. Who, by the way, never asked if she was guilty or not... can someone just say it out loud so it can stop making us crazy?!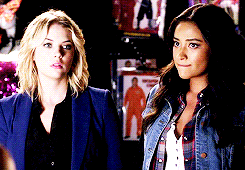 Mike decides to make an appearance, but only to be a total douchebag to Aria about Fitz. Rude. But in case she does wanna see him again...
Ashley's lawyer calls and Hanna listens in. Sounds serious. Wait, who has landlines anymore?

Once college visitation weekend rolls in, Spencer and Emily hit Cicero to track down the owner of that phone number while Spencer's cute admission coach hits on Emily. Sorry, bud — she's spoken for.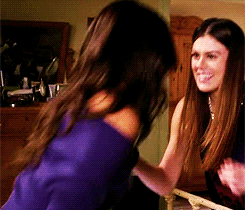 Back in Rosewood, Hanna searches through her mom's locked closet and finds a gun. Usually when we rummage through our mom's closet, we find hidden Christmas presents... yeah, we're not gonna trade with you, Hanna.
Spencer finds out from a geek on campus the number belongs to someone on Greek Row and trades Game of Thrones-related insults with him. Okay, we love it.
So she and Emily try to track down the number's owner via interviewing people at sorority parties. Well, they attempt to, anyway, til they get in a tiff over scholarships and money. And then they're interrupted by obnoxious singing sorority sisters.

And Hanna's officially left the house with her mom's gun in her bag. We're pretty sure Hanna did not think this all the way through.
But finally, we have some progress! Spencer finds the phone assigned the number Tippi let slip in a seriously creepy room in a sorority house (and scratch marks on the door). But whose phone is it?
Spencer's admissions coach is totally skeevy and hits on Emily 'til she finally fesses up that she's into girls while Hanna's off somewhere burying a murder weapon. This is a super safe party.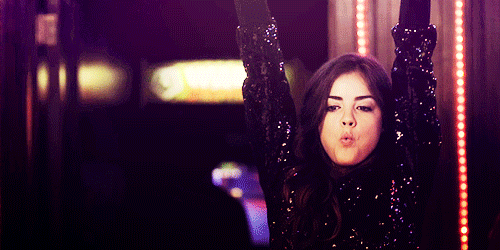 Spencer and Emily try to find her before she does anything dumb. She does something dumb, but at least they find her... in the back of a cop car.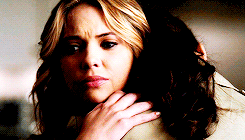 Can't get enough PLL? Head on over to our full recap of Tuesday night's episode to get your fix — and sound off about the episode in the comments below.
Catch the next episode of Pretty Little Liars on Tuesday, July 16, 2013 at 8 p.m. ET/PT on ABC Family.