Credit: ABC Family, Wetpaint
Pretty Little Liars GIF Recap: Season 4 Premiere — A Is For… DEAD
For months, we've been counting down the days 'til the Pretty Little Liars Season 4 premiere, so we were super pumped when it finally aired last night, after almost three months — more like three years — of waiting.
And it's been a long time since March, so before the episode even started, we were like:
Our first question now that our show is back: what's in the trunk? A dead pig, actually. Umm, ew.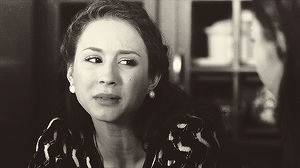 After fleeing the scene of the muddy, waterlogged cop car — and saving Ashley Marin's butt via Mona stealing the evidence of her literal run in with Wilden — the girls give Mona the third degree. But she doesn't have any type of information they actually need to hear. So, uh, thanks?
But it was sweet of her to bring them coffee the next morning, we guess — even though Hanna is way less impressed with coffee delivery than usual. She wants the chip with the video of Ashley hitting Wilden with her car on it, and when Mona refuses to hand it over, she gets like this:

At least we know Wilden's not gonna talk, because now he's dead.
Back at the lair, Mona shows them a video proving he was involved in the Halloween Train, and according to her, so was Melissa. But we don't actually see Melissa's face, because someone erases the data off of Mona's computer. Outside, Mini Little Liars are playing with dolls who look just like Aria, Spencer, Hanna, Emily, and Mona — dolls they say were given to them by Alison. Creepy much?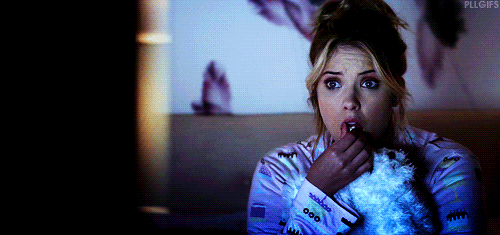 According to Emily's mom, Jessica DiLaurentis is moving back... and this definitely makes Hanna (and us) way suspicious. Could Red Coat really be Alison?
Aria runs into Ezra, who informs her he's got a full time gig at Rosewood. This causes all kinds of emotional tension. You should have seen our surprised faces:
Spencer pours over the newspaper article announcing Wilden's death. She's obsessing a little, and Toby has to remind her to eat. Before you know it, they're being cute again:
At school later that day, Aria's feeling angsty about Ezra and is worried he's going to lose his job if the Rosewood High Powers That Be find out they dated — is it Season 1 again already?
I mean, not that we blame her for checking him out instead of eating her lunch.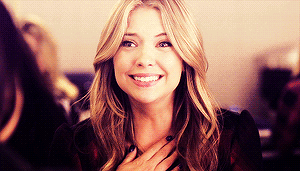 And then they faked us out a little by making us think Ezra got arrested for dating Aria, and for a second we were like:
But it was just Aria's imagination. That's fine, PLL. We didn't want to keep our hearts out of our stomachs anyway.
And oh, look. There's Jenna, harassing Spencer in her own driveway. With a burn on her hand. Right after a massive fire?
Now that Wilden's dead, that can only mean one thing — another funeral! Or, as the citizens of Rosewood like to call it, Tuesday.
Spencer and Mona meet inside the church at Wilden's casket, so it looks like "A" sent them the same message. It only requires that they dig around his corpse to find a ringing cell phone... NBD.
They miss the call, but when they call back the number they assume is "A," Hanna answers — on her mom's phone. Umm, what?!
Just as the funeral's starting, a woman in a black veil sits down in the back of the church, but we can't see her face. This seems way more normal to us than it probably should.
And then "A" sends Toby a message, saying he better get to the lair if he wants to find out what happened to his mom.
Officer Holbrook approaches the girls after the funeral and wants to talk to them after having read Wilden's notes on them. He lets them know they'll be brought in for questioning, but this isn't their first rodeo.
After he walks away, Spencer, Aria, Emily, Hanna, and Mona get a text from "A" — she was there when the girls discovered the cop car after the fire, and sends them a video. In the lair, we see she's the one who was in the church wearing the veil… over a pretty freaky-looking mask of Alison's face. That's fine, we're cool with having nightmares 'til next week's episode.