Credit: Ethan Miller/Getty Images for Keep Memory Alive
Vampire Diaries and Originals Casts React to James Gandolfini's Death
Yesterday's tragic news of James Gandolfini's death shocked fans and his friends and colleagues in Hollywood alike. The actor, who played Tony Soprano in the acclaimed HBO series The Sopranos, died in Italy of a possible heart attack at 51 years old.
Celebrities used Twitter to express their sadness over Gandolfini's passing. Many stars of The Vampire Diaries and The Originals were among them. Steven R. McQueen (Jeremy Gilbert) was particularly affected, as he appeared in the 2006 short film Club Soda with the actor. In the movie, Gandolfini played "The Man," a mysterious figure who tries to set "The Kid," played by Steven, on the right path after the aspiring actor breaks into the bar where he works to steal some money.
Even if they never worked with him, the other TVD and Originals actors still had fond memories of James Gandolfini. Joseph Morgan even admits to getting some inspiration for Klaus from the legendary actor's performance in True Romance.
You can read Steven's, Joseph's, and more reactions below.
Source: Twitter; GIF Source: Tumblr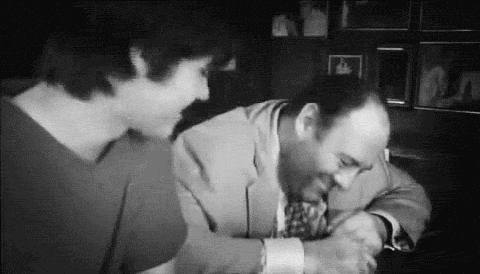 As the day begins, my heart sends love To all those who were lucky enough to know #jamesgandolfini. He added so much 2 our world. RIP.

— Arielle Kebbel (@ArielleKebbel) June 20, 2013
I just heard the sad news. James Gandolfini has died. His speech in 'True Romance' defined the metamorphosis of cold blooded killer for me.

— Joseph Morgan (@JosephMorgan) June 20, 2013
Rest in peace James Gandolfini. It was a pleasure working with and getting to know you. You will be remembered.

— Steven McQueen (@McQueeninchains) June 19, 2013
RIP James Gandolfini. We lost one of the greats today.

— David Anders (@QuestionAnders) June 20, 2013
What a loss, what heart. Thank you for sharing with us your most frightening and most beautiful talent, Mr. Gandolfini.

— Sara Canning (@saradjcanning) June 20, 2013
goodbye mr. gandolfini. vicious, hilarious, beautifully repellent and uncompromisingly true. the thunderous quiet of the noble monster.

— DANIEL GILLIES (@danieljgillies) June 20, 2013