Credit: Ron Tom/ ABC Family
Pretty Little Liars Live Recap: Season 4, Episode 10 — "The Mirror Has Three Faces"
We're in the thick of the drAma as Pretty Little Liars heads into the final three episodes of Season 4's summer season, and after Jenna's nearly fatal attack, things aren't looking good for our Liars. However, there is one thing we can look forward to in Season 4, Episode 10 ("The Mirror Has Three Faces"): Wren's return!
Whether you're a Wrencer fan or just a British accent aficionado, Dr. Wren plays a big part in tonight's episode. Who else would administrate Mona's psych evaluation in Radley? (Don't worry Spoby fans, Wren won't be getting too close to Spencer — Toby is back, too!) Meanwhile, Emily gets a startling offer from Mrs. DiLaurentis, which could seriously change the gAme for the Liars. Will this be the big break the girls have been looking for? Or will Emily let her emotions get in the way of tracking "A" — and finding out the truth behind Ali's disappearance once and for all?
Here's the official ABC Family synopsis of the episode:
Still living at a motel, Emily is taken aback when Mrs. Dilaurentis offers to let her move into Ali's old room and is even more distraught when the other Liars insist she take Mrs. D up on her offer. Hanna explodes when it appears her mother's recent good fortune has taken a turn for the worse. And Ezra continues to reel from Maggie's big news when he's dealt an even more crushing blow regarding his son.

Meanwhile, Aria makes an effort to get involved in Jake's (Ryan Guzman) interests and finds herself with an opportunity to follow up on a lead. And "A" continues to toy with Toby's emotions regarding his mother's death, and Spencer is along for the ride.
Now, this is a live blog, so if you want to join us in fan-girling all over "The Mirror Has Three Faces'" many OMG moments, keep refreshing for the latest updates. Until Season 4, Episode 10 officially starts (at 8 p.m. ET on ABC Family!), here's a GIF that describes how we feel about Wren's return to get you through the next few hours.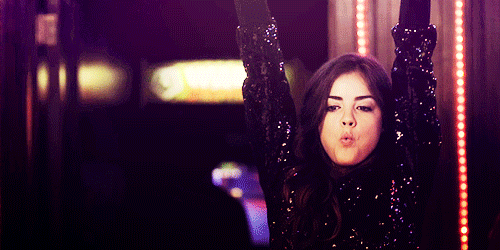 8:01 — "Honey, none of us are graduating." Ain't that the truth, Spencer.
8:02 — Come on, Emily. Take one for the — "A" — team and stay with Mrs. DiLaurentis! This could be your chance to get intel on CeCe Drake.
8:03 — "As much as she loves Emily, I don't think she wants to cry in front of her." Aw, poor Ashley Marin.
8:04 — Can we talk about how Caleb and Toby have done more "A" sleuthing over the last few episodes than the girls have done in all four seasons?
8:05 — OK, Aria and Jake. Keep being adorable.
8:06 — WREN IS BACK! Hallelujah! Now, what are you hiding?
8:08 — Has Mona stopped taking her meds?
8:09 — "Leave the lamb alone and go for the lion. Kisses, A." #NotesFromA. is "A" referring to CeCe as the lamb? Who's the lion — Red Coat?
8:10 — Awkward interactions with Mrs. DiLaurentis...
8:11 — "I thought you and carbs weren't friends anymore." Stop being hilarious and perfect, Caleb.
8:12 — Hanna wants to visit Mona in Radley for more answers. We don't think this is a good idea, Hanna. Mona is playing her own dirty gAme.
8:16 — In some sort of Alternate Universe, Hanna and Wren would make an adorable couple.
8:17 — So a young blonde came to visit Mona... was it CeCe or Ali?!
8:17 — "I'll take care of my end. You take care of yours." WHAT'S GOING ON, WREN?
8:20 — So Mr. DiLaurentis wants to get a divorce, huh? Yikes! No wonder Mrs. DiLaurentis is going through a hard time. Where is Jason when you need him?
8:21 — Whoa! Ezra ISN'T Malcolm's dad?! Shocker!
8:21 — "This enemy is everywhere and nowhere at the same time... I'm not enough to keep you safe anymore." Feeling a lot of Haleb feelings. WHY ARE YOU SPYING, WREN?
8:25 — Wren vs. Veronica Hastings. It's on.
8:26 — What kind of twisted game are you playing, Wren? Are you working for "A"?
8:27 — OK, Ezra, now you're breaking our hearts. Is it time for you to leave now, Maggie?
8:28 — Mrs. DiLauretis sees Ali "everywhere." Coincidence or clue?
8:30 — Emily is coming out to Mrs. DiLaurentis, and it is beautiful. "I wish Ali would have returned those feelings. I couldn't think of a greater person to love her than you."
8:31 — "CeCe always said there were four other she-devils." So CeCe had a motive to hate the Liars. After all, Ali got her kicked out of college — and she seemed to think Aria and co. were in on Ali's dirty deed.
8:32 — Red Coat is in the house, Emily! Watch out!
8:37 — Aw, we're glad Spencer is helping Toby dig up clues about his mom. Spoby makes a great team. Sorry, Toby, looks like this clue is dead end... or is it?
8:38 — Not the right time to freeze out Ezra, Aria! He really needs you right now.
8:39 — Whoa. Mona vs. Mrs. Hastings?! This is pretty epic.
8:45 — Hm, was Ali's mom ever at Radley? What is Mrs. DiLaurentis hiding? How does Doctor Palmer know her?
8:47 — So Ali plays the piano, huh? So Ali and CeCe were toxic frenemies? Why were they trying to imitate each other? That's just weird...
8:49 — Who would call the police and accuse Mrs. Hastings of obstruction of justice? Who would to see Mrs. Marin suffer? Was it "A"? Or could it have been her sparring partner, Wren?
8:53 — Oh, Jake. Stop trying to make us care about you and your adorable face!
8:54 — "You think I'm a badass?" SWOON.
8:55 — And Jake and Ezra FINALLY kiss.
8:56 — Whoa! This is a major setback for Ashley Marin. Poor Hanna!
8:56 — Wren is drawing creepy photos of Spencer in a Red CoAt?! So. Weird!
8:59 — Knock, knock. WHO'S THERE, Emily?!
9:00 — The muddy Manolos return!
What did you think of tonight's episode, Pretty Little Liars fans? Sound off in the comments below!
Catch the next episode of PLL tonight, August 20, 2013 at 8 p.m. ET/PT on ABC Family.