Credit: Adam Taylor/ ABC Family
Pretty Little Liars Live Recap: Season 4, Episode 11 — Red Coat Revealed?
It's time for a hoedown throwdown on tonight's penultimate episode of Pretty Little Liars. We know major drAma goes down at Rosewood dances, and Season 4, Episode 11's ("Bring Down the Hoe") high school hoedown is no exception. Not only will "A" be in attendance — did you really think "A" was going to miss out on this Western-themed party? — but Hanna's new stalker Travis (Luke Kleintank) will also show up, harboring a secret that's going to change her life forever.
Apparently, Travis's secret is so good, Keegan Allen told us it will "shock" the fans. Does he know what happened the night Wilden died?! Meanwhile, things between Aria and Jake are going strong, which is unfortunate for Ezra, who's still having a hard time dealing with Maggie's lie. As for our favorite duo, Spencer and Toby will have some drama to deal with of their own after Spencer comes clean to the Liars about Toby's troubled past, which risks Toby's access to "A" and he/she's insights into what happened to his mom the night she died. Will this be the end of Spoby? Say it ain't so!
Here's the official ABC Family synopsis of the episode:
After uncovering recent evidence that suggest "A" is hiding out closer than they realized, the Liars step up their investigation into their most recent suspect. Hanna continues to crumble due to her newfound infamy as the daughter of a murder suspect. To complicate matters, Hanna is being stalked by fellow student Travis (Luke Kleintank), until she learns he is hiding a secret that may change her life.

Meanwhile, Toby continues to be manipulated by "A," dangling insight into his mother's death. And Ezra tries to reach out to Aria for help in dealing with his recent troubles, right when she becomes more determined to move on with Jake (Ryan Guzman), at a Western themed dance that turns into a two-step with "A."
Now, this is a live blog, so if you want to join us in fan-girling all over "Bring Down the Hoe's" many OMG moments, keep refreshing for the latest updates. Until Season 4, Episode 11 officially starts (at 8 p.m. ET on ABC Family!), here's a steamy GIF of nearly naked Caleb to get you through the next few hours. (You're welcome.)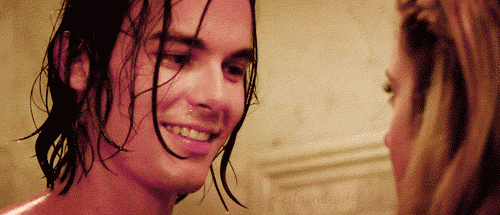 8:00 — First question: What is Aria wearing? Second question: Are those shoulder pads?! Le sigh.
8:02 — Poor Hanna. She gets a little irrational under stress.
8:02 — Why is Officer Tanner allowed to investigate the Liars AT SCHOOL — in the lunch room, no less.
8:03 — Hanna, could you be any more obvious right now?
8:04 — Officer Tanner is kind of fierce, though.
8:05 — Spencer, do you really think hiding out in the crawl space is the best idea?
8:05 — Can someone please explain where Hanna's creepy — albeit HOT — new stalker came from?
8:06 — "Her spirit made my heart race." OK, Em. Stop being oblivious. Zoe is so into you!
8:07 — Stop being so perfect, Jake.
8:08 — "Are you growing a beard." #emoEzra
8:09 — Stop being a jerk, Ezra! I know you're having a rough time, but mean doesn't suit you. (Save the bad boy attitude for the bedroom!)
8:10 — I <3 Caleb SO HARD. He's kind of the perfect boyfriend, but we already knew that.
8:11 — What is this new guy's deal? Do we really need any more new characters?
8:15 — Toby, you are breaking our hearts right now.
8:16 — Sassy Hanna is the best Hanna. #SorryStalker
8:17 — "Why don't these bitches start carrying around weapons? I'd have a knife on me at all times." — My roommate.
8:19 — THAT'S NOT GOOD!
8:24 — "Are you pregnant?" "Shut up, Hanna." You are saving this show, Miss Marin.
8:24 — Spencer just came clean to the Liars about Toby's little secret... this isn't going to end well for Spoby.
8:25 – "A" is SO CLOSE to you right now, Toby!
8:26 — Ezra should keep his facial hair.
8:26 — Jake and Ezra finally meet! Can you say, "awkward?"
8:27 — Did Jake just buy Aria a pair of cowboy boots?! Why is he so perfect?
8:29 — We need more Ali flashbacks. She's delightfully vicious and entertaining. Who pulled a gun on Ali?! And who was she doing this break-up favor for? Also, how did Emily put this all together so fast?
8:30 — Whoa. Cece and Wilden used to hook up? Did Cece kill Wilden when he went all psycho ex-boyfriend on her?
8:31 — CECE HAS A RED COAT!
8:35 — So Travis knows what happened the night Wilden was murdered — and he knows Ashley Marin is innocent!
8:36 — Travis says he saw a girl with Wilden after Ashley drove off... so... Cece?
8:38 — THERE IS A DANCE SEQUENCE HAPPENING RIGHT NOW. (But nothing will ever be as epic as this moment.)
8:39 — "How do you know this guy isn't working for 'A'?" Caleb Rivers, y'all — the voice of reason.
8:41 — Jake vs. Ezra. IT'S ON.
8:42 — Uh oh, Spencer. Now Toby knows the truth. Is this the end for Spoby?
8:46 — Is "A" really setting Toby up?
8:47 — I spy Red Coat!
8:49 — Why aren't Spencer and Emily running after Red Coat? She's on foot!
8:50 — Oh, wait, she's in the back of the truck!!! GET OUT!
8:54 — Bromance alert!
8:55 — Caleb, it's going to be hard to say goodbye, but after tonight's episode, you really deserve your own show.
8:56 — Do we really believe Cece is Red Coat?
8:57 — PAILY FEELS.
8:58 — Aria is at Ezra's door! Are they going to get back together?! "I'm not leaving, Ezra. So you might as well talk to me."
8:59 — Why does Cece care about Ezria?
9:00 — World War A has been declared!
What did you think of tonight's episode, Pretty Little Liars fans? Sound off in the comments below!
Catch the Season 4 summer finale of PLL Tuesday, August 27, 2013 at 8 p.m. ET/PT on ABC Family.
Crystal Bell is an editor at Wetpaint Entertainment and our resident fan-girl for all things Pretty Little Liars, The Vampire Diaries, Game of Thrones and Once Upon a Time. She speaks fluent geek. Follow her on Twitter and Google+!