Credit: Eric McCandless/ ABC Family
Pretty Little Liars Live Recap: Season 4, Episode 5 — Hanna Gets Arrested!
The stakes have never been higher for the Liars (and their families!), and Season 4, Episode 5 ("Gamma Zeta Die") of Pretty Little Liars is shaping up to be quite the nail-biter.
Spencer and Emily are headed off to the local college for a college visit day. However, the two Liars couldn't have more different agendas. While Spencer is hell-bent on figuring out Ali's apparent connection to the school, Emily must come to terms with her real fears about her post-graduation plans.
Meanwhile, after a stinging attack by "A," Aria and her little brother Mike (remember him?) don't see eye to eye regarding what's best for their parents, especially with Ella packing her bags for Austria. Last, but certainly not least, Hanna becomes increasingly frantic when she makes a horrifying discovery in her mom's closet, leading her to make a desperate move – with disastrous results. It's not going to be long until Detective Holbrook and his partner piece together the clues, which means Ashley Marin may be running on borrowed time. Sorry, Hanna.
Now, this is a live blog, so if you want to join us in fan-girling all over "Gamma Zeta Die's" many OMG moments, keep refreshing for the latest updates. Until Season 4, Episode 5 officially starts (at 8 p.m. ET on ABC Family!), here's a GIF of us stress eating during tonight's episode — oh, and Pretty Little Liars, as told by six epic Mean Girls quotes.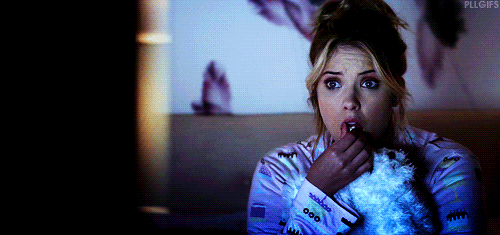 8:01 — OMG. That was creepy. But honestly, you'd think that with all the stress "A" puts these girls though, they'd be having nightmares every night.
8:02 — So Melissa is off to London for her internship. Nice getaway, Melissa. If she really wanted to protect Spencer, why didn't she stay in Rosewood?
8:03 — "He's like an Ivy League pimp." Spencer, never change.
8:05 — "Without swimming, I'm... average." Poor Emily. Maybe she should take some advice from Spencer. There are other schools out there, Em — even if Paige won't be there to go skinny dipping with.
8:07 — Tippi strikes again!
8:08 — And the Liars are off to Cicero College, home of sorority girls and beer pong.
8:09 — But Ella, what about your Muffin Man?!
8:10 — Ella, get out of the car! Nothing good ever comes from a car full of bees, except for honey.
8:11 — So "A" is now targeting the parents. Is Mrs. Hastings next?
8:15 — "Explain what, Em? That 'A' gave her four wheel hive?"
8:16 — Um, this college admissions fixer is seriously good looking.
8:17 — What's your side of the story, Ashley? Tell us! Did you kill Wilden or not?!
8:17 — "I have some skeletons in my closet," says everyone in Rosewood.
8:19 — MIKE, WHERE HAVE YOU BEEN?
8:20 — OK, so we were totally on #TeamMike until he threw Mr. Fitz into the mix. Low blow, Mike!
8:25 — Ashley really does have some skeletons in her closet...
8:26 — Mr. Fields is kind of the best dad ever. Well, except for the fact that he's never around. But when he is, he's handing Em a fistful of dolla dolla billz.
8:27 — Aria really wants her mom out of Rosewood if she's going to her dad for help. And after that bee accident, we don't blame her.
8:29 — "He doesn't need to believe that you actually want to go to this podunk school." Whoa. Way harsh, Spencer!
8:30 — Is that the murder weapon in Ashley Marin's closet?
8:34 — "I need answers from a guy who spends his weekends pretending he's a Hufflepuff."
8:34 — Spencer is kind of the worst friend ever in this episode.
8:35 — So Spencer just referenced Harry Potter AND Lord of the Rings AND Game of Thrones. Nerd guy is SO right. Spencer is so a Lannister!
8:36 — "You've got the crazy eyes." Crazy Eyes + Pretty Eyes = Spoby.
8:39 — This fight between Emily and Spencer is getting BRUTAL.
8:46 — Oh no. Is this college admissions fixer going to try and hit on Emily? "May I get you a drink?" She's still in high school, creeper!
8:48 — Hanna, why did you bring a GUN IN YOUR BAG? Especially one that's a potential murder weapon!
8:49 — Spencer, this is seriously creepy. Was that CeCe's secret hideout?
8:50 — Is Aria ever part of the main plot at this point?
8:54 — So was Ali calling CeCe? But why?! And what are those scratch marks?!
8:56 — "He's a she, and she's amazing." Well, that was awkward.
8:58 — What aren't these girls using their cell phones to CALL each other? Why are they wondering around in the dark? This is silly.
8:59 — Hanna, do you really think that you're going to bury the gun and NO ONE will find it?
9:00 — And Hanna is going to jail. "Maybe Hanna and her mom can share a lawyer?" UGH.
What did you think Pretty Little Liars fans? Did you love "Gamma Zeta Die"? Sound off in the comments!
Catch the episode on Tuesday, July 16, 2013 at 8 p.m. ET/PT on ABC Family.