Credit: Adam Rose/ABC Family
Pretty Little Liars Live Recap: Season 4, Episode 6 — Welcome to Ravenswood!
How much trouble did Hanna (Ashley Benson) get herself into when she tried to bury her mom's gun? We're about to find out on Pretty Little Liars Season 4: Episode 6 ("Under the Gun"). Meanwhile, Spencer (Troian Bellisario) and Toby (Keegan Allen) find themselves in the mysterious town of Ravenswood while on the hunt for clues about Mrs. Grunwald.
Who is Mrs. Grunwald? And what does she have to do with Ali? We'll at least get an answer to one of those questions in this week's episode, as Spencer and Toby will be traveling to Ravenswood (that's right, location of the upcoming PLL spin-off) to meet the enigmatic Mrs. Grunwald.
Here's the official Season 4, Episode 6 synopsis:
Hanna's attempts to protect her mother land her in hot water when she's found with something she really shouldn't have. Mona spills a secret of Spencer's to the other Liars, leading to hurt feelings within the group. Meanwhile, Emily tries to help Hanna, only to have "A" turn the tables, and when Aria offers to help out a friend of Mike's, she manages to put across the wrong impression. Meanwhile, Spencer's investigation into who was on the other end of Ali's mysterious phone number leads her and Toby to Ravenswood – which is unlike any place they've ever seen.
Now, this is a live blog, so if you want to join us in fan-girling all over "Under the Gun's" many OMG moments, keep refreshing for the latest updates. Until Season 4, Episode 6 officially starts (at 8 p.m. ET on ABC Family!), here's Pretty Little Liars, as told by six epic Mean Girls quotes. Oh, and for fun, a GIF of Melissa rolling her eyes.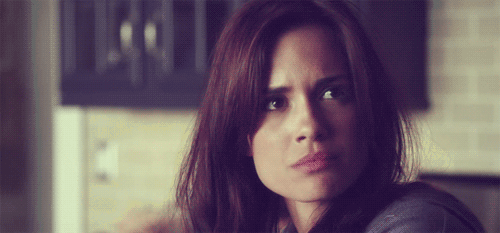 8:02 — Eek! So Hanna could be looking at a seven year prison sentence. Orange is not your color, Hanna.
8:04 — Shana, why are you creepin'? Wait, she transferred to Rosewood?!
8:05 — What were you thinking, Hanna?
8:06 — "I don't care who said what to who, but we need all brains on board, and we're already down one." Aria does have a point.
8:07 — Shana took Emily's spot on the swim team. Now, that hurts. "Jenna gets a new seeing eye dog at Rosewood High."
8:08 — Aria is finally wearing something normal!
8:08 — "I'm basically a huge bulldozer." That's kinda true, Spence.
8:10 — "You bark, I bite. Say my name and they BOTH get the blame." Texts from "A."
8:10 — So Mona has been tracking down "A's" lair. And unfortunately, she just blew Spencer's cover. So now the Liars know Toby gave "A" the lair back... yikes.
8:10 — "Look I'll take heels over a hoodie any day of the week." <3 you, Mona.
8:15 — "Mona may not be 'A,' but she can still be a B." Sassy Emily. (Also noteworthy, "Mo' Mona, mo' problems."
8:16 — Caleb to the rescue?
8:18 — So why doesn't Toby want to tell the Liars about his mom? He went back to Radley to talk to Eddie Lamb... but he didn't get any answers. So Toby needs "A" to give him some more intel. But how does "A" know what happened?!
8:19 — Broody Mike Montgomery.
8:21 — So Emily wants the footage of Ashley Marin hitting Wilden with her car. Somehow, it's going to help her case. After all, it proves that Melissa and Shana were connected to Wilden. Somehow, this plan is totally going to backfire. "A" is going to end up with the footage and edit it to make it look like Ashley struck Wilden.
8:26 — Can Aria ever kiss someone her own age?!
8:29 — Alright Emily, tell Spencer how you really feel!
8:29 — So now Shana plays the violin too? She's like an Ivy League school's dream girl.
8:30 — Connor, that was a d-bag move. "How many points for the word slut?"
8:31 — Ezra to the rescue! I'm so ready for this Ezria moment.
8:33 — Spoby is on the way to Ravenwood!
8:34 — Ezria in the stairwell...
8:36 — Ravenswood is hella creepy. Why would anyone live there? Also, what's with the color? Which Instagram filter are we in? (Answer: Brannan.)
8:39 — Why hello, Mrs. Grunwald!
8:44 — Is Ravenswood living in the past? Why does everything look so vintage?
8:45 — Aw, Mike is actually being a decent human being!
8:47 — "It's all my fault." Hanna, don't be so hard... oh, wait... yeah, it is your fault.
8:47 — "You're following a lead that came from a bird."
8:49 — WHAT IS HAPPENING IN RAVENSWOOD?
8:50 — Wait, Shana and Jenna are in Ravenswood, too? And what's with the suicidal raven?
8:54 — Spencer has dubbed Ravenswood "Creepyville," and we couldn't agree more. It is known.
8:56 — What does the detective want with Emily? Looks like she found "A's" footage...
8:57 — Oh, hey, Shana. Didn't see you there...
8:57 — Why you creepin', Ezra?
8:58 — That was Mike who ruined Connor's car, right?
8:59 — And Ashley Marin is getting arrested. Her fingerprints were all over the gun — and the bullets — that killed Wilden.
9:00 — OK, the Emily mask is seriously creepy.
So what did you think of "Under the Gun," PLL fans? Sound off in the comments!