Credit: Eric McCandless/ ABC Family
Pretty Little Liars Live Recap: Season 4, Episode 7 — "Crash and Burn, Girl!"
With Ashley's recent arrest, things are not looking good for the Marin family on Pretty Little Liars, and based on the spoiler-filled synopsis of Season 4, Episode 7: "Crash and Burn, Girl!" things are not going to start looking up any time soon,
Naturally, Hanna is not in a good place, and the Liars are unsure how to help her. Meanwhile, Caleb and Toby finally team up to help track down Red Coat. With Caleb's hacker brain and Toby's experience in the black hoodie, these two could be a dream team. (Also, why did it take four seasons to make this bromance happen?!)
Here's the official ABC Family synopsis of the episode:
Caleb and Toby team up to investigate "A" and what really happened the night of the lodge fire and encounter a source that points to a new possible identity for "Red Coat." Hanna struggles to act like everything is normal and her friends are unsure about how to help her. Aria worries about Mike's behavior in light of an incident at school and Ezra struggles with how he now fits into her life.

Meanwhile, The Liars are determined to find a new suspect in Wilden's murder and their tactics have unintended consequences. And, "A's" new plan threatens to send everything crashing down around one of the Liars.
Now, this is a live blog, so if you want to join us in fan-girling all over "Crash and Burn, Girl!" many OMG moments, keep refreshing for the latest updates. Until Season 4, Episode 7 officially starts (at 8 p.m. ET on ABC Family!), here's a GIF of us stress eating before tonight's episode.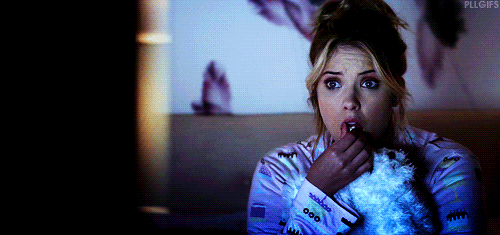 8:01 — Sassy Emily returns!
8:02 — "We could get those mozzarella sticks from The Brew. Hanna loves those."
8:03 — "I would never do anything stupid, Hanna." Yeah, Caleb, except for go to Ravenswood!
8:04 — Why has it taken Toby and Caleb this long to work together?! This bromance is epic. That "A" board is nearly as intense as Holbrook's police board!
8:07 — Sorry Connor. I don't feel bad for you.
8:07 — "Sad chicks in hipster glasses playing the same three chords and whining about their ex? No." Did Mike just describe Taylor Swift?
8:08 — Orange is the new black, amirite Ashley Marin?
8:09 — When Ashley Marin cries, a little part of my heart dies. "A", you are THE WORST.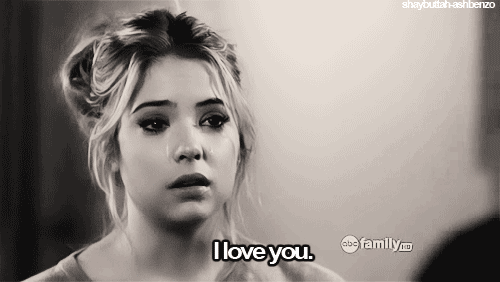 8:10 — I'm totally shipping Coby (in a platonic, non-sexual way) after this episode.
8:11 — "She can't disappear. This isn't Hogwarts."
8:12 — I love how the PLL Powers That Be are trying to bring Ezra into the main storyline — after four seasons.
8:19 — Does Emily really think she's going to get away with stealing evidence from a police station?
8:20 — Oh hey, Byron. Nice to see you again. Remember when we thought he was involved with "A"?
8:22 — Ashley Benson and Troian Bellisario are slaying this scene. Love this Spanna moment! Now, brb, sobbing for Ashley Marin.
8:24 — Now this is what I'm talking about! Caleb and Toby should have been working with the Liars since day one.
8:26 — "A" knows people everywhere. Who is this creeper? Oh, wait, it's Jenna's mysterious date from Wilden's funeral. His name is Nigel Wright (aka N.W.). Was he calling Jenna?
8:27 — Sorry Aria, but your brother possibly getting expelled is not as serious as Ashley possibly getting sentenced to life in prison.
8:28 — YOU'RE BREAKING INTO WILDEN'S APARTMENT? REALLY?
8:30 — The Liars are in Wilden's apartment. There is a phone ringing. I am terrified.
8:31 — TOBY x CALEB FOREVER. Are they going to confront Nigel?
8:34 — "Can't wait to see you at our little barbecue. Kisses." — A. So was Wilden supposed to start the lodge fire?
8:36 — Nothing hurts worse than seeing Hanna cry.
8:39 — Ezra looks pretty good in plaid. Can we have a Toby x Caleb x Ezra bromance? I shall call it Cobra.
8:41 — Can Toby and Caleb have their own spin-off? It could be like Bad Boys.
8:41 — So CeCe hired Nigel to fake a flight plan... or so he says. Do we think that's what really happened? Or is that the cover-up story? And does that mean CeCe is Red Coat?!
8:45 — Alright, Ezra. You can stay.
8:48 — Hm, could CeCe have been the "blond girl" who visited Caleb's mom in Radley?
8:50 — Way to go, Emily. You got your mom suspended from work. (Also, why are these girls always surprised when "A" foils their plans?)
8:55 — Ezria moment!
8:56 — "He doesn't get to die and leave me looking like a criminal." Yet another reason to love Ashley Marin.
8:56 — So Nigel is working with Jenna. Was he trying to frame CeCe? Also, he's making tea for Jenna. We know "A" is a fan of tea... could Jenna be "A"?
8:58 — And a car just crashed into Emily's home.
What did you think of tonight's episode, PLL fans? Sound off in the comments, and let us know!