Credit: ABC Family
Pretty Little Liars Live Recap: Season 4 Halloween Episode — Is Ali Alive?
Pretty Little Liars is back! Well, at least for tonight it is when PLL returns for its highly anticipated Halloween episode ("Grave New World"). With "A" on the loose in Ravenswood, the Liars are on the hunt for Ali, who may be alive after all. (In fact, we'll know once and for all whether Ali is alive by the end of the episode!)
We've already gotten a taste of Ravenswood — as the Liars ventured into eerie little in the Season 4 mid-season finale in hot pursuit of "A" — but get ready to see this creepy town in a whole new light when the girls find themselves trapped in "A's" game. As for "A," well, let's just say Ezra is looking guiltier by the minute. Eek! Get ready for one super scary thrillride, PLL fans!
Now, this is a live recap, so if you want to join us in fangirling all over the Season 4 Halloween episode's shocks and surprises, keep refreshing for the latest updates. Until Season 4, Episode 13 officially starts (at 8 p.m. ET on ABC Family!), here's a GIF of the original Liar (and H.B.I.C), Ali DiLaurentis, to tide you over for the next few hours. Enjoy!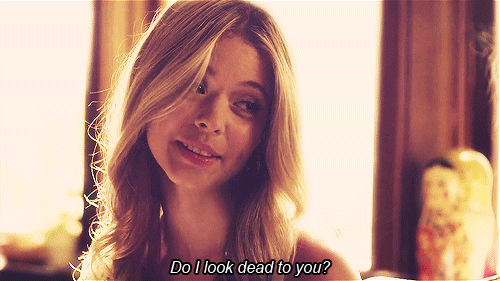 8:01 — How fierce are these costumes? Hanna's boobs look ah-mazing.
8:02 — Aww, poor Emily. She's not ready to see Ali again. We, on the other hard, are SO ready!
8:02 — No one would ever get in that creepy
8:02 — "They're mushrooms! Aria, get a grip."
8:03 — Creepy twins in red coats alert!
8:04 — Um, creepy Ezra alert!
8:04 — So if Ali isn't dead, then does the PLL theme music still make sense?
8:05 — Back off, Miranda. Caleb is Hanna's!
8:05 — Curse you Caleb, and your stupid chivalry.
8:07 — The Liars are starting to get super paranoid.
8:07 — Looks like the Luke's twin Olivia does show up at the Founders Day celebration — but that's not Merritt Patterson. It's the actress who was originally cast in the role. Awkward.
8:08 — Why is she stealing food from this creepy stranger?! Does Miranda not use her brain?
8:09 — Convenient how they all got separated so quickly...
8:10 — "How could you lose both of them?" Good question, Spencer.
8:12 — Was that Ali?!
8:16 — Emily's boobs are out of control.
8:16 — In what world would this be a good plan? C'mon, girls.
8:17 — "Where's that wind coming from?" And of course the lights go out!
8:18 — Did Aria let go of Hanna on purpose?
8:18 — So glad Caleb and Miranda are bonding over their mutual uncle problems.
8:20 — How did Hanna get herself lost? And why is she still wearing that ridiculous hat?
8:21 — Ezra has to be in that gas mask. Who else could it be?
8:27 — Miranda is trying a little too hard to flirt with Caleb.
8:30 — Maybe Hanna should have called 911...
8:30 — WHAT WAS THAT? Was that a ghost? This is seriously the creepiest thing ever. Poor Hanna!
8:30 — Miranda to the rescue. Now, that's ironic.
8:31 — Emily is sort of useless right now.
8:32 — Ali is definitely alive! And "A" has her!
8:33 — Now where did Spencer go?!
8:37 — That awkward moment when Miranda met Hanna... she is so crushing on Caleb.
8:39 — OK, now we feel a little bit bad for Miranda. But she still hasn't told her she met Caleb on the bus, which is skeptical.
8:40 — Nope. Nope. Nope. This is way too scary. Someone is going to lose her head.
8:43 — So where is Ezra? Is he the one dragging Ali around the Collins house?
8:46 — Spencer is going to kick some "A" butt right now.
8:47 — "A" better not touch a hair on Spencer's pretty little head.
8:47 — What kind of game is "A" playing right now?
8:49 — Miranda, meet dead Miranda.
8:50 — Did Grunwald lure the Liars to that room?
8:53 — "One of you has been touched by the one Alison fears the most." Could you be a bit more precise, Grunwald?
8:54 — Obviously, she was talking about Ezra... or Wren... or Toby.
8:54 — "And you're looking at me because I'm gay?"
8:55 — Nooooo, Hanna, just let Miranda go.
8:56 — Why is Caleb such a good guy?
8:56 — "Find me when you get home." Stop it. So many Haleb feelings.
8:57 — What are you doing, Ezra? You're not fooling anyone (except Aria).
8:58 — You guys, ALI IS ALIVE.
8:59 — "Did you miss me?"
9:00 — "Remember what I told you at the hospital Hanna..."
9:00 — In case you were wondering, here's what Ali told Hanna at the hospital: "Telling the truth to the wrong person at the wrong time is how I ended up where I am."
9:01 — WHERE IS ALI?
Catch the Pretty Little Liars Season 4B premiere on Tuesday, January 7, 2013 at 8 p.m. ET on ABC Family!
Crystal Bell is an editor at Wetpaint Entertainment and our resident fan-girl for all things Pretty Little Liars. Follow her on Twitter and Google+!