Credit: Adam Rose/ ABC Family
Pretty Little Liars Live Recap: Season 4 Summer Finale — "Now You See Me, Now You Don't"
The Liars are headed to Ravenswood in the Season 4 summer finale of Pretty Little Liars — but here's hoping all four make it out unharmed! It looks like one little Liar gets thrown into one of "A's" gAmes, but will succumb to the mAsked psycho's tricks? Only time will tell, PLL fans!
Considering we saw a clip of Aria with some creepy mime magician and read some magic-based hints, we're guessing she's the one who gets caught in the middle of "A" and the Liars. But with World War "A" on the horizon, the Liars need to be united now more than ever. We've questioned Aria's loyalties before, but something tells us Aria isn't the Liar we need to be afraid of, especially with Mona back at Radley and CeCe running wild in Rosewood.
Here's the official ABC Family synopsis of the episode:
An intriguing riddle from 'A' has the Liars hitting the road and heading to Ravenswood, where they are surrounded by some familiar faces. During a very special magic show, one Liar pulls a disappearing act, leaving the other three scrambling to make sure she hasn't succumbed to "A's" tricks.

But before they can hightail it out of Ravenswood, they make a shocking discovery that proves that everything they thought they knew about 'A' and the 'A' team might be wrong. With this discovery, the Liars may just have started 'World War A.'

Meanwhile, Hanna and her mother's joyous reunion is cut short when 'A's' sights are set on a new target. And Toby uncovers some surprising information about Wren.
Will the Liars run into Mrs. Grunwald? She seems like the most likely "familiar" face. That is, unless Caleb decides to move to Ravenswood early (we're only kidding, Haleb fans!). However, we're more concerned with the "shocking discovery" the Liars make. Could Ali actually be alive after all? And what "surprising information" does Toby uncover about Wren? With so many questions, we're hoping we at least get one major answer in the summer finale. We're already stress eating in anticipation!
Now, this is a live recap, so if you want to join us in fan-girling all over the Season 4 summer finale's many OMG moments, keep refreshing for the latest updates. Until Season 4, Episode 12 officially starts (at 8 p.m. ET on ABC Family!), here's a GIF of our favorite PLL duo (#Sparia forever!) to tide you over for the next few hours. Enjoy!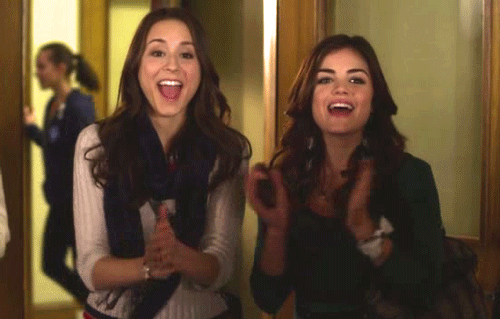 8:01 — Hanna has spent most of this season worrying. We miss the old Hanna. Also, you all have known Travis one night — how do you know he's a "stand-up guy"?!
8:02 — World War A has been declared, people!
8:03 — No pressure, Travis. No pressure. OH, COME ON, TRAVIS!
8:04 — So... is Ezra saying he and Aria are the new Miranda and Ferdinand?
8:04 — "As a friend." Looks like Aria just shut down Ezra's advances...
8:05 — What's wrong with poetry, Jake?!
8:06 — Once again, Caleb is the BEST. BOYFRIEND. EVER.
8:06 — "'A' is a terrorist." I love when Emily tells it like it is.
8:07 — I don't like when Spoby fights. They're too adorable for this much drama!
8:08 — Wait, but where is Ashley Marin going without her keys?!
8:09 — ARE THEY GOING TO KILL OFF MONA?!
8:13 — Did CeCe really kill Wilden? It seems a little too easy... and since when has a police sketch ever been that accurate?
8:14 — "Desperately Seeking Mona." Caleb, I love you.
8:15 — Shady Shana!
8:16 — Uh-oh. Where in the world is Mona?
8:16 — Toby has cried in every single scene he's been in this season. It's just too much.
8:17 — But Shana was just at Wren's house? So Wren is working with Shana, Melissa, and Jenna. Is he on the "B" Team?
8:20 — Spoby feels!
8:22 — OK, Aria. You can't be mad at Jake for not liking black and white movies. (Or do you call them pictures?) You're not that cool.
8:25 — So many couple moments in this episode! So, Aria is going to dump Jake because he isn't as cultured as she is? What happened to opposites attract? (But that Ezria moment was cute, though.)
8:27 — Caleb, now is the time to get the hell out of Rosewood. World War A is about to go down.
8:28 — Nice recovery, Aria. Like how you ignored that kiss at first.
8:30 — Poor Mona, indeed.
8:31 — "'A's putting on a magic show!" I am so confused.
8:32 — These moments between Caleb and Toby are everything. (Seriously, where are Mona's parents?!)
8:33 — And we're off to Ravenswood!
8:34 — Why is Ravenswood so creepy?!
8:35 — Don't get in the box, Aria! We all know what happens in boxes!
8:36 — And now Emily is gone. Way to go, girls!
8:37 — HOW EPIC WAS THAT RAVENSWOOD TRAILER?
8:43 — OMG. What is happening? Somebody get Emily out of that box!
8:43 — Why are there so many Red Coats?
8:44 — So CeCe is one Red Coat, but who is the other?
8:49 — CeCe is "dead" but her body is gone. And "A's" lair is in Ravenswood?
8:50 — Aren't the Liars worried "A" is going to come back to her Lair?
8:51 — No, Caleb! Don't come to Ravenswood! You'll never leave!
8:53 — Wait, "A" is a man?! And he's been following Ali? AND ALI IS ALIVE?!
8:55 — Is Board Shorts also "A"?
8:56 — So Mrs. Grunwald saved Ali?! TOO MANY REVEALS.
8:57 — "She was never really gone."
8:58 — HOW/WHY IS "A" ACTUALLY A MAN?
9:00 — OMG EZRA IS A!!!! AND ALI IS ALIVE!!!!
What did you think of tonight's episode, Pretty Little Liars fans? Sound off in the comments below!
Catch the Pretty Little Liars Halloween episode on Tuesday, October 22, 2013 at 8 p.m. ET/PT on ABC Family, followed by the premiere of Ravenswood.
Crystal Bell is an editor at Wetpaint Entertainment and our resident fan-girl for all things Pretty Little Liars, The Vampire Diaries, Game of Thrones and Once Upon a Time. She speaks fluent geek. Follow her on Twitter and Google+!