Credit: Eric McCandless/ABC Family Channel © 2015 Disney ABC Television Group
7 GIFs You'll Need for Tonight's 'Pretty Little Liars' Season 6 Finale
The Pretty Little Liars Season 6 summer finale is guaranteed to rock our world. After all, tonight's the night the Liars finally come #FAcetoFace with their biggest enemy, and learning the answers to just about every mystery we've ever wondered on this show.

NEWS: Ali's PLL Time Jump Fate Will "Shock" Fans

Obviously, this is going to be a lot to process, and it's going to be tough to convey exactly how you're feeling simply with words. That's why the internet invented GIFs, right?

In preparation for the big night, we've collected 7 Pretty Little Liars GIFs we're sure will come in handy for conveying the rollercoaster of emotions we're expecting from the finale. Yeah, we don't know exactly what's going to happen (though we know there may "multiple" deaths!), but we're guessing most of these will be extremely relevant.
When You Find Out Who "A" Is
When the Liars Are In Danger
When the Revelations Makes You Cry
When You're Angry About One of the Answers
We hope you won't need this one, but just in case.
After the Episode Is Over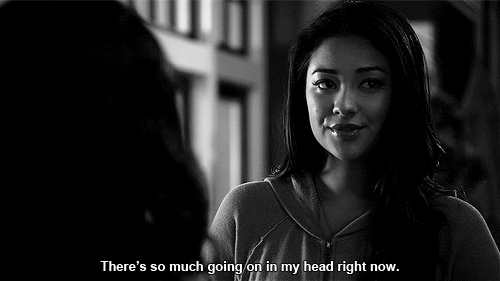 After You've Spent All Night Analyzing What Happened
When You Realize You Still Have Questions
Catch the Pretty Little Liars Season 6 summer finale on Tuesday, August 11, 2015 at 8 p.m. ET on ABC Family.