Credit: Video Still
Pretty Little Liars' Troian Bellisario Stars in The Head and the Heart's Beautiful "Another Story" Video
It's finally here! Seattle indie darlings The Head and the Heart released their new music video for "Another Story" today, and Troian Bellisario (Spencer) makes the gorgeous song into a perfect, well, story.
The video, directed by Andrew Hines, also stars Hayley McCune and THATH frontman Jonathan Russell and — we're going to be honest — we definitely sobbed a little. The sepia-toned setting and period costumes are reminiscent of Ravenswood, but the only looming element of danger is the singer, who watches Troian and Hayley's characters meet up and ride off together, and reappears throughout in a narrator role.
The two ladies find a clearing in a forest, and share a romantic moment together when Hayley gifts Troian with a camera. They pose for pictures and their tenderness and sensitivity toward one another makes it clear that this is a beautiful love. But later on in the story, Hayley is faced with disapproval from her father and breaks down crying.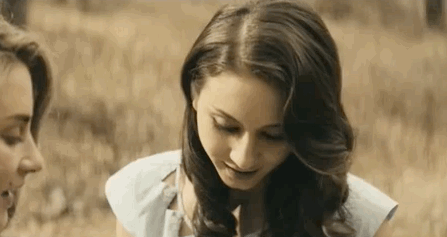 And that preview we saw a few days ago, the one where Troian runs like Spencer to an "A" clue? Well, it's not good, guys, and that's where the crying comes in. The reaper-like Head and the Heart singer watches from the backseat of a car, with a resolute, invisible presence, emotion coming through only from his voice, which allows Troian's incredible acting skills to come through even more.
The reflective ending doesn't star Troian, but somehow, we can still see imagine her coming through. Of the story, Troian says that when she first heard the song, the second single off the band's sophomore album, Let's Be Still, "what truly stuck with me were the simple but haunting lyrics. Without being melodramatic, without sensationalizing, the song mourns those who have lost their way, and the pain they leave in their wake."
Check out the video and then tell us what you think: does Troian have a future in music videos? What other bands' songs do you think she could make into beautiful stories?