Credit: Eric McCandless/ ABC Family
Pretty Little Liars Red Coat Reveal: 5 Reasons It's Jenna!
With all of the "A" suspects flying around, sometimes it's easy to forget that, at one point, the main "A" suspect was Jenna (Tammin Sursok). Back in the day, the Liars were convinced Jenna was seeking revenge for the accident that cost her her sight by tormenting them as "A." Recently, other candidates have passed Jenna on the Liars' list of "Top 'A' Suspects," but we still have our eye on the elusive minx. Here are five reasons why we think Jenna is Pretty Little Liars' Red Coat.

She hates the Liars.
Jenna has never hid her disdain for the Liars. She has never stopped blaming them for "the Jenna Thing." And, to be fair, the Liars haven't exactly gone out of their way to a) apologize for their part in the "firecracker in the garage" plot or b) reach out to Jenna as a possible fellow "A" victim. Jenna has more reason than anyone to dislike the Liars, especially now that she is losing her eyesight again. Sometimes, the explanation that makes the most sense is the truth...even on PLL.

The girl in Wren's drawing looks like her.
Wren got all arts-and-craftsy in Season 4, Episode 10 ("The Mirror Has Three Faces"), coloring a red coat onto his picture of a long-haired brunette. The image could have been of many Rosewood residents, but we did think it bared an uncanny resemblance to Jenna. If Wren is on the "A" Team and knows who Red Coat is, then maybe we should start taking his "art" a bit more seriously...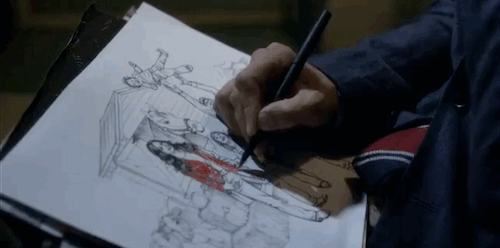 Toby is a target.
For a long time, "A" was relatively nice to Toby. Sure, she recruited him for the "A" Team and faked his death, but he seemed to have relative free will. He wanted to be on the "A" Team and, when he effectively quit, Red Coat didn't do much about it...Until now. Whoever "A" is, she enjoys playing with Toby, and she knows a lot about his past. This implies that "A" is someone who knows Toby well. As Toby's step-sister and sexual abuser, Jenna fits the bill. We thought she was done bothering Toby, but maybe her Red Coat alter ego hasn't yet quit the habit.

She disappears for weeks at a time.
People in Rosewood have a nasty habit of disappearing for weeks at a time, and Jenna is one of the worst. Though this makes us sad because we don't get to see Tammin ooze mystery/bitterness very often, it also makes us suspicious. Whoever Red Coat is, not having to maintain a "normal" life in addition to all of her "A" activities would be helpful. Where does Jenna go when she "leaves town"? Perhaps to the DiLaurentis basement...

She had a mysterious relationship with Ali.
Whoever Red Coat is, she obviously has deets about Ali's life, which implies a familiarity. Jenna and Ali never seemed to be friends, but when the Liars first meet Jenna at the flashback Halloween party, she says she already knows who Ali is. Ali has already started receiving texts from "A." Could Jenna have already had reason (perhaps something to do with Toby) to both know Ali and want to harass her?
Do you think Jenna is Red Coat? Why or why not? Share your theories in the comments below!
Catch the next episode of Pretty Little Liars on Tuesday, August 20, 2013 at 8 p.m. ET/PT on ABC Family.