Credit: Eric McCandless/ ABC Family
Pretty Little Liars Review: Season 4, Episode 9 — Jenna Nearly Dies!
Now that was the episode of Pretty Little Liars we've been waiting for all season! Season 4, Episode 9 ("Into the Deep") had it all: mystery, a teenage house party, and a near-grisly death!
Sure, we could have done without Maggie and Pastor Ted (snooze-fest!), but Jenna Marshall's nearly dead body floating in the lake made up for all of the adult filler this week. That's right — Jenna, one of our top "A" suspects — was almost a goner after someone struck her in the back of the head and pushed her into the lake. Thankfully, Emily came to her rescue.
But that's not all that went down in Rosewood this week! Read on for Wetpaint Entertainment's review Season 4, Episode 9 ("Into the Deep"), and then rate it yourself!
Read spoilers at your own risk! For more on Wetpaint Entertainment's philosophy on spoilers, click here.
Another one almost bit the dust in Rosewood, but luckily, we think Jenna is going to pull through. After all, that girl knows way too much to die on us like that! However, this just means that when it comes to the Liars and parties, these girls need to just stay home!
So who could have possibly wanted to hurt Jenna — and more importantly, why? One theory is that she knows too much about Ali, and with the Liars in hot pursuit of answers, Jenna was a liability. So does this mean Jenna was actually afraid of "A"? It seems likely! She was pretty paranoid throughout the episode, and at one point, she even told Shana she was "running out of time."
When Spencer confronted Jenna's partner in crime Shana at the hospital, she asked what Jenna knew about Ali. "Ali's dead," replied Shana. "Who was Jenna afraid of?" Spencer pressed. In her response, Shana seemed convinced that CeCe Drake had something to do with Jenna's accident. That's the second person to name-drop CeCe. Is CeCe being framed by "A," or is she really the blonde behind Red Coat?
Meanwhile, after Mona took the fall for Wilden's murder, Ashley Marin was released — on a $1 million bail, paid by her BF Pastor Ted! — but she's not out of the woods yet. There are holes in Mona's story, and without evidence to tie her to the scene of the crime, Ashley will surely be headed back behind bars soon. But will Mona's trip to Radley yield some answers? Or is Mona heading back to Radley with her own agenda? We wouldn't put it past her. After all, Mona has some serious evidence against the Liars — she has that photo of the Liars by Wilden's car! Is Mona going to frame the Liars, or is she really working to help Hanna and her mom? And what's in Radley for Mona, aside from the scribble, "Will the circle be unbroken?"
When it comes to relationships, one pair may be breaking up, while another is blossoming. After Emily's horrible meeting with a tough swim coach who said she pretty much had a zero percent chance of getting a scholarship after her injury, Paily came to the bittersweet realization that they may not be together next year. (*SOB.) As for Aria's complicated love life, she decided to give Jake a chance after all. With all of the drama currently brewing between Ezra and Maggie, this could be a nice, simple rebound for Aria.
What did you think Pretty Little Liars fans? Did you love "Into the Deep" as much as we did? Sound off in the comments! And in case you were wondering how we spent the episode, look below.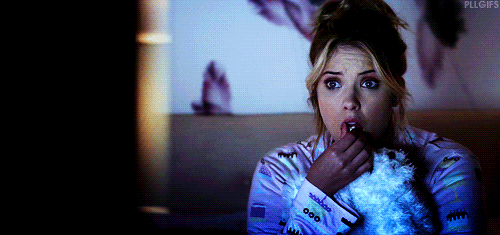 Catch the episode on Tuesday, August 13, 2013 at 8 p.m. ET/PT on ABC Family.