Credit: Bob D'Amico/ ABC
Sandra Oh to Exit Grey's Anatomy After Season 10 — Farewell, Cristina
Prepare to bid a season-long adieu to Cristina Yang. Actress Sandra Oh is leaving Grey's Anatomy after the upcoming season.
The Hollywood Reporter reports that Sandra will be giving up the gig after Season 10 concludes.
"Creatively, I really feel like I gave it my all, and I feel ready to let her go," she tells the site. "It's such an interesting thing to play a character for so long and to actually get the sense that she wants to be let go as well. [Cristina] wants to be let go, and I am ready to let her go. We have to start the process, story-wise, for the Grey's writers to think of why she's going to go."
As the site reports, it took Sandra much time and therapy to reach this critical decision. It all started when she and the rest of the "Original Six" re-upped their contracts for two more years after Season 8.
Then after Season 9, she told show creator Shonda Rhimes, "I'm ready."
Sandra broke the news to her castmates at the table read for the show's 200th episode.
"I seriously think I need that much support over processing it over this next year for me to be able to leave fully and leave in a way that I feel like Cristina deserves," she tells THR. "For the first time, at least for my character, you actually have an endpoint, which in series television you never or very rarely have."
Shonda, for her part, has nothing but love for the departing actress:
"One of the best days of my life as a writer happened the day Sandra Oh walked in my door to audition … We're both going to savor every moment of Cristina Yang, and then we're going to give her the exit she deserves."
There are no details yet on how Cristina will be written out, but we do know that she'll be trying to find Owen a new "person" in Season 10, the star-crossed duo having realized that they're not destined to be together.
"She's going to be helping him navigate new waters, trying to find a person who's going to be the person who has a kid with him," portrayer Kevin McKidd teased earlier this month.
We at Wetpaint Entertainment are very sad to see Sandra go, having loved every minute of Cristina's screentime, but we're excited to see her swan song. We're still processing and have been sharing all of our feelings on social media; and, in turn, reading a lot of commentary from other fans.
So, to help cope with this loss, we've rounded up some of our favorite reactions — including fans' suggestions of how she should depart — below. Before scrolling down, here's a GIF that accurately explains what's running through our minds: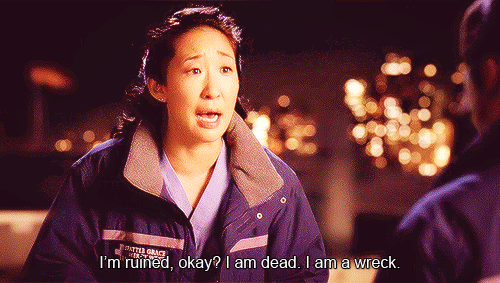 I want to cry at my desk over Sandra Oh.

— MacNCheese (@OhHellNawCaryn) August 13, 2013
Sandra Oh leaving #Greys after next season well hopefully they don't kill her off tragically give her room 2 come back in the finale

— Jessica Gathers (@JessicaG90) August 13, 2013
First Ann leaves Leslie, now Cristina is leaving Mer...STOP KILLING AWESOME FEMALE FRIENDSHIPS, 2013 FALL TV SEASON.

— tierney bricker (@tbrick2) August 13, 2013
Now that Sandra Oh is leaving Grey's after season 10, I'm starting to think this should be the last season. Grey's w/o Christina is nothing

— Fearless Macer ☆ (@aMACEingSwiftie) August 13, 2013
How are you coping with the news, Grey's fans? Share your thoughts in the comments below.
Source: The Hollywood Reporter