Credit: ABC Family
Pretty Little Liars Season 4B Winter Premiere Live Recap — Is Ezra Really "A"?
The Pretty Little Liars Season 4 winter premiere (Season 4, Episode 14: "Who's in the Box") hasn't even started yet, and we're already hyperventilating. Ezra might be "A". Ali is alive. The Liars are back in Rosewood. Things are about to get real, and we're a little scared of all the drama that might go down.
When we return to Rosewood tonight, we can expect to see the Liars grappling with what to do now that they know that Ali is alive and in hiding. Question numero uno — who the heck is buried in Ali's grave if it's not Rosewood's biggest mean girl herself?
Here's the official ABC Family synopsis of the episode:
Armed with the knowledge that Alison is alive, Aria, Emily, Hanna and Spencer have more questions now than ever before in an all-new episode of Pretty Little Liars. Trying to put the pieces together Hanna comes up with the idea that if they find out who is really buried in Ali's grave it may lead to much needed answers. But as the girls search, Emily has trouble dealing with how she feels about Alison being alive.

Meanwhile, Caleb returns to Rosewood, and Ezra has clandestine meetings with Mona and Aria.
We know we aren't the only ones especially excited to see how Ezra acts in those "clandestine" meetings. Does Mona know the truth about him? Based on this sneak peek it looks like the answer is no, but you can never be sure with these characters. Hopefully we'll find out more tonight!
This is a live recap, so if you want to join us squealing over all the action in the winter premiere, keep refreshing for the latest updates. Until Season 4, Episode 14 officially starts (at 8 p.m. ET on ABC Family!), here's a GIF of Rosewood's Most suspicious, Mr. Ezra Fitz.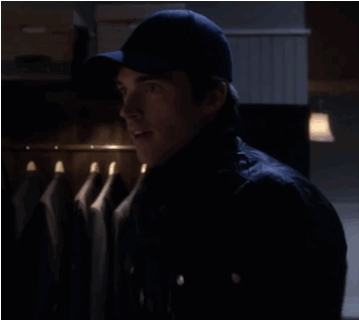 8:01 — "I don't know." "You keep saying that!" You and all the fans, Aria.

8:01 — Love that Hanna understands why Ali wouldn't call the cops, duh.

8:02 — Could Ali be "A"? We don't even want to think about that.

8:03 — "Guys, don't fight in a crypt." LOL.

8:03 — Gotta love Hanna coming up with a smart theory. Go Han!

8:04 — Jason "needed some time by himself." AKA he was hanging out with some Devious Maids.

8:05 — Look at Hanna, getting her detective on. Hey, it's just a google search, but ya gotta start somewhere.

8:06 — "People make a distinction between 'innocent' and 'not guilty.'" Wise words from Ashley Marin.

8:06 — Wait? Hanna could escape all this and chill in Australia? Um... That might not be a terrible idea. (Just kidding. Don't leave us,t Han!)

8:07 — Aww, Spoby!

8:08 — Sweet wheels, Mona.

8:08 — Paige looks hot. Whatever she's doing with her hair is working.

8:08 — Way to snap at your girlfriend, Em. It's not her fault your dead first love is not-so-dead.

8:09 — We would watch an entire episode that was just Hanna and Mona talking to each other.

8:09 — Jekyll & Hyde, Ezra? A story about a good guy with a dark side? Very subtle.

8:10 — And Hanna found a likely suspect. Smart!

8:11 — Try to seem less surprised next time Hanna makes a good move, Spencer.

8:11 — Aaaand an "A" threat drops.

8:15 — Ezra didn't want to have to give Aria up because of Malcolm.

8:16 — Ezra would "like to try to be the guy [Aria] thinks [he] is." Hmm... Hint?

8:17 — Yay, Spencer's dad is back! He's great, in a bad dad way.

8:18 — So, what has Toby learned? Well, he got names of people who worked at Radley at the time his mom died. There's definitely a big cover up going on.

8:19 — Em is majorly snarky tonight. Clearly, she's a special kind of upset about Ali.

8:20 — Caleb! Haleb kissing! Oh man, we've missed this. But how long will it last?

8:23 — "Me coming here is less complicated." Understatement of the year.

8:24 — Miranda is "good, under the circumstances." LOL, no.

8:25 — "I thought I'd go crazy missing you."

8:25 — Leave it to the lawyer's daughter to know how to get what you want.

8:26 — Curious that this Sarah girl sounds just like Ali...

8:27 — Sarah was seen the day after Labor Day. Hmmm.

8:27 — Everything Mona says sounds like it has ten layers of meaning.

8:28 — Ah yes, the internet. That lovely world where facts don't matter.

8:30 — Hanna's mom working for Ali's mom? Love it.

8:30 — "It wasn't my idea. Alison suggested it." Hmm... Is Ali really only in her mom's dreams, or is she visiting her?

8:31 — "That reading list is very revealing, if you know what to look for."

8:31 — Mona references the Count of Monte Cristo. Does she want revenge? On who?

8:32 — Um hi, threatening Ezra. You certainly seem evil.

8:35 — To be fair, Hanna, things really are complicated in Caleb's life right now. Like, ghosts and curses.

8:36 — "What do you mean, might?" "I have to go back."

8:37 — Looks like Toby has finally gotten some closure! Some good news, yay.

8:39 — Shut down Radley? Now that would be interesting...

8:43 — So Ezra and Aria's secret is a special place?

8:46 — Oh, and this Sarah wasn't a good person? Is she actually just an Ali clone?

8:46 — "I'm so tired of being Sarah's friend. It sucks the life out of you."

8:47 — Oh Hanna. Your stubbornness is sweet, but you really want to stay away from Ravenswood.

8:49 — "I gave her to you." Oh, this is heartbreaking. Sob.

8:49 — "Is this how it works? They just leave?" Sobbing forever.

8:50 — Why does Mr. Hastings want Radley shut down? We bet there's more to this story.

8:51 — Hmm. Floorboard hiding place? Way to seem suspicious, Ezra.

8:48 — Oh god this is heartbreaking.

8:54 — We love Emily finally talking to Paige about Ali and all her complicated feelings involved.

8:55 — "I hate her for being so mean to you. So cruel." Aww.

8:55 — Emily is ready to say goodbye just as Ali is back.

8:56 — "Look, whatever happens, I'm going to let that be the way we say goodbye." This hurts.

8:57 — Whatever. Hanna and Caleb clearly get together in the end, after she's taken down "A" and he's broken the curse. Right? RIGHT?!

8:57 — "Rest in peace, Jane Doe."

8:58 — So, Hanna has Ali's journal. We knew that, but now it's time to learn what's actually in it... Next week.

What did you think of the episode? Sound off in the comments!

Catch the next episode of Pretty Little Liars on Tuesday, January 14, 2013 at 8 p.m. ET/PT on ABC Family.