Credit: TV Guide via Twitter
True Blood Season 6 Spoilers: What Was Revealed at 2013 Comic-Con Panel?
Every summer, the cast of True Blood comes together at San Diego Comic-Con to dish about the show, goof off, and make Truebies from around the world swoon. This year is no exception, with almost all of the principal cast participating in a panel today, July 20, 2013.
So, what do the HBO stars — including Anna Paquin (Sookie Stackhouse), Joe Manganiello (Alcide Herveaux), Ryan Kwanten (Jason Stackhouse), Kristin Bauer van Straten (Pam Swynford de Beaufort), Rutina Wesley (Tara Thornton), Deborah Ann Woll (Jessica Hamby), Nelsan Ellis (Lafayette Reynolds), Rob Kazinsky (Ben Flynn), Sam Trammell (Sam Merlotte), Anna Camp (Sarah Newlin), Michael McMillian (Steve Newlin) — have to say about Season 6? Read on for the biggest reveals and spoilers from the panel, and then hit the comments with your thoughts and theories.
Oh, and since Alexander Skarsgard couldn't be there, here's a shirtless Eric Northman GIF.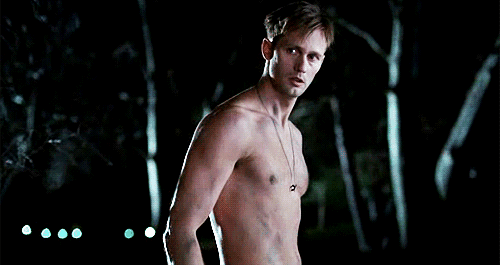 Sookie is grieving. In the teaser trailer show at the Comic-Con panel, Sookie is seen speaking at a funeral, hinting it's someone close to her. Is it the estranged Bill or Eric? Sam? Brother Jason? Tara? Considering how close she is with many people in Bon Temps — vampire, human, and supe alike — it could be anyone.
Eric vs. Pam — who will win? While Kristin Bauer van Straten wouldn't divulge who wins, she points out that Pam is "scrappy" and that it's hard since she's fighting the "person who's most dear."
Will someone turn Sookie? The trailer also showed Sook's "bloody mouth after feeding on somebody." Some say it looked like Benlow — did he turn her?
Jason goes "crazy" to save Jessica. According to Ryan Kwanten, Jason "gets real crazy, real soon." However, he will grow throughout the rest of the season, but it will be a rough road. "He likes to think he's Rambo, but he fails," Ryan said of saving Jessica.
Wolves vs. shifters. "I kinda screwed with the wrong people," Sam Trammell said of stealing Emma from the wolf pack, and in turn, Alcide. He points out his string of dead girlfriends, saying he's a "dangerous person to get involved with." Joe Manganiello added, "Don't punch big ugly werewolf dude in the face."
Tara and Jessica — or Tara and Willa? Rutina Wesley said Tara is becoming a "protector or a big sister of sorts to certain other characters," which could mean Jessica — though she wouldn't confirm an alliance — or maybe even new vamp Willa.
Old love returns. Jason and Sarah Newlin have "unfinished business," and according to Anna Camp, Sarah still holds a torch for her gay vampire husband, Steve! He, on the other hand, has a flame that's "never gonna burn out" for Jason. New triangle alert... again.
Will Steve kill Eric? Michael McMillian said that Steve has a vendetta since Eric stabbed Russell right in front of him. Meanwhile, Eric is locked in Vamp Camp with him.
Hopeless love. While Anna Paquin noted that Sookie is "not a doormat" this season, she is wary, but drawn to Warlow. Rob Kazinsky notes there will be some "gnarly stuff" as we find out if Benlow is evil.
Pam and Willa's bloody battle? "She doesn't play well with others and she's never had to share Eric before, so we're gonna find out pretty soon how she feels about that," Kristin said. "There's a very very deep bond there between Pam and Eric and it's going to be tested this year."
Cutting down on storylines. New EP Brian Buckner promises that the show will return to its roots and be focused on Bon Temps' vampires and humans. "We are going to reduce the number of stories we're telling and make this feel like we're going home" he said.
Everybody dies. "Obviously, we all die," Anna said in reference to the finale. She was joking, but that doesn't mean we can't expect many deaths ahead.
Are you excited or nervous for the rest of Season 6? Sound off below, Truebies!
Sources: HitFix, Twitter, Screen Invasion