Credit: Norman Buckley
Pretty Little Liars Spoilers: Hefty Hanna Returns in Season 4, Episode 15 Flashback — Exclusive Photos!
Hefty Hanna makes her triumphant return to Pretty Little Liars in a winter season flashback that already has us sympathizing with poor Hanna.
Wetpaint Entertainment has the exclusive behind-the-scenes photo from set, courtesy of director Norman Buckley, and Hanna (Ashley Benson) looks anything but happy on Spencer's nana's couch. We knew Ali (Sasha Pieterse) was going to make an appearance in Season 4, Episode 15 ("Love ShAck, Baby!"), but until now we weren't sure it was going to be a flashback. It looks like Episode 15 is going to featured at least two flashbacks — one of Hefty Hanna at Spencer's lake house (are the other Liars there too?) and another starring Ali and possibly Emily. Does this mean Ali isn't alive after all?
As for Hanna, why does she look so sad? The only person who could make Hanna this upset was Ali, so maybe Episode 15 is going to be pretty Ali-centric, too. But then again, isn't every plotline in Rosewood Ali-centric? That girl left destruction everywhere she stepped. It's OK, Hanna. We're sure there are some mozzarella sticks for you somewhere.
Norman also gave us another behind-the-scenes shot from the episode. Once again, this pic stars none other than Ashley, who's staring intriguingly back into the camera. Now, this looks like present-day Hanna, but what could she be doing in this scene? Only time will tell!
Looks like we'll have to hold tight until the summer finale (on August 27, 2013) to shed some light on the mysteries surrounding Ali's disappearance and her sudden reappearance in Episode 15. But for now, we have this behind-the-scenes pics to analyze. So let's get sleuthing, PLL fans!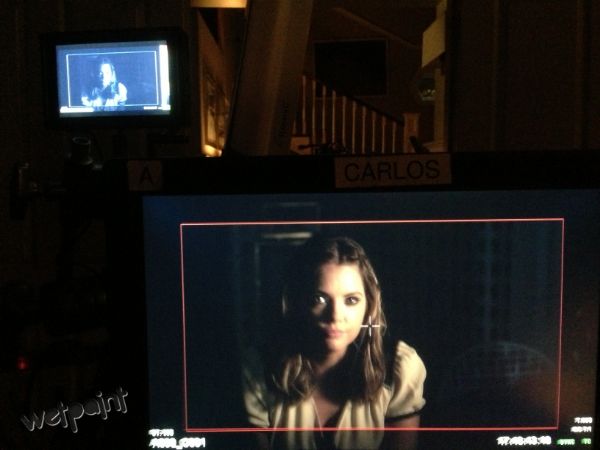 What do you think of these behind-the-scenes pics? What do you think Hefty Hanna is up to in this flashback scene? Sound off in the comments!
Catch the next episode of Pretty Little Liars on Tuesday, August 6, 2013 at 8 p.m. ET/PT on ABC Family.
Crystal Bell is an editor at Wetpaint Entertainment and our resident fan-girl for all things Pretty Little Liars, The Vampire Diaries, Game of Thrones and Once Upon a Time. She speaks fluent geek. Follow her on Twitter and Google+!