In the world of celebrity, where every move is scrutinized, Paris Jackson, the daughter of the legendary King of Pop, Michael Jackson, made a bold statement in May 2017. She posted a series of nude selfies on her Instagram, sparking a wave of criticism and controversy.
But Paris, ever the defiant spirit, responded to her critics in the most Paris way possible – by posting another nude photo.
Paris Jackson doesn't care what you think.
After haters criticized her for posting a nude selfie, Paris clapped backed by posting another naked photo.
The criticism came after she posted a pic of herself laying out in the sun naked with her dog on her Instagram story. The 19-year-old used emojis of ladybugs to cover her nipples and protect at least some of her modesty.
It's unclear what exactly people said but it appears many were scandalized that Paris would share a nude photo.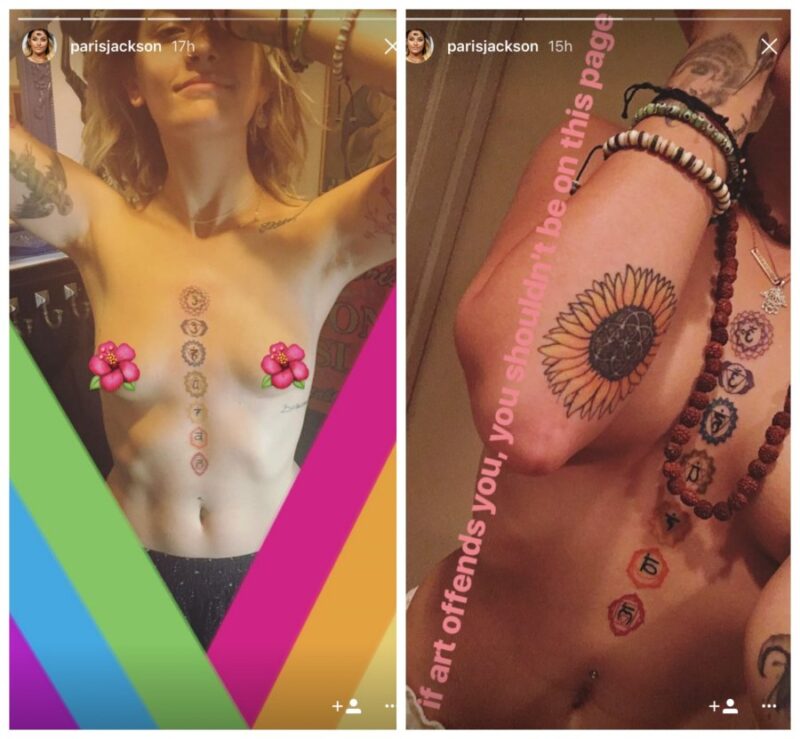 "I'll say it again for those questioning what i stand for and how i express myself," she wrote.
"Nudity started as a movement for 'going back to nature,'' expressing freedom,'' being healthier' and was even called a philosophy."
"Being naked is part of what makes us human," the model continued. "For me it helps me feel more connected to mama gaia."
View this post on Instagram
"I'm usually naked when I garden. it's actually a beautiful thing and you don't have to make it sexual the way many hollywood stars (and the media) do."
The Star actress also added that her dedication to nudity is part of her feminist beliefs.
"Not only is your body a temple and should be worshipped as so, but also part of feminism is being able to express yourself in your own way, whether it's being conservative and wearing lots of clothes or showing yourself," she continued.
"There's different ways of absorbing mother earth's energy, my favorites are earthing which is absorbing the earths vibrations from contact between the soil and your bare feet, as well as letting your naked skin absorb the rays of the sun," she went on.
"The human body is a beautiful thing and no matter what 'flaws' you have, whether it be scars, or extra weight, stretch marks, freckles, whatever, it is beautiful and you should express yourself however you feel comfortable."
She ended her post by stating that while she understands if some people are upset by her actions, she cannot apologize for being true to herself. She encouraged those who disagreed with her to unfollow her, but she refused to shy away from expressing her beliefs.
"If this makes some of you upset i completely understand and i encourage you to maybe no longer follow me, but i cannot apologize for this in any way. it is who i am and i refuse to shy away and keep my beliefs a secret [sic]," she concluded.
View this post on Instagram
What do you think about Paris' nude photos? Let us know below!
Paris Jackson's actions and her response to the criticism she received are a testament to her strong personality and her commitment to living life on her own terms. She used her platform to promote body positivity and freedom of expression, challenging societal norms and sparking a conversation about the sexualization of nudity.
Her actions serve as a reminder that celebrities, like everyone else, have the right to express themselves in their own unique ways.
Remember that here on wetpaint.com you can always find the juiciest gossip! Visit us regularly for more updates.