Science of Blending Cocktails: Cocktail making is an Art that allows Bartenders to express their individuality and showcase their expertise. To make a Great cocktail the bartender Must Understand the principles of mixology which include the Type of Liquor, Juices, and garnishes. In this article, we will Understand the Science of Blending cocktails.
What is the Science of Blending Cocktails?
The Science of Blending cocktails is Mixology. It is all about knowing the physical and chemical properties of the different components used in making cocktails. It also requires creativity and a willingness to try new things, as mixologists are always finding new ways to mix ingredients and create Something New.
When You make a cocktail, Your goal should be to make a good balance drink with adequate taste and nice Flavours. The Art of Mixology is Becoming Very Popular. Many Bars and Restaurants are Hiring Skilled mixologists to create the Best cocktails for Their customers.
What is Mixology?
Mixology is an Art and science of Preparing the Best cocktails. Mixology requires an In-depth understanding of the different components which are used in making/preparing cocktails, as well as the tools required to create them. While mixology may seem like difficult work, it is a unique skill that can be learned and perfected with practice.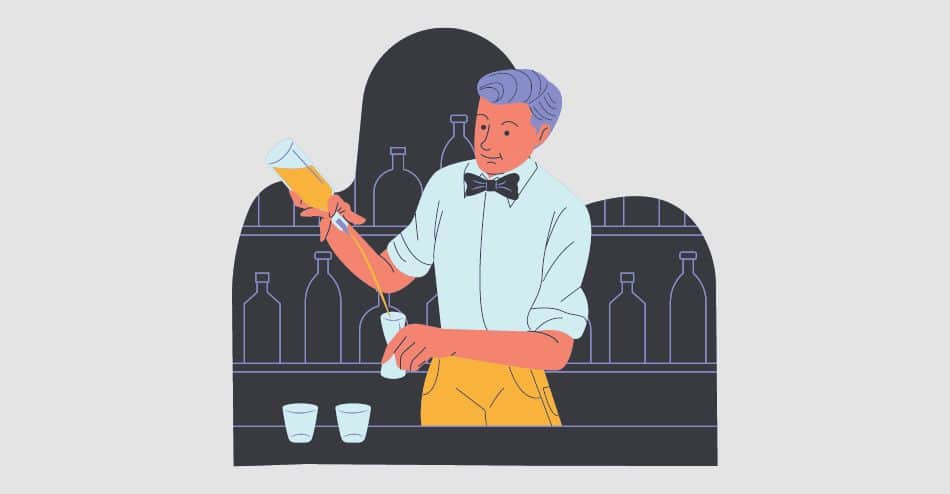 Mixologist Create unique cocktails by using various techniques to create a unique drink. They Usually experiment with Different Types of Ingredients like Herbs and Spices which help them to make Different Flavoured cocktails. As the Result, the cocktail only tastes good but is also visually Appealing to the Person.
Techniques of Mixology
As Mentioned Above Mixoloy Is an Art and Science of Preparing the Cocktails. This Skill requires a lot of In-depth knowledge of ingredients, Tools, and Garnishing. Think of this as Chemistry, If You want to Create an Experiment, You analyze liquid and solid samples. Similarly in Mixology, the Mixologist Prepares Different the Cocktail using Different Ingredients.
Mixology was founded by an American bartender Jerry Thomas. He published his first guide to Mixology in the year 1862. Due to their Experimental Approach to Cocktails, he was known as the "Professor" and father of American mixology. There are many techniques applied in mixology that can upgrade your cocktail game. Below mentioned are the top 5 techniques of Mixology.
Shaking: Shaking is a method for combining ingredients like juice, syrup, and alcohol in a cocktail. Using this method, you fill a cocktail shaker with ice, add the ingredients, then shake briskly to produce a frothy, cooled drink.
Stirring: For drinks that have previously been mixed or don't require shaking, such as a stirred Manhattan, stirring is a gentler method of combining the ingredients. This method calls for thoroughly blending and chilling the components in a mixing glass with ice.
Flaming: Flaming is a method for giving a cocktail a dramatic effect, like an orange peel on fire. A little amount of high-proof alcohol is ignited and poured over the cocktail or garnish using this method.
Dry shaking: Dry shaking is a method used to give egg white-based cocktails, including whisky sours, a frothy texture. This method calls for first shaking the ingredients without ice to emulsify the egg white, then adding ice and shaking again to chill the beverage.
Muddling: Muddling involves using a muddler, a tool that looks like a miniature baseball bat, to crush fresh herbs, fruits, and other ingredients in the bottom of a glass or shaker. This technique is often used to release the flavors and aromas of ingredients such as mint or berries.
How to Become a Mixologist
A Mixologist a someone who has studied the techniques of Making cocktails. To become a Mixologist You require a set of Skills and knowledge. Below Mentioned are the Steps to becoming a Mixologist.
Learn about cocktails and Liquor: Start learning about different types of spirits, liqueurs, bitters, and other ingredients which are used in the making of cocktails. You can read books and articles, take online courses, attend seminars, and also visit bars to learn more.
Practice: Practice crafting several varieties of cocktails while utilizing the right methods. Start with Easy cocktails and work your way up to more complicated ones. Find out what your friends and family think of your attempts to recreate your favorite pub drinks.
Gain experience working in a bar: Working in a bar or Restaurant will Give You the Best Practical Knowledge about Mixology. Start by working as a helping hand and work your way up to a bartender position. Focus on the techniques Used by the Bartender while they make great cocktails. This will help You Gain Immunse Knowledge about Mixing.
Network with other mixologists: When You Network with other mixologists, It helps You Stay updated with the latest Industry trends. You will learn a lot about Cocktails and Mixology Just by networking with the right People.
Keep learning and experimenting: To become a Good mixologist, You need to Keep Learning. It's a Niche that continuously evolving and to become an expert with Keep Knowledge, You Need to Keep experimenting with new ingredients, techniques, and recipes. You can also Attend seminars, read industry publications, and experiment with new ingredients to stay on top of the latest trends. Becoming a mixologist requires dedication, passion, and hard work, but with the right training and experience, you can build a successful career in this exciting field.
Skills Required to Become a Mixologist
To become a Successful Mixologist You need to Have a variety of skills. These skills can only be learned through a combination of Good education, practice, and experience. Here are the top five skills that are required to become a mixologist:
Knowledge of spirits and ingredients: To become a Successful Mixologist, You need to have a Great Understanding of different types of spirits, liqueurs, bitters, and other ingredients used in cocktails. You Should be Aware of Different Flavours, and ingredients to Create unique and delicious drinks.
Mixology techniques: Mixologists should have Proper Knowledge about different Types of mixology techniques, such as muddling, shaking, stirring, and straining. They should also be experts in using bar tools, such as jiggers, shakers, muddlers, and strainers, to create cocktails that are Appreciated by Everyone.
Creativity: Mixologists should be able to create new and unique cocktails, experimenting with new ingredients and techniques to Make Innovative drinks. They have also been able to create visually appealing cocktails that are Aesthetically Pleasing.
Customer service: You Must be thinking about why customer service skill is required to become Mixologist. But it is necessary for a mixologist to have Great customer service skills because most mixologists work directly with customers. Mixologists should be friendly and able to engage with customers, while also being able to handle difficult situations with professionalism.
What's the Difference Between a Mixologist and a Bartender?
Often people get Confused Between Bartender and Mixologist. Both are Two Different Professions with Different Knowledge and Skills. But there are some key differences between the two which are mentioned Below.
A Bartender is a person who makes Drinks on Customer Demand at the Bar or at a restaurant. They have a very good knowledge of Different types of Alcohol, Drinks and also specialize in Customer Service. Generally, Bartenders are the ones who make sure That the customers are having a Good time with their Drinks.
On the other hand, a mixologist is a bartender who also has Deep Knowledge about making cocktails and mixed drinks. Mixologists have comprehensive knowledge of the ingredients and techniques used to create unique and innovative cocktails. They frequently experiment with new ingredients, flavors, and presentation styles to create new and exciting drinks.
While all mixologists are bartenders, not all bartenders are mixologists. A bartender may be skilled at preparing traditional drinks, such as beer, wine, and simple cocktails, while a mixologist focuses on creating complex, multi-layered drinks.
Frequently Asked Questions (FAQ)
What is the golden Ratio of mixology?
The Golden Ratio of Mixology is 2:1:1 which is 2 parts spirit, 1 part sweet, and 1 part sour.
What are the three basic methods of mixology?
The Three Basic Methods of Mixology are stirring, shaking, and blending.
Who invented mixology?
Jerry Thomas Invented Mixology
What is shaking in mixology?
Shaking is a method of mixing cocktail ingredients using a cocktail shaker.
Is mixology a profession?
Yes, mixology is a profession that involves making and serving cocktails and other mixed drinks.
What is the strongest cocktail?
Aunt Roberta, Death in the Afternoon, and Jungle Juice are some of the Strongest cocktails You can Try.
Who is the first mixologist in India?
Yangdup Lama is Known to be India's First Mixologist
In Conclusion
Mixology is an art that combines science, creativity, and in-depth knowledge of flavors and ingredients. By utilizing techniques like shaking, stirring, muddling, and layering, mixologists create some of the most delicious cocktails that are Loved by Cocktail enthusiasts.
We hope this article answers all Your queries about the Science of Blending cocktails. If You have any other questions related to cocktails, Whiskies, or Beers, Please drop Your questions in the comments Section Below and I will Get back to You soon.
Also, Read-