As a fervent fan of the epic fantasy series, 'Game of Thrones,' and an ardent follower of celebrity news, I can't help but admire Emilia Clarke's audacious portrayal of Daenerys Targaryen. The British actress, known for her striking beauty and exceptional acting prowess, has been a topic of discussion for her bold nudity scenes in the series.
Emilia Clarke got naked again on this season of Game of Thrones, but don't worry: she actually likes seeing her booty on TV.
In fact, she says she's glad she didn't use a body double for the scenes were Daenerys Targaryen get naked.
Emilia Clarke's character, Daenerys Targaryen, is a woman of strength, resilience, and unyielding determination. From the outset, Daenerys's journey is marked by trials and tribulations, and her evolution from a timid girl to a powerful queen is nothing short of extraordinary. Clarke's nudity in the series is not merely for the sake of titillation; it serves as a narrative tool that underscores Daenerys's transformation and empowerment.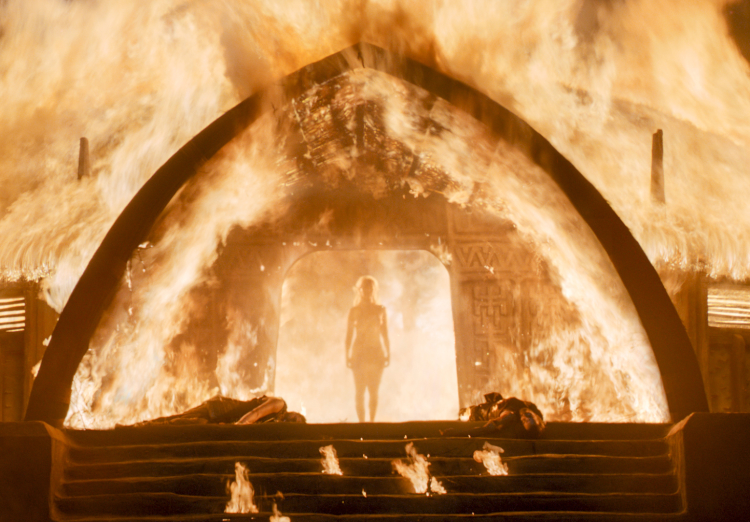 One of the most memorable scenes that come to mind is when Daenerys emerges unscathed from the burning pyre of her late husband, Khal Drogo, in the first season finale. Naked and covered in ash, she reveals three newly hatched dragons, marking her rebirth as the Mother of Dragons.
This scene is a pivotal moment in the series, and Clarke's nudity here symbolizes her character's rebirth and newfound power.
The 29-year-old spoke to Time Out about being naked on TV, saying: "It's awesome. I don't have a body double: that's the size of my bottom and we've all seen it. I'm like, 'F—k yeah, that's my arse! "
Clarke's decision to bare it all on screen was not without controversy. She has always maintained that her nudity scenes were integral to her character's development and storyline. In an interview, she stated, "I took the job, and then they sent me the scripts, and I was reading them, and I was like, 'Oh, there's the catch!'" But she also added, "I've never been shy about this stuff."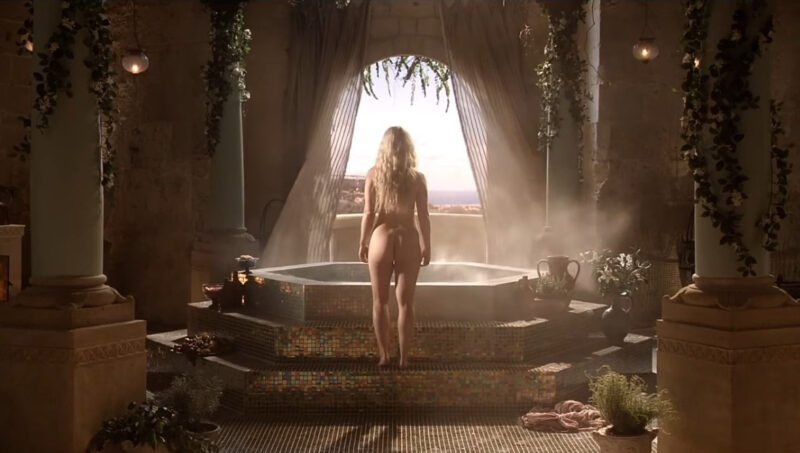 However, when the brunette beauty started getting offered more and more film roles that required her in her birthday suit, it eventually got on her nerves.
Recalling how she rejected an offer to play the lead role in erotic film Fifty Shades of Grey, she reflected, "For better or worse, people loved to talk about me being naked. That's the one thing that grinds my gears. It only happened in Game of Thrones a couple of times because it was part of the plot. I don't walk around naked all of the time."
She added, "I definitely wouldn't say I won't do nudity again because there's loads in life. Being naked is not something that defines me but at that point it was the only question that people asked."
Despite the actress being named Esquire magazine's Sexiest Woman Alive for 2015 and posing in her undies for the issue, she wishes she could be more comfortable calling herself sexy.
View this post on Instagram
"It's weird," she said. "When people say you're the sexiest woman alive or whatever, you're like 'Yeah, but we don't need to talk about it.' It's nice, but I wish so much that I could be like Beyoncé and go, 'Damn straight, check out my booty.' But I can't because that's not who I am."
Emilia Clarke's nudity in 'Game of Thrones' is a bold statement of her character's strength and resilience. It's a testament to her commitment to bringing Daenerys Targaryen to life in the most authentic way possible. And for that, she deserves nothing but admiration and respect.
Game of Thrones airs Sundays at 9 p.m. ET on HBO.
Bottom Line
Emilia Clarke's portrayal of Daenerys Targaryen in 'Game of Thrones' is a masterclass in character development. Her decision to embrace her character's nudity scenes demonstrates her dedication to her craft and her understanding of her character's journey.
Clarke's Daenerys is a character that will be remembered for her strength, resilience, and unyielding determination, and her nudity is an integral part of that narrative. As fans and viewers, we can only applaud Emilia Clarke for owning her nudity in 'Game of Thrones' and bringing such a complex and powerful character to life.