As a fervent follower of the television series 'Pretty Little Liars', I was thrilled to dive into the exclusive interview with Brandon W. Jones, who plays the character Andrew Campbell in the show. The interview, hosted by Wetpaint, gave us a tantalizing glimpse into the dynamics of Season 3, particularly focusing on the relationship between Spencer and Andrew.
Pretty Little Liars fans are still reeling from the emotional aftermath of Season 3, Episode 16: "Misery Loves Company," but as much as we'd love to see Toby (Keegan Allen) redeem himself and reunite with  Spencer (Troian Bellisario), we know the odds aren't in Spoby's favor.
Jones, who has been a part of the PLL family since Season 2, has always been an intriguing character. His character, Andrew, is a high school decathlete and academic decathlon team captain, who has a soft spot for Spencer Hastings, played by Troian Bellisario. As we delve into the interview, Jones hints at a potential romantic spark between the two characters, leaving fans on the edge of their seats.
Enter Andrew (Brandon W. Jones). He's cute (in that geeky, Clark Kent way), smart (he and Spence are on the academic decathlon team), and funny ("Put on your Hastings face and spank her tomorrow night like a know you can"). Oh, and did we mention he's known Spencer since they were kids? If this doesn't sound like the makings of a Taylor Swift love song, we don't know what does.
So in light of Toby's betrAyal, will Spencer and Andrew grow closer… and eventually date? Wetpaint Entertainment chatted with Brandon W. Jones to find out.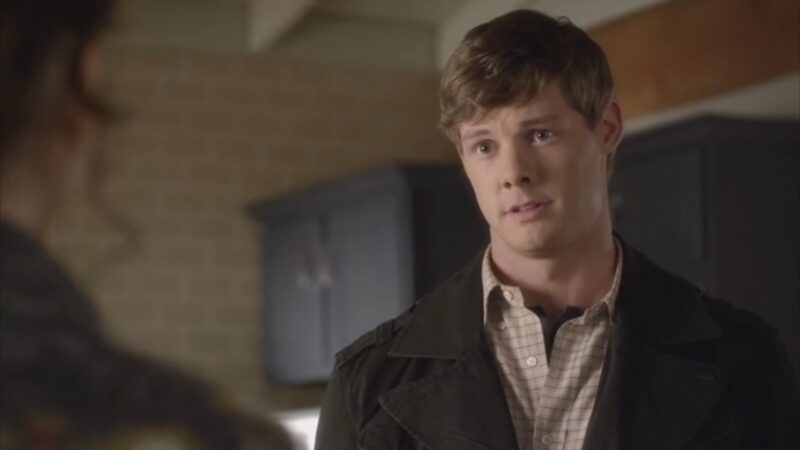 Tell me about Andrew, what should we know about him?
You should know that Andrew is a sweet guy. He really is. He's good hearted, means the best and really does care a lot about Spencer. They've known each other since they were kids, and Spencer and Andrew, I think they'd do anything for each other.
And I think there's always going to be a bit of mystery, a bit of should we go beyond friends, or should we not between Spencer and Andrew. So we'll see what happens, I guess.
What's going on between Andrew and Spencer? Are they going to date?
Well, I can't answer that, but I can tell you I definitely think it will heat up. So everyone can look forward to things getting a little spicier, for sure.
What's coming up in episodes in the near future for you?
Well, Andrew does come back this season, and like I said, things are going to heat up. And when they do, it shakes things up a bit.
When you got this part, how much research did you do as far as the books and who Andrew is in that narrative?
I actually made it a point to try to stay away from knowing too much about Andrew, especially from the book series, because I felt like when I play this character, I wanted to kind of bring my own thing to it without bringing too much from the books.
I like the way the writers mix it up. It's a not a carbon copy of the books. So I'm not reading too much into how Andrew is in the books. I think is a bit of a surprise for everyone who watches.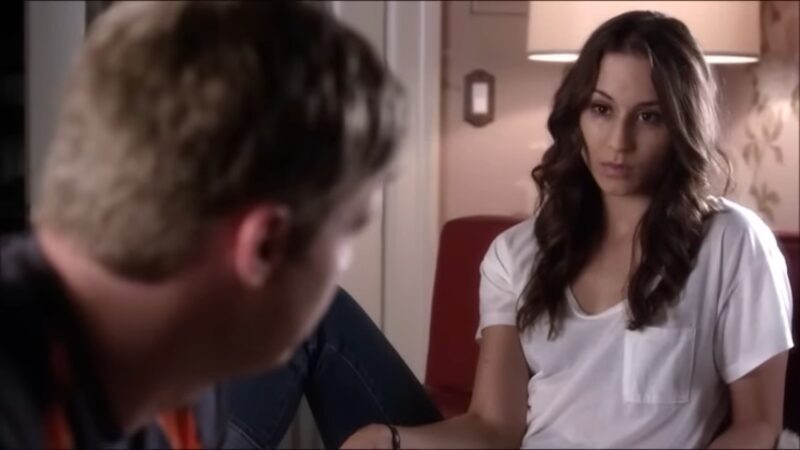 In the books him and Spencer date, which is why you're pegged as her new love interest. Did Marlene say anything as far as not putting all your eggs in that basket? Were you given any sort of indication?
I was not, and to be honest, I'm on the same page as everyone else. I don't know too much about what's going to happen. The writers are known for their surprises in the way they turn the book around a little bit sometimes. I don't know what's going to happen in the future. They haven't given me any indication at all. So I'm on the same page as you guys.
What should we read into the friendship they have?
I definitely think you can safely say there's chemistry there, even above and beyond friendship. But I don't know if Spencer and Andrew will let it go any further. I think they both want to, but I think they've been friends forever. And they don't know if they'll let that happen.
We interviewed Troian recently and she said that she really likes the Andrew/Spencer dynamic because it challenges her intellect. Can we look forward to some banter?
Oh, yeah. They're such big competitors, and Troian's right. They challenge each other in many different ways, especially intellectually. You can definitely look forward to a little bit of a challenge from Spencer and Andrew.
The next time we see you, will it be in that same environment where we got to know him before?
I will say it's a little bit beyond the decathlon team, yep.
What's it like to play the "geek"?
I love it. I love it, love it, love it. I'm a geek in real life, and I honestly just play myself. I just put some glasses on. That's the only difference. So it's a blast. It really is.
What's it been like with the rest of the cast? Are they welcoming? What are your first impressions?
Wonderful people. Oh my God. I love them. It's like going to high school and meeting all your friends on set. It's so nice. Everybody gets along so well, and even beyond the cast, the crew is amazing, wonderful. They're just a blast to be around. It doesn't feel like I'm at work.
Were you nervous? Did you know anyone from before?
The first time I went in, I was very, very, very nervous. I didn't know anyone. A lot of times when you do different shows, you'll know some of the members from the crew or something because they tend to move around sometimes.
But I didn't know anyone. I just kind of sat alone, and eventually, the girls came up to me, and they walked to me. And they made me feel like I was part of the family. It was awesome. They're wonderful people.
You're also a musician, right?
I am.
What kind of stuff do you do?
I'm a singer/songwriter. So I play guitar, and I sing. Along the lines of, I guess you could call it, alternative rock. A lot like Dave Matthews or John Mayer, I kind of stick with the acoustic genre.
Is it a bonding factor? I mean there's a lot of musical talent on that cast.
It is, I think. Yeah. I haven't had the opportunity to play or sing with anyone yet, but I've talked to a few of the girls and actually some people from the crew. And they all are asking me to bring my guitar next time I come to set. So hopefully, that will be soon.
You are practicing your evil stare, right? Just in case Andrew turns evil.
Oh, I have to! I have to have it in my back pocket just in case.
Are you worried about angry tweets from Spoby fans? You're entering very dangerous territory here.
I know. I've actually received a few angry tweets from Spoby fans, but nothing too bad to be honest. I feel like everyone really wants to love Spoby, but at this point, they almost don't have an option. I feel like Andrew is going to be a bit of a breath of fresh air.
Before I was on the show, before my episode aired, a lot of the Spoby fans would send me things like, 'You'll never get Spencer.' And now that that episode aired, a lot of the same people who were one hundred percent for Spoby are now shooting Spendrew. We'll see how that goes. It's either Spendrew, Spandrew. I've seen a bunch.
Catch the next episode of Pretty Little Liars on Tuesday, January 29, 2013 at 8 p.m. ET/PT on ABC Family.
#TBT Fun times with these #PrettyLittleLiars#PLL #PLLArmy #TroianBellisario #LucyHale #ShayMitchell #AshleyBenson #BrandonWJones #SpencerHastings #AriaMontgomery #EmilyFields #HannaMarin #AndrewCampbell #A #PLLForever #PLLCast #PLLFamily #PLLFandom #ThrowBackThursday pic.twitter.com/pAmOZpJqf9

— Brandon Jones (@brandonwjones) January 30, 2020
Bottom Line
This interview with Brandon W. Jones offers a fascinating insight into the world of 'Pretty Little Liars'. It's clear that Jones is as passionate about the show as the fans are, and his enthusiasm for his character and the upcoming season is infectious.
As a fan of the show, I can't wait to see what Season 3 has in store, especially with the promise of a heated relationship between Spencer and Andrew.
So, PLL fans, buckle up! Season 3 promises to be a rollercoaster ride of emotions, with plenty of surprises in store. And with the potential romance between Spencer and Andrew, things are indeed going to heat up. As Jones said, "It's going to be a wild ride!"