In the glitz and glamour of Hollywood, size does matter! But we're not talking about the size of their mansions, their bank accounts, or their entourage. We're talking about something a bit more personal.
There's not much you can keep secret once you're famous, and that includes details about your private parts.
Thanks to a series of TMI quotes — and even a bit of photographic evidence — we've compiled a gallery of celebs with some of the biggest packages in Hollywood. Keep reading to see who made the cut. (No pun intended.)
1. Demi Lovato: Admitted
"I know you all love Nick Jonas," Demi said in her Vanguard Award acceptance speech at the 2016 GLAAD Media Awards on April 2. "But I actually have a bigger d—k than he does. And a huge set of balls!"
OK, but seriously, let's get to the dudes…
2. Mark Wahlberg: Confirmed
Tiens #MarkWahlberg est circoncis, j'apprends quelque chose #bulge pic.twitter.com/4geZIvv6Ri

— Jean ﻦ (@JB75004) September 25, 2015
Being photographed next to a pile of pumpkins might make any man feel insufficient, but Mark Wahlberg's bulge rivaled the autumnal squashes. Unrelatedly, Markie Mark and his brothers handle a lot of meat on their A&E burger joint reality show, Wahlburgers.
3. Vinny Guadagnino: Rumored
Any Jersey Shore fan can tell you that Vinny's got quite the large, er, Italian sausage. His once-fling Snooki broke the news in one of her many TMI moments. As she put it, hooking up with him was "like putting a watermelon into a pinhole." That girl certainly has a way with words.
4. Daniel Craig: Rumored
Daniel Craig admitted to Vanity Fair that his, er, manhood is what he values most in life. While that sounds like a joke, Dame Judi Dench revealed that his "most treasured possession" is no laughing matter. The actress happened to see it while filming Casino Royale and let slip that it's "an absolute monster!" Watch out!
5. Jon Hamm: Confirmed
We've all seen the paparazzi photos of Jon Hamm's ham, but AMC staffers reportedly had to demand that the Mad Men actor wear underwear while shooting the period drama. "This season takes place in the 1960s, where the pants are very tight and leave little to the imagination," an insider told New York Daily News.
6. Michael Fassbender: Confirmed
George Clooney threw an unusual compliment into his acceptance speech at the 2012 Golden Globe Awards when he gave a shout-out to fellow nominee Michael Fassbender, who went nude in Shame. He joked that Michael could play golf with his hands behind his back.
George isn't the only actor who's helped Michael score a few more holes-in-one, if you know what we mean. During a March 2012 Human Rights Campaign gala, Michael's Prometheus co-star Charlize Theron quipped, "Your penis was a revelation. I'm available to work with it any time."
7. Steven McQueen: Rumored
View this post on Instagram
Late actor Steve McQueen's business was once described by an ex as "two Coors beer cans welded together." Whoa.
Given that he's the grandfather of The Vampire Diaries stud Steven R. McQueen (Jeremy Gilbert), we can't help but wonder if it's a family trait.
8. Willem Dafoe: Rumored
Director Lars Von Trier decided that Willem Dafoe would have to use a body double for the scene in Antichrist where his character cuts off his own penis. According to Lars, the actor is so well-endowed that "everybody got very confused when they saw it." Jeez!
9. David Beckham: Confirmed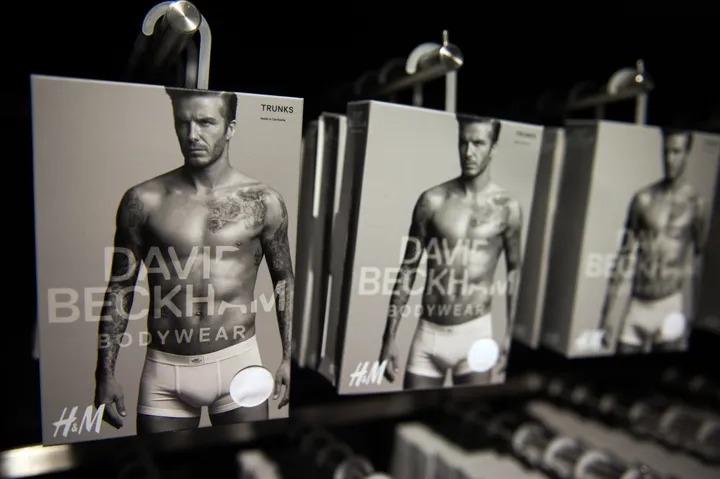 If you've seen David Beckham's H&M bodywear ads, you should have no doubt that Victoria Beckham's rave reviews of her husband's package are accurate. She told The Sun that what you see in the photos is what you get (or at least what she does). "It is all his," spilled the former Spice Girl. "It is like a tractor exhaust pipe!"
And what does Becks have to say for himself? When asked about stuffing for underwear shoots, he responded, "Let's just say I've been told I don't need any help in that department. I think I'm pretty OK!"
10. Liam Neeson: Rumored
Former America's Next Top Model judge Janice Dickinson is accustomed to giving out titles, and she has one for ex-flame Liam Neeson: "Biggest Penis of Any Man Alive."
When dishing about her exes in 2007, the former supermodel quipped, "He unzipped his pants and an Evian bottle fell out." That's an exaggeration, right? Right?
11. Owen Wilson: Confirmed
When Owen Wilson and his buddy Woody Harrelson traveled to Peru together, paparazzi managed to snap photos of them bathing in an irrigation ditch wearing nothing but their boxers.
Owen's sopping wet underwear left little to the imagination and showed off the size of his equipment. Maybe these two should swap names?
12. Ewan McGregor: Confirmed
Ewan McGregor hasn't shied away from on-screen nudity, which makes sense given how much he's got to show off.
After revealing himself in a handful of films early on in his career (Deception, Trainspotting, and The Pillow Book, to name a few), the Scottish actor has decided to be more careful about nude scenes as he gets older. Shame.
13. Jared Leto: Confirmed
Jared leto e seu santo pênis pic.twitter.com/4ZdoFEqnvB

— ellen (@ellenpfrs) November 12, 2014
The actor and Thirty Seconds to Mars frontman has been quite open about his size, even going so far as to joke about it during concerts. His unabashed confidence and rockstar persona only add to his appeal.
Jared Leto's ex-girlfriend Corina Taylor shared that he's got a future in XXX movies, if he ever wants it. Even in the three years she worked in porn, she never came across anyone bigger. "Jared was the most I ever had to work with," she dished.
14. Colin Farrell: Confirmed
When Colin Farrell revealed his junk for a scene in 2004's A Home at the End of the World, the footage was cut after test screenings. According to The Sun, it was just a little too exciting for female viewers.
His next attempt at a full-frontal was cut from Alexander because it was too distracting. We can only imagine.
15. Robin Thicke: Rumored
Robin Thicke isn't shy about talking about his package — after all, his "Blurred Lines" unrated music video had balloons that read "ROBIN THICKE HAS A BIG D—K" — but is he really packing?
In a Glamour interview, his ex Paula Patton had this to say about it: "Robin's like, 'Listen, if I'm, you know, in the Miami Heat's locker room, I don't know where I stand, but…' But I think that the statement is fairly accurate!"
16. Leonardo DiCaprio: Rumored
Bobbie Brown, who made a name for herself as the hottie in Warrant's 1990 "Cherry Pie" music video, recently described a one-night encounter with Leonardo DiCaprio back when he was in his early 20s.
His moves may not have been too smooth at the time — she told Us Weekly that he had barrettes in his hair, and when they were about to get busy, he serenaded her with TLC's "Waterfalls" — but she was quite surprised by what happened next. "When I pulled his pants down I was like, 'Holy s—t.' I'd just been with Tommy Lee, but Leo looked huge."
17. Ashton Kutcher: Reported (by Mila Kunis)
According to wife Mila Kunis, this sitcom star has length and circumfrence.
At least, that's what she claimed when host James Corden asked if Ashton had "[a] carrot stick or [a] beer can" during a game on The Late Late Show With James Corden.
Check out the moment around the 1:28 mark in the video below.
18. David Spade: Reported (by Heather Locklear)
When TMZ asked Heather Locklear about the rumors her ex David Spade is dating Glee star Naya Rivera, she explained why he always dates beautiful women.
"Number one: He's funny," she said. "Number two: He has a big c—k."
She claimed she was joking about that second part, but was she really?
19. Aleksandar Skarsgard: Rumored
Either Alexander Skarsgard has the biggest dick on earth or they used a rubber hose of some sort on Big Little Lies tonight pic.twitter.com/an75GF3vn1

— KFC (@KFCBarstool) March 27, 2017
There were several rumors considering Aleksandar junk size. Few years ago while recording TV Series called True Blood, there was a scene where you could see a bit of him. AND IT WAS BIG. One more rumor is from the series Big little Things, when Aleksandar put the big in big little things. (check out the tweet above)
Bottom Line
In Hollywood, where image is everything, these celebrities stand out not just for their talent and good looks, but also for their impressive endowments. They've handled the attention with grace and humor, proving that they're more than just their physical attributes. After all, in the world of showbiz, size matters, but it's not everything.