Kristina Schulman has garnered a significant following due to her appearances on reality TV shows like "The Bachelor" and "Bachelor in Paradise." This comprehensive guide aims to shed light on Schulman's life, from her early years to her successful career and personal life in 2023.
Early Life and Education
Let's begin with Schulman's early life and educational background. It's often in these formative years that people acquire the foundational skills and experiences that shape their future, and for Schulman, it was no different.
Childhood
Born on November 16, 1987, in Russia, Schulman's early life wasn't the easiest. At a young age, she found herself in an orphanage in Russia, a story she shared openly during her time on "The Bachelor."
Schulman was eventually adopted by a loving family from Kentucky, United States when she was 12 years old. The transition was difficult, particularly given the language barriers she initially faced. However, her resilience and determination to adapt were evident even then, qualities that would later come to define her.
Education
Having moved to Kentucky, Schulman pursued her education with a sense of commitment. She attended the University of Kentucky, where she studied Dental Hygiene.
It was during her time at university that Schulman developed an interest in the entertainment industry. She graduated from the university with flying colors, and while she had the skills to embark on a career in dental hygiene, her dreams lay elsewhere.
Journey to Reality Television
Schulman's journey to reality television was a testament to her charisma and unwavering ambition. Here, we delve into how she landed her first role on "The Bachelor."
View this post on Instagram
Entry into "The Bachelor"
Schulman first graced our screens in the 21st season of "The Bachelor" in 2017. She was one of the contestants vying for Nick Viall's heart.
Despite not winning, Schulman left a lasting impression on viewers. Her candid revelations about her past and her determination made her one of the season's most unforgettable contestants.
"Bachelor in Paradise"
Following her stint on "The Bachelor," Schulman was offered a spot on "Bachelor in Paradise," where previous contestants from "The Bachelor" and "The Bachelorette" get another chance at finding love.
On the show, Schulman was lauded for her strong personality and emotional intelligence. She emerged as a fan favorite, further cementing her place in the world of reality television.
View this post on Instagram
Post-Reality TV Life
Post-reality television life can be a difficult transition for many, but Schulman has used her platform to advocate for causes close to her heart and build a successful career.
Social Media Presence
Schulman has a strong social media presence, with a follower count in the hundreds of thousands on platforms like Instagram. She often uses her platform to engage with fans and share snapshots of her daily life.
In addition, Schulman often collaborates with brands and promotes products she loves. Her social media engagement goes beyond the surface level, as she frequently discusses important topics such as mental health and adoption.
View this post on Instagram
Advocacy Work
Schulman has channeled her experiences into advocacy work, particularly focusing on adoption. She's become a voice for many adopted children, sharing her experiences and offering insights.
Moreover, Schulman's advocacy work extends to mental health. She's vocal about her struggles and emphasizes the importance of seeking help. Her openness and authenticity resonate with many, offering solace and understanding to those who might be going through similar struggles.
Personal Life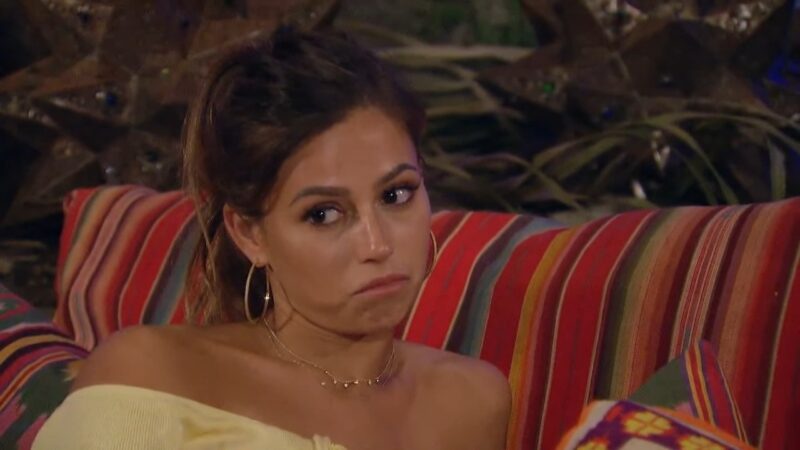 Introduction
In this section, we explore Schulman's personal life, including her romantic relationships and her physical attributes.
Romantic Relationships
Schulman has had her fair share of romance in the public eye due to her reality TV appearances. She has been linked with Dean Unglert, a fellow Bachelor Nation member, and they had an on-and-off relationship.
As of 2023, Schulman is single and seems to be focusing on herself and her career. She often speaks about the importance of self-love and independence, and she is an advocate for embracing singlehood.
Physical Attributes
Schulman stands at a height of 5 feet 2 inches. Her petite stature belies her strength of character, which is abundantly clear to anyone who watches her on-screen.
She is often praised for her natural beauty and her sense of style. Schulman is known to keep fit and maintains a healthy lifestyle, frequently sharing her fitness routines and nutritious meal ideas with her followers.
Kristina Schulman in 2023
View this post on Instagram
To wrap up, let's look at where Schulman stands in 2023. Despite the challenges she has faced, Schulman continues to thrive and inspire.
Current Career
As of 2023, Schulman continues to use her platform to advocate for the causes she believes in. She is also exploring other areas of entertainment, with plans to launch her podcast, where she intends to discuss a variety of topics.
She also continues to work as a social media influencer, promoting products she believes in and sharing her life with her followers. Through her Instagram posts, Schulman often offers motivational words, inspiring many of her followers.
Life Story
Looking back at Schulman's life story, it is clear that she is not just a reality TV star. From a Russian orphanage to the glitz and glamour of American television, she has traversed a long path filled with adversity and triumph.
Her story is a testament to resilience, determination, and the power of staying true to oneself. Schulman's journey continues to unfold, and we can only look forward to what the future holds for her.
Legacy of Kristina Schulman
Join me on my TED talk over on Instagram @ kristinaschulman #Bachelorinparadise pic.twitter.com/Hr2P2NQPsj

— Kristina Schulman (@kristinaschulma) September 4, 2019
Looking at Schulman's journey, it's clear that she leaves a substantial legacy that goes beyond her appearances on reality TV.
Inspiring Journey
Schulman's life journey is a source of inspiration for many. Her rise from a difficult childhood to a successful career on television demonstrates the power of resilience and determination.
By sharing her journey, Schulman has inspired countless people to overcome their obstacles and pursue their dreams, leaving a lasting legacy that extends beyond her career.
Empowering Others
Another significant part of Schulman's legacy is her commitment to empowering others. Whether it's through her advocacy work or her inspirational social media posts, Schulman continually strives to uplift and encourage those around her.
As she moves forward in her career, it is clear that Schulman will continue to inspire and empower, leaving a lasting impact on the world.
Final Words
Kristina Schulman's journey has been nothing short of inspiring. She has used her platform to not only share her personal experiences but also shed light on important issues like adoption and mental health. As she continues her journey in 2023, we look forward to seeing what else she accomplishes, reminding us all of the strength of the human spirit.